Can I Use 2 Different Styles of Closet Doors Together?
Simply put…Yes.  While we make doors that are a combination of different styles ( louvers over panels, mirrored over bead board, operable louvers over fixed louvers and more ) you can also use different types of doors in the same opening.
Reasons for Mixing and Matching Door Styles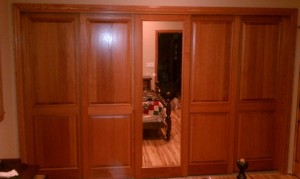 The most common reason to consider combining doors with different styles is if you are using mirrored closet doors.  Sometimes an entire wall made up of mirrors can be a bit overwhelming.  The doors to the left show how a single, central door was made with a mirror while the outer doors are a more formal raised panel design.
Below is another example.  Louvered doors were needed for ventilation in the closet.  The homeowners, however, wanted mirrored doors to help with getting ready in the morning.  By using both styles of closet doors they were able to get exactly what they needed and wanted.
What Styles of Closet Doors to Use
Any style of closet door can be mixed with another.  Really the best thing to do is stand in front of your closet and think about how it will be used.  For example, will it be used for housing equipment that might need ventilation or maybe sound proofing.
Next, think about how you want the closet doors to look.  Louvers for a more relaxed or beachy/Caribbean feel.  Tongue & Groove or Beadboard to make things look taller.  Flat panels for a Mission style home.  Whatever look you are going for you can then mix the different styles of closet doors to get that look and the use that you need.
If you are not sure what styles will work, you can always give us a call, send us an email or start an online chat. We are happy to help.