Posts Tagged 'closet doors'
Stave Core Doors & Shutters
Most of the shutters and doors we make here at Kestrel, both interior and exterior, are built out of solid, kiln dried wood without the use of any laminates.  We can do this as the wood species that we use, American Basswood and Sapele Mahogany, are dimensionally stable and react minimally to changes in humidity.
So what happens when you want doors or shutters made from a different species of wood that is not as stable?  If we were to make our doors and shutters out of solid woods like Hard Maple, Birch, White Oak and Red Oak, while they would be beautiful they would also be likely to warp.  Especially when made to the sizes of doors or larger windows.
This is where Stave Core enters the picture.
What is Stave Core?
When 2 or more pieces of wood are glued together the chance of warping drops dramatically.  This is because if any of the boards try to warp they end up "fighting" against the other boards and are held straight.  The only problem is that the glued up boards don't look as nice as a single piece of wood.  So, you take those glued up pieces of wood ( that are now very, very stable ) and glue a solid, but thinner, piece of wood to each face and to edges as well.  This is what stave core is:  Thin strips of wood, laminated together to make them extremely stable, then covered in pretty much any wood that you want.
This photo shows a cross section of a Mahogany Stave Core door stile.  The front and back faces of the door stile are 1/8″ thick Mahogany and the edges are 3/4″ thick Mahogany.  These are wrapped around several smaller pieces of poplar.  All of these are laminated together to make a super stable stile which ensures that the interior door made from these will remain straight.
What are the Benefits of Stave Core Doors
Stability.  Using stave core for the stiles ( the vertical frame pieces of the doors ) will make sure that your doors will not move over time from changes in humidity.
Over-sized doors are not a problem.   This ties in with stability but the idea is that by using stave core for the stiles, and even the rails, you can have doors that are much larger than normal.
Eco-friendly.  Stave core is made up of smaller strips of wood that would otherwise have been discarded.
Lighter weight.  The cores of our stave cores are made from Poplar or Pine which are both lighter in weight than the hardwoods used on the outside of the stave cores.  This helps to keep the overall weight down.


If you would like an option for stave core doors just make a note of that in the comment section of our quote request form.
Can I Use 2 Different Styles of Closet Doors Together?
Simply put…Yes.  While we make doors that are a combination of different styles ( louvers over panels, mirrored over bead board, operable louvers over fixed louvers and more ) you can also use different types of doors in the same opening.
Reasons for Mixing and Matching Door Styles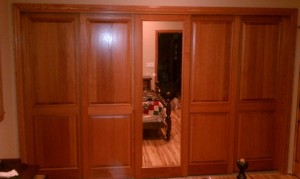 The most common reason to consider combining doors with different styles is if you are using mirrored closet doors.  Sometimes an entire wall made up of mirrors can be a bit overwhelming.  The doors to the left show how a single, central door was made with a mirror while the outer doors are a more formal raised panel design.
Below is another example.  Louvered doors were needed for ventilation in the closet.  The homeowners, however, wanted mirrored doors to help with getting ready in the morning.  By using both styles of closet doors they were able to get exactly what they needed and wanted.
What Styles of Closet Doors to Use
Any style of closet door can be mixed with another.  Really the best thing to do is stand in front of your closet and think about how it will be used.  For example, will it be used for housing equipment that might need ventilation or maybe sound proofing.
Next, think about how you want the closet doors to look.  Louvers for a more relaxed or beachy/Caribbean feel.  Tongue & Groove or Beadboard to make things look taller.  Flat panels for a Mission style home.  Whatever look you are going for you can then mix the different styles of closet doors to get that look and the use that you need.
If you are not sure what styles will work, you can always give us a call, send us an email or start an online chat. We are happy to help.
What Are Faux Louvered Doors?
With fixed louvered doors the louver blades are fixed at an angle and spaced far enough apart so that there is a gap.  This is so they provide privacy while still allowing airflow.  With Faux lovered doors the louver blades are shaped like a chevron and stacked.  This gives you the look of fixed louvered doors while blocking sound and airflow as well as sight.
Applications for Faux Louvered Doors
Since faux louvered doors give excellent privacy some of the applications are for guest room doors, bathroom doors and maintenance doors.  Keep in mind, however, that since faux louvers block all air flow they should not be used where ventilation is required such as around air handling, refrigeration and  media equipment.
Available Sizes & Costs
As with all of our other designs of shutters and doors, our faux louvered doors are available in any custom size.  We offer faux louvers in 3 different sizes; 1.7/8″, 2.1/2″ and 3.1/2″.  All of which can be installed as hinged, bifold, sliding or pocket doors.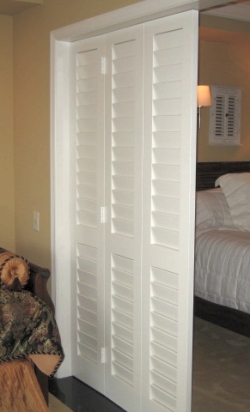 If you are not sure if faux louvered doors will work for you please ask. Give us a call, send us an email or start an online chat. We are happy to help.
What are the differences between Interior Doors and Closet Doors?
We often receive emails and phone calls asking us which doors can be used as closet doors and which can be used for interior doors between rooms.  Many people are concerned that there may be some reason why the same door should not be used in both places.
Door Designs
The truth is that all Kestrel designs of closet doors and interior doors are interchangeable.   This means that you can have your interior doors match your closet doors throughout your home.    Something to keep in mind, however, is that some designs may be more practical for certain types of rooms or closets.   Operable and Fixed Louvered Doors for ventilation.  False Louver,  Tongue & Groove and Panel Doors for sound insulation.  Glass and Mirrored doors to help brighten dark rooms.  There are also doors that combine designs to offer a bit of each.
Door Thickness and Stile Width
The stiles of a door (not "style") are the vertical frame parts of the door.    On interior doors between rooms it is not uncommon to see wider and thicker stiles.  This is because most  locks and door knobs require a hole drilled right through the door.  The thicker door and wider stiles allow this while keeping the door itself structurally sound.  On closet doors the overall thickness and stiles can be narrower since locks and handles are not usually required.
Door Hardware
There are 4 basic types of hardware for doors.  Hinged doors, pocket doors, bifold doors and sliding doors.  With closet doors all 4 types of hardware are used consistently depending really only on how you plan to use the closet.  While with interior doors we normally see hinges it is still common to use bifold, sliding and even pocket door hardware used.  Below are two good examples.
If you are not sure which door designs and options will work best for you please ask us. Give us a call, send us an email or start an online chat. We are happy to help.
Bifold Doors or Sliding Closet Doors; Which Cost Less?
When buying new closet doors most people look for a way to save money without compromising on quality. One way to do this is to consider the cost differences between sliding closet doors and bifold doors.
How Many Doors for Your Closet?
We custom make all of our doors to the custom sizes that you need. The time involved to make an 18″ wide door is about the same as that needed for a 36″ wide door. This means that the fewer individual doors that you have covering your closet, the lower the cost. So if your closet is 72″ wide, using 2 doors, each 36″ wide, will cost less than using 4 doors, each 18″ wide. Since wider doors are typically hung as sliders this does make sliding closet doors less expensive.
What if Bifold Doors Are My Only Option?
If your application requires bifold doors you can still keep costs down. We also offer the 200FD line of bifold door hardware by Johnson that can handle individual doors up to 48″ wide.
In the end it is not so much that sliding closet doors cost less than bifold doors. Instead it is keeping the number of individual doors to a minimum for your closet that keeps the price down.
If you are not sure how you want to hang your closet doors you can read one of older posts: Should I go with bifold or sliding closet doors?. You can also give us a call, send us an email or start an online chat. We are happy to help.