What Are Faux Louvered Doors?
With fixed louvered doors the louver blades are fixed at an angle and spaced far enough apart so that there is a gap.  This is so they provide privacy while still allowing airflow.  With Faux lovered doors the louver blades are shaped like a chevron and stacked.  This gives you the look of fixed louvered doors while blocking sound and airflow as well as sight.
Applications for Faux Louvered Doors
Since faux louvered doors give excellent privacy some of the applications are for guest room doors, bathroom doors and maintenance doors.  Keep in mind, however, that since faux louvers block all air flow they should not be used where ventilation is required such as around air handling, refrigeration and  media equipment.
Available Sizes & Costs
As with all of our other designs of shutters and doors, our faux louvered doors are available in any custom size.  We offer faux louvers in 3 different sizes; 1.7/8″, 2.1/2″ and 3.1/2″.  All of which can be installed as hinged, bifold, sliding or pocket doors.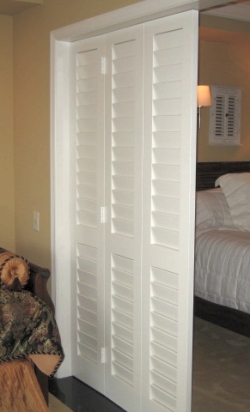 If you are not sure if faux louvered doors will work for you please ask. Give us a call, send us an email or start an online chat. We are happy to help.
2 Responses to "What Are Faux Louvered Doors?"