Posts Tagged 'decorative shutters'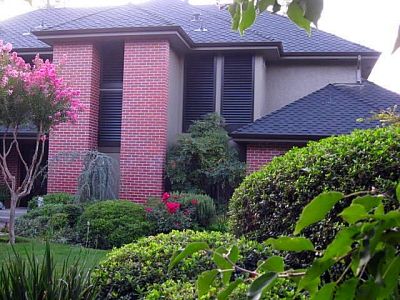 Even though our exterior shutters are made to be authentic and fully functional there are times when they are installed for decoration. Most decorative shutters are mounted to either side of a window, often using real shutter hardware give the look of truly functional exterior shutters.
But what do you do when you have no windows?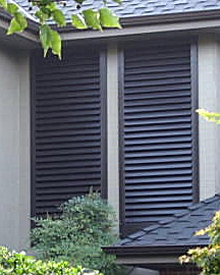 The customer above solved this by mounting fixed louvered exterior shutters directly to their home. This not only added curb appeal and interest to the front of their home, but it also gives the illusion that there really are windows behind those exterior shutters.
This trick has long been used in commercial interiors where make-believe windows are strategically place to make a more comfortable lighter airy feel to a store's layout rather then the four walls of a mall. The Hollister Store is certainly astounding with the many interior Plantation Shutters, many of which are made by us, installed throughout their stores.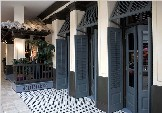 With a big focus in recent years towards basement remodeling this trick can also be used with interior shutters. Just by installing a boxed window casing fitted with interior shutters on any wall you will make windows appear before your eyes for a lighter more natural feel inside under-the-ground.

A naturally beautiful and renewable choice- Wood shutters and doors by
Kestrel Shutters & Doors, Inc.   www.DIYShutters.com   1-800-494-4321 / sales@diyshutters.com
In a small village named Snowdenville, where two roads intersect under an old maple tree, there are several older homes situated on each of the corners.  All of the homes are different with their own personality and charm.  One common bond that they do share is that they all display the same style board and batten shutters, each with the same simplistic conifer tree cut-out.  When December arrives, what could be more appropriate than a Christmas tree (or two) at every window?
Look at the happy Jack o' Lantern in the window…

While we did not make the shutters for this adorable and very old log cabin, we did make all new shutters just like these for the home that sits caddy corner to this one. The modern day look alikes were made with an exterior-grade material called Extira®.  This material was a perfect and cost-effective way to recreate these decorative exterior shutters.  I will snap a picture of the project for an upcoming post once the scaffolding is down and the project is complete.
For a price quote in this design just contact our office.  We have several cut outs to choose from and you can also send us your own design that you may have such as a cat or dog, a house number, and even your initials.  The pattern can be cut through the shutter or carved into the shutter's surface as a relief.  Panel cut outs are a fun way to personalize your home.


A naturally beautiful and renewable choice – Wood shutters and doors by
Kestrel Shutters & Doors, Inc. www.DIYShutters.com 1-800-494-4321 / sales@diyshutters.com