Using Exterior Shutters & Doors on your Outdoor Living Space
Something that we have been seeing more of in the last couple of years has been the use of shutters and doors to create more usable living space.   We see shutters and doors being used as windbreaks on decks and around pools, forming the walls of gazebos, cabanas, outdoor showers and even fully enclosing porches.
Exterior Shutters as Windbreaks and Sun Screens
Louvered shutters, both operable and fixed, do an excellent job of blocking the wind and Sun.  These are usually mounted with hinges or fixed in frames.  Another common installation method is to make a simple wood frame with a groove to allow the louvered shutters to slide back and forth.  The benefit of the hinges or slide are that you can easily move the shutters out of the way if you want an unobstructed view.
If you are looking to drastically reduce the amount of wind or sun consider alternating between louvered shutters and a solid style shutter like a raised panel or tongue & groove.  Alternatively if you are looking to block the sun or wind in only a single place on your porch you can always create a mini frame to hold the shutters in that spot and leave the rest open.
Gazebos and Cabanas
Just like louvered shutters can be used as windbreaks and sun screens on a porch they can be adapted to stand alone structures like gazebos and cabanas.  There they can be used to create walls between the posts and roof supports and even provide security.  If hinged they can be opened up to create "windows".  We often see louvered doors added to cabanas to provide privacy as a changing room or outdoor shower.
If only a little bit of ventilation is needed choose a style like our louver over tongue & groove.  This gives the extra protection and sound insulation from the true tongue & groove boards while still providing some air flow.
Operable Louvers v.s. Fixed Louvers
Operable louvers allow you to adjust how much of the wind and sun is blocked so that you can completely shut out the Sun, wind or rain and then open it up for more gentle breezes.   If you have particularly strong winds you may need to attach a simple latch to keep the louvers open or closed during blustery days.
Fixed louvers will deflect the Sun, wind and rain but still allow a steady flow of air.  This is helpful where there is a concern for overheating and a need for constant circulation.  Since the louvers are fixed these are best hinged or in sliding frames.  That way they can be opened up when you want.
The best thing to do is to go where you plan to add exterior shutters and doors and think about what you want to block.  Is it the sunlight, wind, your neighbors house or just the outdoors in general?  Do you want to the shutters to cover the entire area or just a part?  Will you want to be able to remove or open the shutters or do you prefer them to be fixed in place.  Going through these questions will help to narrow down what will work best for your home.  If you are still not sure what will work best give us a call, an email or use our online chat.
Summertime and a porch go hand in hand.  It's that inviting outdoor sheltered area to relax for a moment, recline and rest our feet, and maybe even watch a casual passerby.  It is also a place to read in the best lighting, gather with friends and family for refreshments such as lemonade and even just doze off in a chaise lounge.  Prior to indoor air conditioning a porch was the place where everyone including the family dog could escape stifling indoor heat.  It is easy to see the charm in a porch and why so many historic homes have at least one.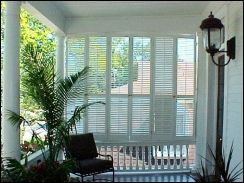 If your home has a porch but you find that it could use a tad bit more privacy to enjoy your outdoor space or maybe you could even use shade from a hot sunny afternoon here is a clever solution.  You can build a privacy screen with exterior louvered shutters between the porch posts.  With operable louvered exterior shutters you can create a visually pleasing partition.  Since the louvers are fully adjustable you won't even need to give up a summer breeze passing through.
Exterior shutters really do enhance your home by adding depth and detail to every window and door.  Here are other examples of exterior shutters on homes that have a porch: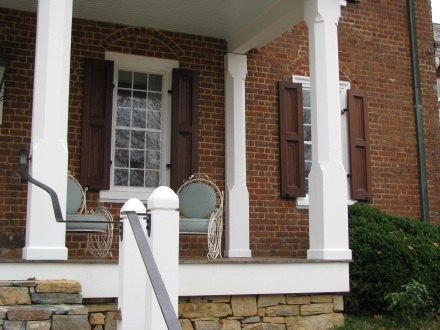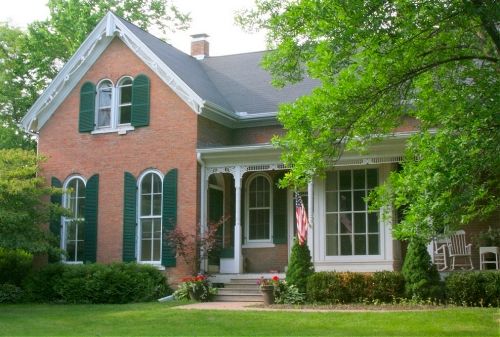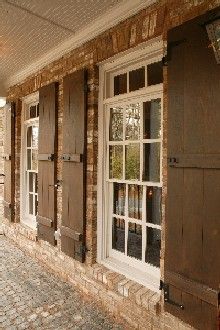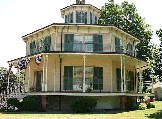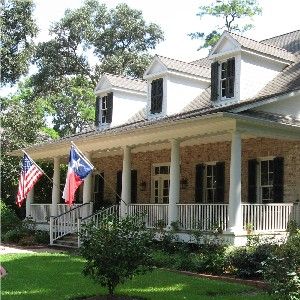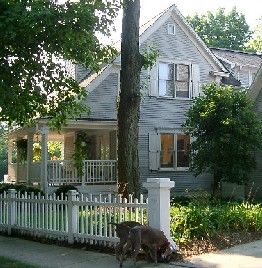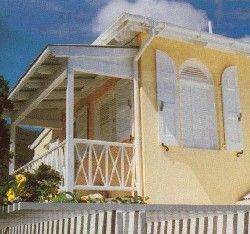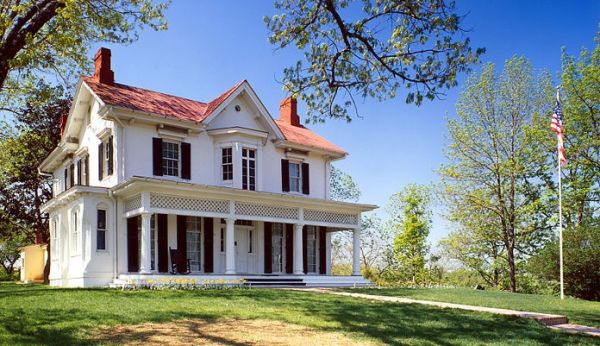 A naturally beautiful and renewable choice- Wood shutters and doors by
Kestrel Shutters & Doors, Inc.   www.DIYShutters.com   1-800-494-4321 / sales@diyshutters.com