Posts Tagged 'sliding closet doors'
Bifold Doors or Sliding Closet Doors; Which Cost Less?
When buying new closet doors most people look for a way to save money without compromising on quality. One way to do this is to consider the cost differences between sliding closet doors and bifold doors.
How Many Doors for Your Closet?
We custom make all of our doors to the custom sizes that you need. The time involved to make an 18″ wide door is about the same as that needed for a 36″ wide door. This means that the fewer individual doors that you have covering your closet, the lower the cost. So if your closet is 72″ wide, using 2 doors, each 36″ wide, will cost less than using 4 doors, each 18″ wide. Since wider doors are typically hung as sliders this does make sliding closet doors less expensive.
What if Bifold Doors Are My Only Option?
If your application requires bifold doors you can still keep costs down. We also offer the 200FD line of bifold door hardware by Johnson that can handle individual doors up to 48″ wide.
In the end it is not so much that sliding closet doors cost less than bifold doors. Instead it is keeping the number of individual doors to a minimum for your closet that keeps the price down.
If you are not sure how you want to hang your closet doors you can read one of older posts: Should I go with bifold or sliding closet doors?. You can also give us a call, send us an email or start an online chat. We are happy to help.
Closet & Door Openings Not Square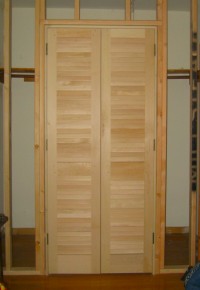 It is not uncommon to have the openings for interior doors or closet doors be out of square. The reasons could be anything from the house settling to an uneven floor to stud walls and header being twisted. The good news is that in most cases it is easy to work around these issues.
Rough Openings vs Finished Openings
If the opening for your doors is still rough (not framed out) then it really does not matter if your opening is square or not. When you frame out the opening you will have a chance to square everything up. This is also the case if you are installing pocket doors. If you are not sure if your door openings are rough or not here is an earlier post that explains the difference. Interior Doors: A Rough Opening vs. A Finished Opening
Measuring for your Doors
The first thing you will want to do is measure the framed opening where you want your doors. It is a good idea to measure the width and height in a few different places. This will help to show you where, if at all, your framed opening is out of square. Another check is to measure diagonally across the opening. If the measurement from the top left corner to the bottom right corner is the same as the measurement from the bottom left corner to the top right corner then your framed opening is square. Here is a link to our site on How to Measure for Doors which will help. If you do find that your framed opening is not square there are ways to work around this.
Uneven Header
If you the header dips to one side or another, or if it has a "bump" in the middle there are a few things you can do. You can try and correct it be removing and re-installing the header. Most likely this will be more difficult and time consuming than the alternative. If you are installing sliding closet doors or bifold doors you can simply shim out the track to make it level. Any resulting gap can be easily covered with a valence or corner moulding. If you are installing hinged doors you have a choice. If the header only dips an 1/8″ or so you may just want to leave it be. However, if the gap is more noticeable you should consider removing the door casing and straightening the door jamb.
Uneven Floor
If your floor is uneven there is not too much that you can do other than rip up and lay down a new floor. Thankfully an uneven floor will not affect the way your doors work. It will just mean that you have more of a gap at one end of the bottom than at the other.
Side Jambs not Plumb
If your house has settled you will mostly likely find that the side jambs will not be plumb. You will treat this similar to how it was explained with the uneven header above; let it be if the gap is small or remove the casing and re-plumb the jamb. If you installing sliding closet doors or bifold doors the simplest thing to do is to let the gap stay and then apply a simple quarter round or corner moulding right in front of the doors along the side jambs. This will hide the gap and not interfere with the way the doors open and close.
Hopefully this post has been helpful. If you still have questions on how to work with your non-square openings for your doors just ask. Give us a call, send us an email or start an online chat. We are happy to help.

Track Hardware for Sliding Closet Doors
When it comes to choosing track hardware for your sliding closet doors the main decision is really about how many individual doors do you want on each track. Your options vary somewhat depending on whether you are going with 2, 3 or 4 sliding doors to cover your closet.

Applications with 2 Sliding Closet Doors
If you have 2 doors covering your closet then you have a choice of a 2 track system or a wall mount system. With the standard 2 track system (figure 1) the doors slide back and forth within the opening so you can access half of your closet at any one time. With the wall mount (figure 2) you have full access to the closet however you need to have clear wall space for the doors to slide.
Applications with 3 Sliding Closet Doors
With 3 doors covering your closet you can choose either a 2 track or 3 track system. With the 2 track system (figure 3) you will have 1 door on 1 track and 2 doors on the other track. This means that you can only open up one third of your closet at any time. With the 3 track system (figure 4) each door has its own track so that you can slide and stack all 3 doors one behind the other. This allows you access to two thirds of the closet. Something to keep in mind is that if you go with a 3 track system you need to have enough depth in your header to hold all 3 doors. A standard wall built with 2x4s and a 4.1/2″+ jamb header is deep enough to accommodate 3 doors 1.1/4″ or 1.3/8″ thick. If you are using 1.3/4″ doors you will need a jamb header at least 5.1/2″ deep.
Applications with 4 Sliding Closet Doors
For 4 doors the most common layout that we see is a 2 track system (figure 5) with 2 doors on each track. This allows for half of the closet to be open at a time. The alternative is to have each door on its own track (figure 6). This would give you the most access to your closet however you will need to have walls built with 2×6 studs as a minimum.
Do you need a Bottom Track?
The commercial grade sliding door hardware that we offer is designed so that all of the weight is supported at the top. This means that a bottom track is used only to guide the doors and keep them from swinging front to back. On the standard 2 track system the bottom track is optional. You would really only need the bottom track if you are concerned about the doors being pushed front to back like you might have in certain commercial applications or if you had large pets. On sliding closet doors systems with 3 or more tracks a bottom guide track is already included.
Which Track Hardware is best for your Sliding Closet Doors?
What I always recommend to people when they are deciding on their track hardware is this. Stand in front of your closet and imagine how you will be using your closet. If you will only be using part of the closet at any one time then a 2 track system will probably work for you. If you prefer to have the closet open as much as possible while you look over everything and make a decision then having each door on its own track will be better for you. What it really comes down to is "which do you prefer?"
If you are still not sure which sliding closet door hardware will work for you let us help. Give us a call, send us an email or start an online chat. We are happy to help.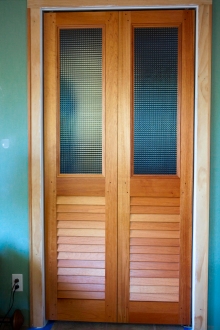 Here at Kestrel we make our custom sized interior doors and closet doors in three standard thicknesses; 1.1/4″, 1.3/8″ and 1.3/4″. Since we build all of our doors from solid wood using pegged, mortise and tenon joinery, the doors will be very sturdy regardless of the thickness. However, a thicker door will have added stability which is something to consider if you need over-sized doors. For most doors the main reason why you might choose one thickness over another is usually the hardware.
Pocket Doors
We sell different levels of track hardware with our pocket doors that can handle interior doors ranging from 3/4″ thick all the way up to 3″ thick. In most cases our standard 1.1/4″ thick doors will be what you want for your pocket doors. However, If you plan to add an optional pocket door lock you will need to go with 1.3/8″ or 1.3/4″ thick doors as the lock requires the extra thickness.
Hinged Doors
While there are hinges for any thickness of interior door most available double-sided handles and lock sets require interior doors that are 1.3/8″ or 1.3/4″ thick. It is best to choose your lock sets and handles first so that your doors can be made thicker if needed. If you plan to use a handle on one side of your doors only then 1.1/4″ will be thick enough.
Sliding Doors & Bifold Doors
The heavy duty, commercial grade track hardware we sell for bifold doors and sliding closet doors will work with individual doors ranging from 1.1/8″ up to 1.3/4″ thick. Almost all of the bifold doors and sliding doors that we make are 1.1/4″ since they rarely need a lock. If you are planning to add a lock we would recommend choosing that first in case you did need thicker doors.
Other Considerations
Beyond over-sized doors and the hardware there are a few other things to think about when it comes to the thickness of your doors. Will the doors be taking a fair amount of abuse like you might see in a public location? Do you want the look of your louvered doors to have more depth to them? Are you planning on using insulated glass in your doors? These are some of the other reasons why you may want to go with thicker doors. If you are still not sure please ask and we will work with you to find what thickness is best for your doors.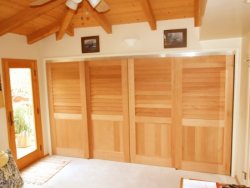 Interior doors of any style can be mounted as a sliding closet doors; all that it takes is the correct type of sliding door hardware!
However, there are a few options that you need to consider when it comes to the hardware:
How do you plan to use your Sliding Closet Doors? Before we look at any of the options you want to take a moment and really think about how you will be using your sliding doors.  Are they for a closet or utility room, a free-standing wardrobe or will the doors be separating two living spaces?  Will you be opening them every day or just once in a blue moon?  When you do open the doors will you need them to slide far enough apart to remove a heat pump or just wide enough to grab a clean pair of socks?  Will it only be you using these doors or will it be your kids or will the doors be used in a public space?  Knowing how you will use your sliding doors will help you in deciding which type of sliding door hardware will best suit your needs.
Tilt In OR Top Latch? This is referring to how the doors get installed on to the track.  Lighter weight sliding door hardware is designed so that you can just tilt the door at an angle and have the rollers catch on to the track.  Unfortunately the opposite is also true meaning that all you (or your children or large pets) have to do is knock the door up and at an angle a bit to have the door come off the track.  For this reason we do not even offer this kind of hardware.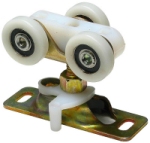 Instead we use commercial grade Johnson hardware that has a latch system (shown at left).  The wheels have a post hanging straight down that slips in to a bracket on the top edge of the door.  This bracket has a white latch that closes and secures the door to the wheels.  This not only makes for a much safer design but it also makes it easy to remove the doors if you should ever need to pull something very large out from behind the doors.
Do you want a Bottom Guide Track?
Most high end sliding track hardware is designed so that the full weight of the door is supported by the top track and hangers.  This makes it easier for the doors to slide back and forth and reduces stress on the door.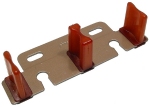 Because of this some sliding door hardware will only need the simple door guide shown to the right.  This is installed on the floor where one door overlaps the next.  This guide prevents the doors from swinging front to back.  Optionally, you can replace this guide with a full guide track.  These are little " U " channels that mount onto or into your floor.  The full guide track is helpful if you are concerned about a lot of force pushing the doors back and forth like you might have with children, large pets or commercial applications.  For sliding door hardware with more than 2 tracks and for very heavy doors the bottom guide track is a standard to remove the chance of doors swaying front to back.
Where would you like the Doors to Slide?
When it comes to sliding door hardware there are 3 places where the doors can slide.

Option 1. The doors can slide back inside the walls. These are called Pocket Doors.  Pocket doors are nice in that they can slide completely out of the way to allow full access to the closet.  They are also great where full swing doors do not have room such as in a kitchenette area.  The down side is that if you are retro-fitting an opening you will need to rip out the walls so that you can install the hidden tracks but for new construction preplanning a pocket door is easy.

Option 2. The doors can slide along the face of the wall like barn doors. These use wall mounted sliding door hardware.  Like the pocket doors these will offer you full access to your closet.  However, keep in mind that anything mounted to your walls, like shelves or light fixtures, will need to be removed so that the doors can slide.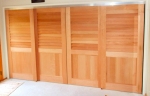 Option 3. The third way, which is the most common style of sliding door hardware, is where the doors can slide back and forth within the opening.  Since the doors stay within the opening this means you will not have full access unless you remove the doors.  This is the most popular style we see utitilized and what we quote as a standard.
If you will need full access on a daily basis then pocket doors or wall mounted sliding doors (options #1 and #2 above) will be your best options.  If you will not need full access other than a once a year spring cleaning then the standard sldiing doors (options #3 above) will work fine.
How Many Sliding Door Tracks would you like?
In many closets you will see 2,3 or 4 sliding doors.  Often the doors are mounted on 2 tracks, one in front of the other.  When there are 2 doors in the opening this means that 1 of the doors can slide behind the other to give you access to either the left or right half of the closet. (see Figure A below)  With 4 doors on tracks (as shown in option #3 above), you also have the option of sliding the doors to the edges so that you have access to the center of the closet. (see Figure B below)  With 3 doors on 2 tracks there is the problem that access is only to a third of the closet at any one time.  (see Figure C below)   One way around this is to have each door be on its own track.  This allows the doors to slide anywhere within the opening and be stacked together, one behind the others. (see Figure D below) For 3 or more tracks you will need enough depth on the header to allow you to mount the multiple tracks. If your opening does not have enough depth you can always mount a wide, solid piece of wood as a new header.



Regardless of how you will be using or installing your sliding closet doors there are things to consider when it comes to the type of sliding door hardware.  If it does get a bit confusing please do not hesitate to contact us be it email, phone call or live chat.

A naturally beautiful and renewable choice – Wood shutters and doors by
Kestrel Shutters & Doors, Inc.   www.DIYShutters.com   1-800-494-4321 / sales@diyshutters.com