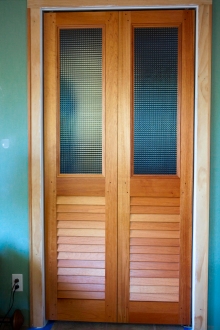 Here at Kestrel we make our custom sized interior doors and closet doors in three standard thicknesses; 1.1/4″, 1.3/8″ and 1.3/4″. Since we build all of our doors from solid wood using pegged, mortise and tenon joinery, the doors will be very sturdy regardless of the thickness. However, a thicker door will have added stability which is something to consider if you need over-sized doors. For most doors the main reason why you might choose one thickness over another is usually the hardware.
Pocket Doors
We sell different levels of track hardware with our pocket doors that can handle interior doors ranging from 3/4″ thick all the way up to 3″ thick. In most cases our standard 1.1/4″ thick doors will be what you want for your pocket doors. However, If you plan to add an optional pocket door lock you will need to go with 1.3/8″ or 1.3/4″ thick doors as the lock requires the extra thickness.
Hinged Doors
While there are hinges for any thickness of interior door most available double-sided handles and lock sets require interior doors that are 1.3/8″ or 1.3/4″ thick. It is best to choose your lock sets and handles first so that your doors can be made thicker if needed. If you plan to use a handle on one side of your doors only then 1.1/4″ will be thick enough.
Sliding Doors & Bifold Doors
The heavy duty, commercial grade track hardware we sell for bifold doors and sliding closet doors will work with individual doors ranging from 1.1/8″ up to 1.3/4″ thick. Almost all of the bifold doors and sliding doors that we make are 1.1/4″ since they rarely need a lock. If you are planning to add a lock we would recommend choosing that first in case you did need thicker doors.
Other Considerations
Beyond over-sized doors and the hardware there are a few other things to think about when it comes to the thickness of your doors. Will the doors be taking a fair amount of abuse like you might see in a public location? Do you want the look of your louvered doors to have more depth to them? Are you planning on using insulated glass in your doors? These are some of the other reasons why you may want to go with thicker doors. If you are still not sure please ask and we will work with you to find what thickness is best for your doors.
One Response to "How Thick Should My Interior Doors and Closet Doors Be Made?"