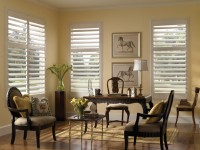 Faux Plantation Shutters?
At first it sounds like some sort of fake, decorative only shutter. While they are certainly decorative they are anything but fake. The "faux" in Faux Plantation Shutters simply means that they are not made from wood.
What are Faux Plantation Shutters made out of?
There are different materials that can be used but in our case we use an exterior grade, closed cell PVC. It will not rot, fade, chip or crack. They even come with a 25 year unconditional guarantee. An added benefit is that using this high density PVC allows for the frame and louver blades to be designed with air pockets that help insulate your home.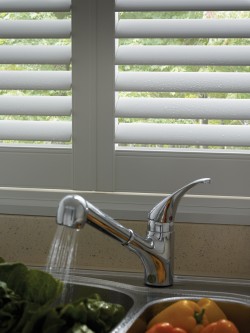 How safe are they?
Our Faux Plantation Shutters have GREENGUARD® certification for Microbial Resistance as well as Indoor Air Quality. This means they are approved for use in hospitals and schools and safe to use in your home. They also meet and exceed the NFPA 701 flammability testing for commercial and hospitality applications.
How do they compare to composite shutters?
The main difference is that composite shutters need to be painted. So even though a composite shutter may be somewhat maintenance free you will need to repaint it every few years. More if you live in a coastal region. With our Faux Plantation Shutters the color is blended right in so they never need maintenance. The 25 year unconditional guarantee even covers the color from fading or chipping.
What are good applications for Faux Plantation Shutters?
Our Faux Plantation Shutters can be used any where Wood Plantation Shutters can be used, both inside and out. The pictures below show only a few different ways. Call, email or chat with us to discuss how our Faux Plantation Shutters will work for you.
4 Responses to "Interior & Exterior Faux Plantation Shutters"