Posts Tagged 'Plantation Shutters'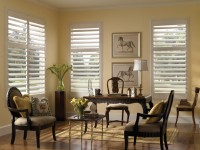 Faux Plantation Shutters?
At first it sounds like some sort of fake, decorative only shutter. While they are certainly decorative they are anything but fake. The "faux" in Faux Plantation Shutters simply means that they are not made from wood.
What are Faux Plantation Shutters made out of?
There are different materials that can be used but in our case we use an exterior grade, closed cell PVC. It will not rot, fade, chip or crack. They even come with a 25 year unconditional guarantee. An added benefit is that using this high density PVC allows for the frame and louver blades to be designed with air pockets that help insulate your home.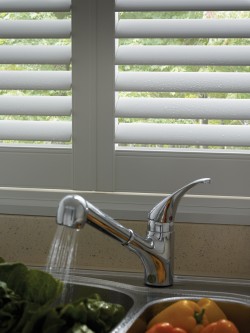 How safe are they?
Our Faux Plantation Shutters have GREENGUARD® certification for Microbial Resistance as well as Indoor Air Quality. This means they are approved for use in hospitals and schools and safe to use in your home. They also meet and exceed the NFPA 701 flammability testing for commercial and hospitality applications.
How do they compare to composite shutters?
The main difference is that composite shutters need to be painted. So even though a composite shutter may be somewhat maintenance free you will need to repaint it every few years. More if you live in a coastal region. With our Faux Plantation Shutters the color is blended right in so they never need maintenance. The 25 year unconditional guarantee even covers the color from fading or chipping.
What are good applications for Faux Plantation Shutters?
Our Faux Plantation Shutters can be used any where Wood Plantation Shutters can be used, both inside and out. The pictures below show only a few different ways. Call, email or chat with us to discuss how our Faux Plantation Shutters will work for you.
What is Overlap Rabbeting?
Overlap rabbeting on exterior shutters is a groove along the vertical edge that allows one shutter to overlap the shutter next to it.  An overlap rabbet is very much the same as what is termed as a shiplap joint or half lap joint.

Overlap rabbeting can be found on all functional exterior shutters and for a very good reason. With an overlap rabbet the shutters will close over one another eliminating any exposure in the center leaking rain, light or air . The overlap rabbet also creates a solidness to a closed pair of shutters locking them tighter together to eliminate any "shuddering" for better storm protection.
Is Overlap Rabbeting just for Exterior Shutters?

An overlap rabbet is just as important for interior shutters.  With an overlap rabbet UV rays are blocked from damaging your room furnishings as well as providing a tighter seal over the window giving better energy efficiency.  If you are using your interior shutters as blackout shutters for a bedroom or a media room overlap rabbeting is a must.
Overlap rabbeting is decorative, as well as functional, giving a neater and more finished appearance.  If you look at the picture to the right you will see the half-round bead detail.  This is shaped into the wood shutters to give a more uniform look to the face of the shutters.  This type of rabbet is referred to as a beaded overlap rabbet.
When should I use shutters with overlap rabbeting?
A good rule of thumb, for both interior and exterior shutters, is to have an overlap rabbet if your shutters are meant to be functional or at least look functional.  It is an option that adds very little to the cost but greatly increases their value.

A naturally beautiful and renewable choice – Wood shutters and doors by
Kestrel Shutters & Doors, Inc.   www.DIYShutters.com   1-800-494-4321 / sales@diyshutters.com
Here is another terrific outdoor project. This customer made great use of Kestrel Exterior Shutters and Louvered Doors when designing their outdoor dining area and kitchen for their coastal home.
To allow for both air flow and privacy an Operable Plantation Louvered Door (style 6212) was used for the bathroom. All of the outer windows were fitted with awning style Bahama Shutters. Operable Plantation Louvered Bahama shutters (style 1010) were used where privacy was needed while the other windows had Plantation Fixed Louvered Bahama Shutters (style 2010) to provide constant air flow. The exterior shutters and door were custom sized and built from Spanish Cedar using traditional pegged, mortise and tenon joinery.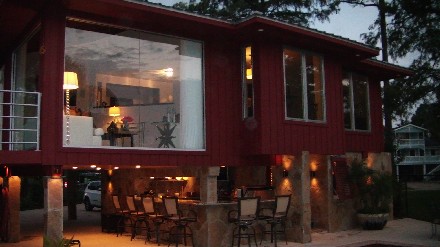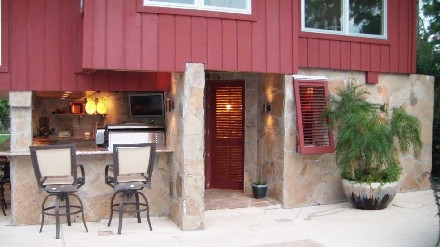 Below you can see the Operable Louvered Doors and the exterior view of the Bahama Shutters.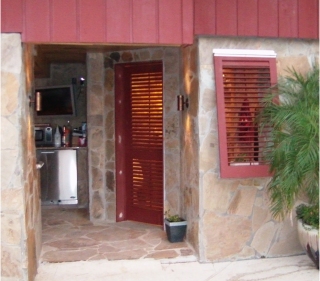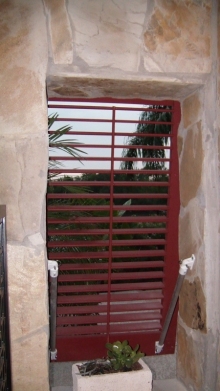 Here from the inside you can see how the Bahama Shutter Hardware is mounted to prop the shutter open creating an awning which is quite effective at screening the sun. We installed Bahama Shutters on the exterior of our Southerly facing office last year. The temperature inside was significantly reduced and the shutters also provided our Geranium packed window boxes just under each shutter a bit of sunscreen.
This project turned out great!

A naturally beautiful and renewable choice- Wood shutters and doors by
Kestrel Shutters & Doors, Inc.   www.DIYShutters.com   1-800-494-4321 / sales@diyshutters.com
We often think of Plantation shutters as the most gracious of window treatments, giving interior windows a true Southern charm. Really, there are many other applications well suited for this airy wide louver style. Over the years we have had the following questions asked and the answers show the true versatility of Plantation Shutters.
Can Plantation Shutters be used as Exterior Shutters?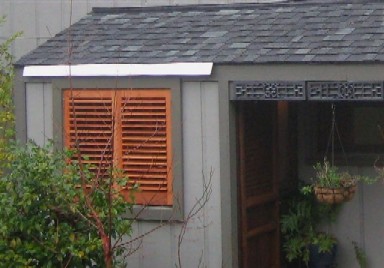 Yes! Plantation Shutters are at home as exterior shutters and even interior rooms with high huimidity. Exterior Plantation Shutters must be made with wood that can withstand harsh weather and environments. This is why we hand build our exterior Plantation Shutters out of Spanish Cedar. Spanish Cedar is a durable hardwood that is highly noted for its resistance to rot, decay and insects.
Can Plantation Shutters have fixed louver blades?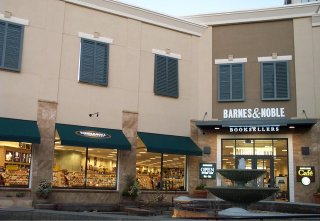 While Plantation Shutters are known for their ability to control ventilation and the sunlight coming in to your home, they can be made with non-moving louver blades. The fixed louver blades still allow indirect light to filter in as well air flow.
A good example are the awning style Bahama Shutters used on this Barnes & Noble Booksellers storefront. They wanted the look of Plantation Shutters without operable louvered blades.

Can Plantation Shutters be used in place of trellis screening?
Yes. Louvered Shutters will screen a view and also stave off a gusty breeze. The airy appearance of Plantation Shutters will provide a perfectly cozy partition extending your living spaces outdoors.

Can Plantation Shutters be used as interior doors?
Yes. This actually adds quite a bit of functionality as it allows you to control both ventilation and sound within parts of your home. Some good examples would be doors to cover utility rooms and doors that lead from living areas into screened in porches. When Plantation Shutters are used as interior doors we increase the proportions of the stiles and rails to add stability and look proportional.
Hopefully this has given you some insight in to the different ways Plantation Shutters can be used. So the next time you find yourself thinking about adding exterior shutters to your home or replacing some closet or interior doors, consider Plantation Shutters.

A naturally beautiful and renewable choice – Wood shutters and doors by
Kestrel Shutters & Doors, Inc. www.DIYShutters.com 1-800-494-4321 / sales@diyshutters.com
If there is any one style of shutter that is requested more than any other it is Plantation Shutters. What is surprising is that many people come to us for Plantation Shutters without even knowing what they are. Simply put, there has been so much publicity on Plantation Shutters over the years that people recognize the style as something desirable without fully knowing the style.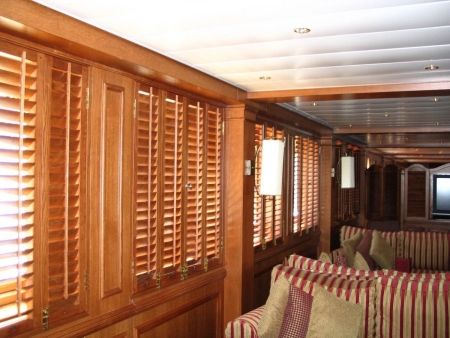 What are Plantation Shutters?
Plantation Shutters, in their basic form, are louvered shutters with approximately 2″ to 3″ wide operable louver blades. Our Plantation Shutters feature a 2.1/2″ wide operable louver blade.
Why are they called Plantation Shutters?
While some of the old plantations in the South used operable louvered shutters with wide louvers the term is much more recent. The term "Plantation Shutters" is really just a marketing idea someone came up with along the way, most likely not long after the release of "Gone with the Wind" and our introduction to Tara, Scarlett O'Hara and Rhett Butler. Let's face it, "Plantation Shutters" sounds so much nicer than "Shutters with wide, operable louvered blades".
So get a price quote on Plantation Shutters but remember they are only one of many styles of interior shutters. We'll be happy to price as many shutter styles as you would like.

A naturally beautiful and renewable choice – Wood shutters and doors by
Kestrel Shutters & Doors, Inc. www.DIYShutters.com 1-800-494-4321 / sales@diyshutters.com