If there is any one style of shutter that is requested more than any other it is Plantation Shutters. What is surprising is that many people come to us for Plantation Shutters without even knowing what they are. Simply put, there has been so much publicity on Plantation Shutters over the years that people recognize the style as something desirable without fully knowing the style.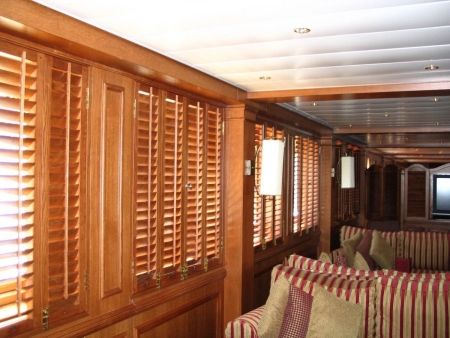 What are Plantation Shutters?
Plantation Shutters, in their basic form, are louvered shutters with approximately 2″ to 3″ wide operable louver blades. Our Plantation Shutters feature a 2.1/2″ wide operable louver blade.
Why are they called Plantation Shutters?
While some of the old plantations in the South used operable louvered shutters with wide louvers the term is much more recent. The term "Plantation Shutters" is really just a marketing idea someone came up with along the way, most likely not long after the release of "Gone with the Wind" and our introduction to Tara, Scarlett O'Hara and Rhett Butler. Let's face it, "Plantation Shutters" sounds so much nicer than "Shutters with wide, operable louvered blades".
So get a price quote on Plantation Shutters but remember they are only one of many styles of interior shutters. We'll be happy to price as many shutter styles as you would like.

A naturally beautiful and renewable choice – Wood shutters and doors by
Kestrel Shutters & Doors, Inc. www.DIYShutters.com 1-800-494-4321 / sales@diyshutters.com