Archive for the 'Closet Doors' Category
Can I Use 2 Different Styles of Closet Doors Together?
Simply put…Yes.  While we make doors that are a combination of different styles ( louvers over panels, mirrored over bead board, operable louvers over fixed louvers and more ) you can also use different types of doors in the same opening.
Reasons for Mixing and Matching Door Styles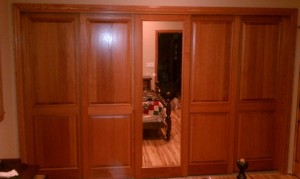 The most common reason to consider combining doors with different styles is if you are using mirrored closet doors.  Sometimes an entire wall made up of mirrors can be a bit overwhelming.  The doors to the left show how a single, central door was made with a mirror while the outer doors are a more formal raised panel design.
Below is another example.  Louvered doors were needed for ventilation in the closet.  The homeowners, however, wanted mirrored doors to help with getting ready in the morning.  By using both styles of closet doors they were able to get exactly what they needed and wanted.
What Styles of Closet Doors to Use
Any style of closet door can be mixed with another.  Really the best thing to do is stand in front of your closet and think about how it will be used.  For example, will it be used for housing equipment that might need ventilation or maybe sound proofing.
Next, think about how you want the closet doors to look.  Louvers for a more relaxed or beachy/Caribbean feel.  Tongue & Groove or Beadboard to make things look taller.  Flat panels for a Mission style home.  Whatever look you are going for you can then mix the different styles of closet doors to get that look and the use that you need.
If you are not sure what styles will work, you can always give us a call, send us an email or start an online chat. We are happy to help.
What Are Faux Louvered Doors?
With fixed louvered doors the louver blades are fixed at an angle and spaced far enough apart so that there is a gap.  This is so they provide privacy while still allowing airflow.  With Faux lovered doors the louver blades are shaped like a chevron and stacked.  This gives you the look of fixed louvered doors while blocking sound and airflow as well as sight.
Applications for Faux Louvered Doors
Since faux louvered doors give excellent privacy some of the applications are for guest room doors, bathroom doors and maintenance doors.  Keep in mind, however, that since faux louvers block all air flow they should not be used where ventilation is required such as around air handling, refrigeration and  media equipment.
Available Sizes & Costs
As with all of our other designs of shutters and doors, our faux louvered doors are available in any custom size.  We offer faux louvers in 3 different sizes; 1.7/8″, 2.1/2″ and 3.1/2″.  All of which can be installed as hinged, bifold, sliding or pocket doors.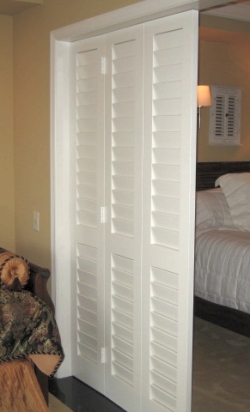 If you are not sure if faux louvered doors will work for you please ask. Give us a call, send us an email or start an online chat. We are happy to help.
What are the differences between Interior Doors and Closet Doors?
We often receive emails and phone calls asking us which doors can be used as closet doors and which can be used for interior doors between rooms.  Many people are concerned that there may be some reason why the same door should not be used in both places.
Door Designs
The truth is that all Kestrel designs of closet doors and interior doors are interchangeable.   This means that you can have your interior doors match your closet doors throughout your home.    Something to keep in mind, however, is that some designs may be more practical for certain types of rooms or closets.   Operable and Fixed Louvered Doors for ventilation.  False Louver,  Tongue & Groove and Panel Doors for sound insulation.  Glass and Mirrored doors to help brighten dark rooms.  There are also doors that combine designs to offer a bit of each.
Door Thickness and Stile Width
The stiles of a door (not "style") are the vertical frame parts of the door.    On interior doors between rooms it is not uncommon to see wider and thicker stiles.  This is because most  locks and door knobs require a hole drilled right through the door.  The thicker door and wider stiles allow this while keeping the door itself structurally sound.  On closet doors the overall thickness and stiles can be narrower since locks and handles are not usually required.
Door Hardware
There are 4 basic types of hardware for doors.  Hinged doors, pocket doors, bifold doors and sliding doors.  With closet doors all 4 types of hardware are used consistently depending really only on how you plan to use the closet.  While with interior doors we normally see hinges it is still common to use bifold, sliding and even pocket door hardware used.  Below are two good examples.
If you are not sure which door designs and options will work best for you please ask us. Give us a call, send us an email or start an online chat. We are happy to help.
Bifold Doors or Sliding Closet Doors; Which Cost Less?
When buying new closet doors most people look for a way to save money without compromising on quality. One way to do this is to consider the cost differences between sliding closet doors and bifold doors.
How Many Doors for Your Closet?
We custom make all of our doors to the custom sizes that you need. The time involved to make an 18″ wide door is about the same as that needed for a 36″ wide door. This means that the fewer individual doors that you have covering your closet, the lower the cost. So if your closet is 72″ wide, using 2 doors, each 36″ wide, will cost less than using 4 doors, each 18″ wide. Since wider doors are typically hung as sliders this does make sliding closet doors less expensive.
What if Bifold Doors Are My Only Option?
If your application requires bifold doors you can still keep costs down. We also offer the 200FD line of bifold door hardware by Johnson that can handle individual doors up to 48″ wide.
In the end it is not so much that sliding closet doors cost less than bifold doors. Instead it is keeping the number of individual doors to a minimum for your closet that keeps the price down.
If you are not sure how you want to hang your closet doors you can read one of older posts: Should I go with bifold or sliding closet doors?. You can also give us a call, send us an email or start an online chat. We are happy to help.
Closet & Door Openings Not Square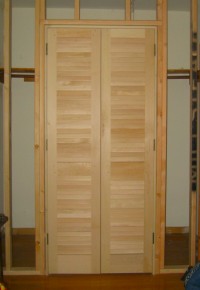 It is not uncommon to have the openings for interior doors or closet doors be out of square. The reasons could be anything from the house settling to an uneven floor to stud walls and header being twisted. The good news is that in most cases it is easy to work around these issues.
Rough Openings vs Finished Openings
If the opening for your doors is still rough (not framed out) then it really does not matter if your opening is square or not. When you frame out the opening you will have a chance to square everything up. This is also the case if you are installing pocket doors. If you are not sure if your door openings are rough or not here is an earlier post that explains the difference. Interior Doors: A Rough Opening vs. A Finished Opening
Measuring for your Doors
The first thing you will want to do is measure the framed opening where you want your doors. It is a good idea to measure the width and height in a few different places. This will help to show you where, if at all, your framed opening is out of square. Another check is to measure diagonally across the opening. If the measurement from the top left corner to the bottom right corner is the same as the measurement from the bottom left corner to the top right corner then your framed opening is square. Here is a link to our site on How to Measure for Doors which will help. If you do find that your framed opening is not square there are ways to work around this.
Uneven Header
If you the header dips to one side or another, or if it has a "bump" in the middle there are a few things you can do. You can try and correct it be removing and re-installing the header. Most likely this will be more difficult and time consuming than the alternative. If you are installing sliding closet doors or bifold doors you can simply shim out the track to make it level. Any resulting gap can be easily covered with a valence or corner moulding. If you are installing hinged doors you have a choice. If the header only dips an 1/8″ or so you may just want to leave it be. However, if the gap is more noticeable you should consider removing the door casing and straightening the door jamb.
Uneven Floor
If your floor is uneven there is not too much that you can do other than rip up and lay down a new floor. Thankfully an uneven floor will not affect the way your doors work. It will just mean that you have more of a gap at one end of the bottom than at the other.
Side Jambs not Plumb
If your house has settled you will mostly likely find that the side jambs will not be plumb. You will treat this similar to how it was explained with the uneven header above; let it be if the gap is small or remove the casing and re-plumb the jamb. If you installing sliding closet doors or bifold doors the simplest thing to do is to let the gap stay and then apply a simple quarter round or corner moulding right in front of the doors along the side jambs. This will hide the gap and not interfere with the way the doors open and close.
Hopefully this post has been helpful. If you still have questions on how to work with your non-square openings for your doors just ask. Give us a call, send us an email or start an online chat. We are happy to help.