Posts Tagged 'Louver Doors'
Can I Use 2 Different Styles of Closet Doors Together?
Simply put…Yes.  While we make doors that are a combination of different styles ( louvers over panels, mirrored over bead board, operable louvers over fixed louvers and more ) you can also use different types of doors in the same opening.
Reasons for Mixing and Matching Door Styles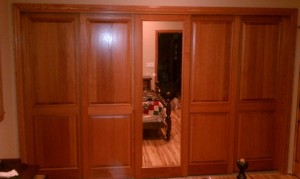 The most common reason to consider combining doors with different styles is if you are using mirrored closet doors.  Sometimes an entire wall made up of mirrors can be a bit overwhelming.  The doors to the left show how a single, central door was made with a mirror while the outer doors are a more formal raised panel design.
Below is another example.  Louvered doors were needed for ventilation in the closet.  The homeowners, however, wanted mirrored doors to help with getting ready in the morning.  By using both styles of closet doors they were able to get exactly what they needed and wanted.
What Styles of Closet Doors to Use
Any style of closet door can be mixed with another.  Really the best thing to do is stand in front of your closet and think about how it will be used.  For example, will it be used for housing equipment that might need ventilation or maybe sound proofing.
Next, think about how you want the closet doors to look.  Louvers for a more relaxed or beachy/Caribbean feel.  Tongue & Groove or Beadboard to make things look taller.  Flat panels for a Mission style home.  Whatever look you are going for you can then mix the different styles of closet doors to get that look and the use that you need.
If you are not sure what styles will work, you can always give us a call, send us an email or start an online chat. We are happy to help.
What Are Faux Louvered Doors?
With fixed louvered doors the louver blades are fixed at an angle and spaced far enough apart so that there is a gap.  This is so they provide privacy while still allowing airflow.  With Faux lovered doors the louver blades are shaped like a chevron and stacked.  This gives you the look of fixed louvered doors while blocking sound and airflow as well as sight.
Applications for Faux Louvered Doors
Since faux louvered doors give excellent privacy some of the applications are for guest room doors, bathroom doors and maintenance doors.  Keep in mind, however, that since faux louvers block all air flow they should not be used where ventilation is required such as around air handling, refrigeration and  media equipment.
Available Sizes & Costs
As with all of our other designs of shutters and doors, our faux louvered doors are available in any custom size.  We offer faux louvers in 3 different sizes; 1.7/8″, 2.1/2″ and 3.1/2″.  All of which can be installed as hinged, bifold, sliding or pocket doors.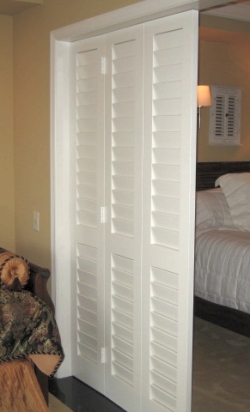 If you are not sure if faux louvered doors will work for you please ask. Give us a call, send us an email or start an online chat. We are happy to help.
Choosing Utility Closet Doors
When you are looking to buy new doors for a utility closet you need to consider both the requirements that any equipment in the closet might have as well as any other features you would like to see in the doors. Typically this means choosing styles of closet doors that allows the proper amount of airflow while keeping the sound down.
Utility Closet Doors with Airflow
Many pieces of equipment require a certain amount of airflow to make sure that they do not overheat. This Minimum Airflow will usually be listed in square inches (in²) on the equipment itself or in the owner's manual. To provide airflow you have three options. The first option is to use one of our fixed louvered doors. As a rule the smaller the louver the more airflow. The next is to go with operable louvered doors. With operable louvered doors the larger the louver the greater the maximum airflow. These allow you to open the louvers fully for maximum airflow or to close them up to provide some sound insulation. The third option is to go with one of our closet door designs with removable trim but instead of using glass or mirror use a decorative wire mesh.
Utility Closet Doors with Sound Reduction
In some cases you are looking to minimize the sound as much as possible. This is easily achieved by going with panel doors, tongue & groove doors or some other type of solid design. You can also use faux louvered doors to match any other louvered doors and shutters in your home. Depending on the equipment you have in the utility closet you may want a combination of sound proofing and airflow. For situations like this we offer a line of doors that have 12″ of louvers at the top for ventilation while the rest of the door is tongue & groove to provide sound reduction.
If you are not sure which designs of closet doors will work best for you please ask us. Give us a call, send us an email or start an online chat. We are happy to help.
Here is another terrific outdoor project. This customer made great use of Kestrel Exterior Shutters and Louvered Doors when designing their outdoor dining area and kitchen for their coastal home.
To allow for both air flow and privacy an Operable Plantation Louvered Door (style 6212) was used for the bathroom. All of the outer windows were fitted with awning style Bahama Shutters. Operable Plantation Louvered Bahama shutters (style 1010) were used where privacy was needed while the other windows had Plantation Fixed Louvered Bahama Shutters (style 2010) to provide constant air flow. The exterior shutters and door were custom sized and built from Spanish Cedar using traditional pegged, mortise and tenon joinery.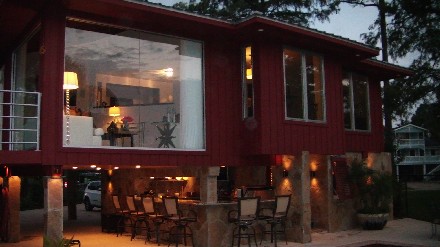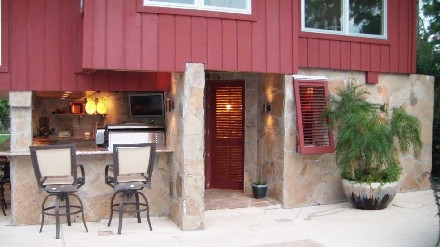 Below you can see the Operable Louvered Doors and the exterior view of the Bahama Shutters.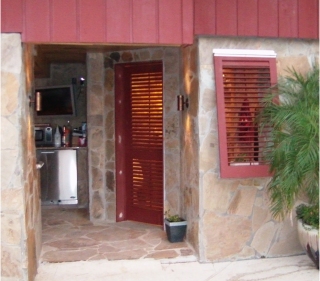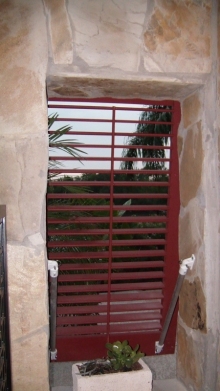 Here from the inside you can see how the Bahama Shutter Hardware is mounted to prop the shutter open creating an awning which is quite effective at screening the sun. We installed Bahama Shutters on the exterior of our Southerly facing office last year. The temperature inside was significantly reduced and the shutters also provided our Geranium packed window boxes just under each shutter a bit of sunscreen.
This project turned out great!

A naturally beautiful and renewable choice- Wood shutters and doors by
Kestrel Shutters & Doors, Inc.   www.DIYShutters.com   1-800-494-4321 / sales@diyshutters.com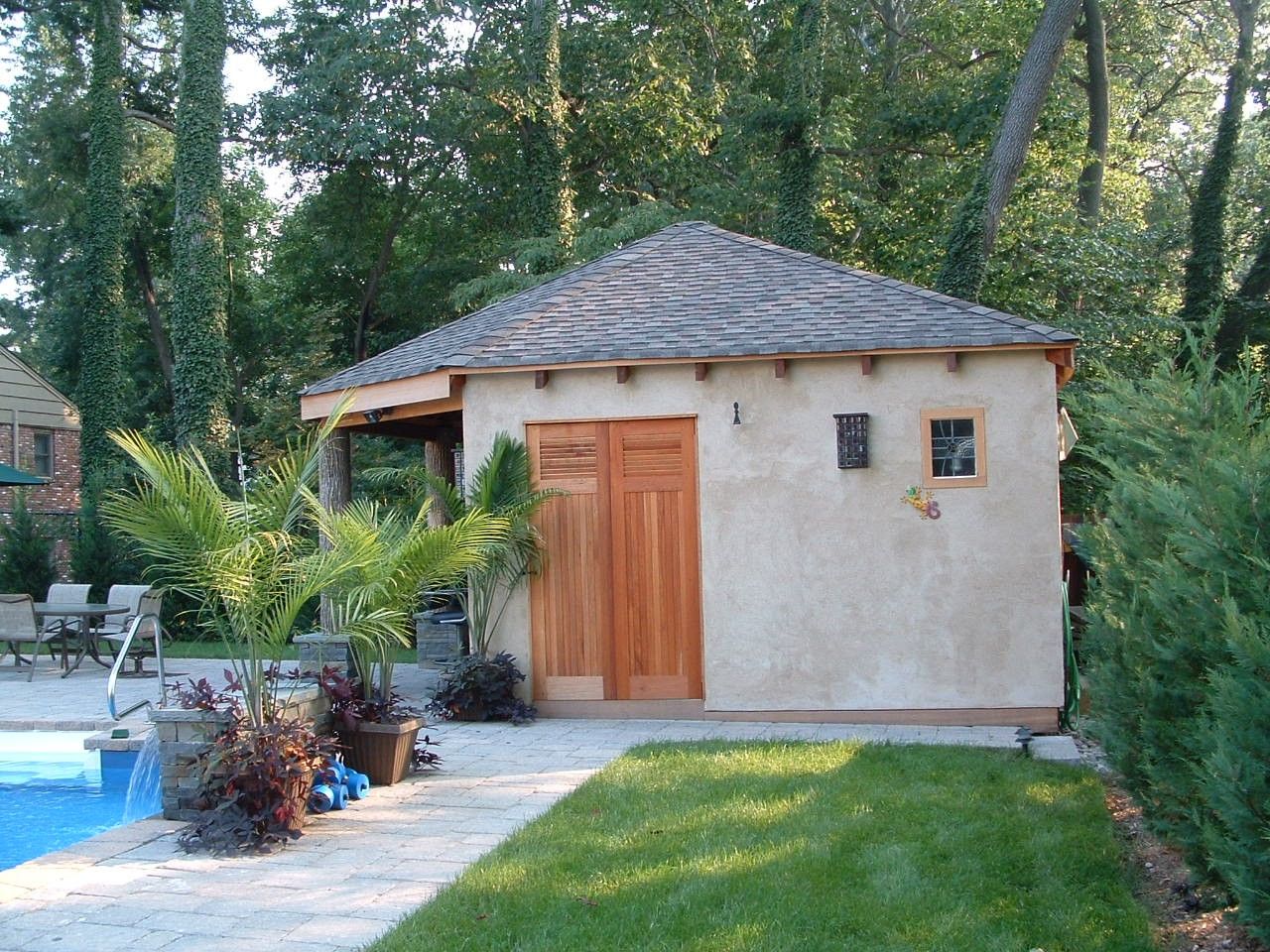 Time to make your wish list of outdoor projects happen and we can help!
Our Custom-made exterior doors and exterior shutters find a variety of uses outside such as for this terrific poolside cabana. These cabana doors are Kestrel style 6161 – Fixed Traditional Louvered over Tongue & Groove. The customer also installed our 3.1/2″ fixed California Louvered exterior shutters to close over the bar counter window when not in use.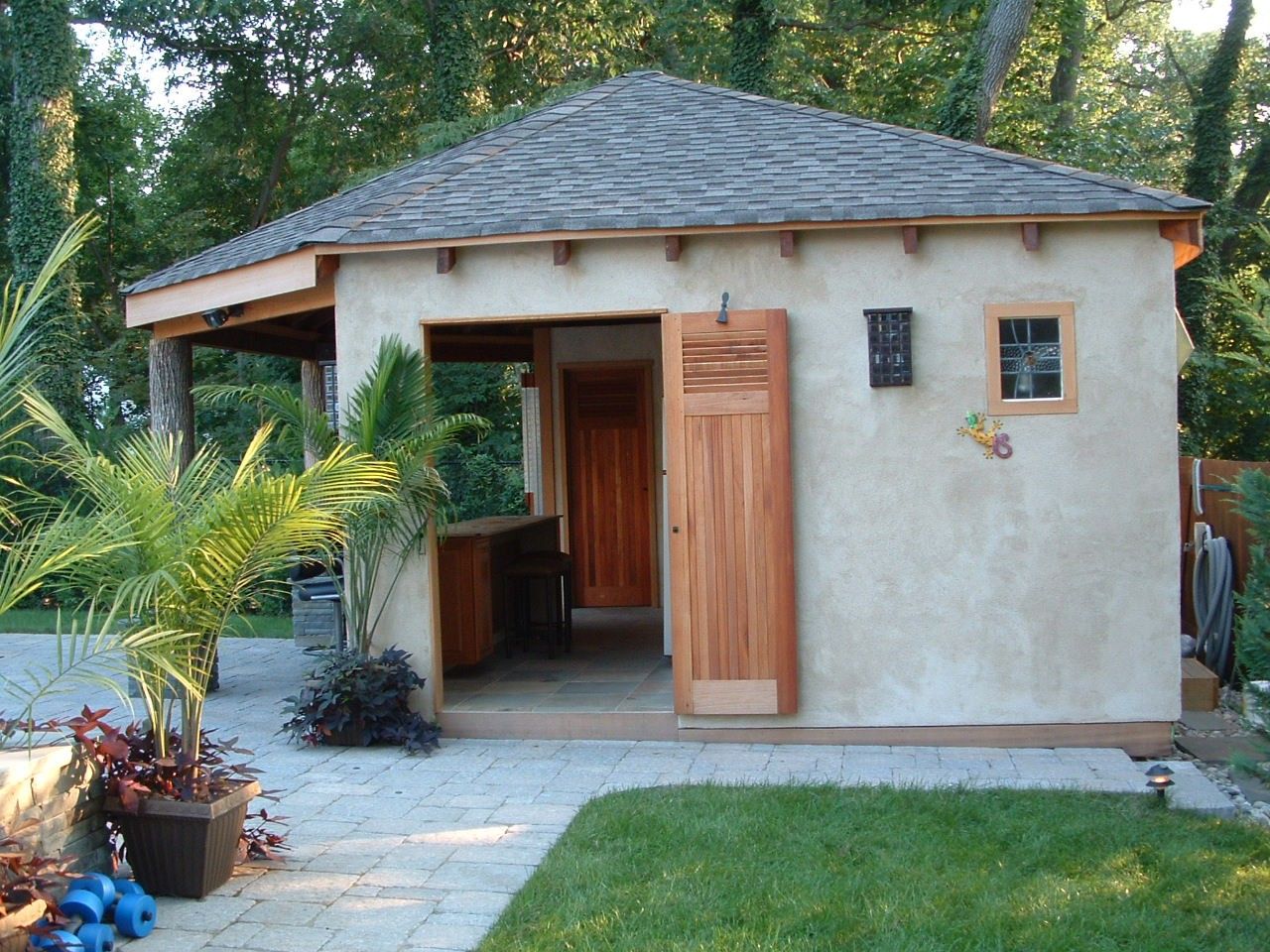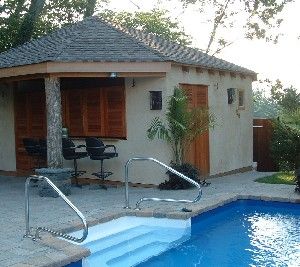 A naturally beautiful and renewable choice – Wood shutters and doors by
Kestrel Shutters & Doors, Inc. www.DIYShutters.com 1-800-494-4321 / sales@diyshutters.com