Archive for the 'Doors' Category
Here is another terrific outdoor project. This customer made great use of Kestrel Exterior Shutters and Louvered Doors when designing their outdoor dining area and kitchen for their coastal home.
To allow for both air flow and privacy an Operable Plantation Louvered Door (style 6212) was used for the bathroom. All of the outer windows were fitted with awning style Bahama Shutters. Operable Plantation Louvered Bahama shutters (style 1010) were used where privacy was needed while the other windows had Plantation Fixed Louvered Bahama Shutters (style 2010) to provide constant air flow. The exterior shutters and door were custom sized and built from Spanish Cedar using traditional pegged, mortise and tenon joinery.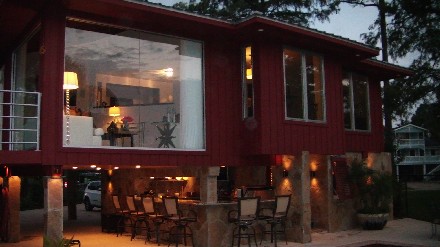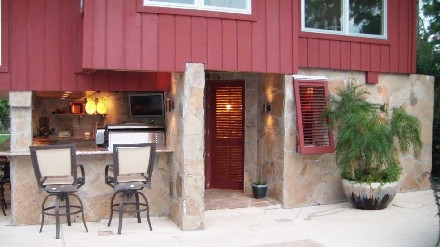 Below you can see the Operable Louvered Doors and the exterior view of the Bahama Shutters.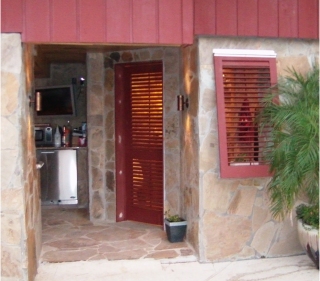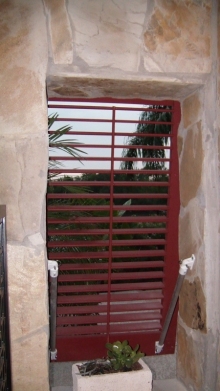 Here from the inside you can see how the Bahama Shutter Hardware is mounted to prop the shutter open creating an awning which is quite effective at screening the sun. We installed Bahama Shutters on the exterior of our Southerly facing office last year. The temperature inside was significantly reduced and the shutters also provided our Geranium packed window boxes just under each shutter a bit of sunscreen.
This project turned out great!

A naturally beautiful and renewable choice- Wood shutters and doors by
Kestrel Shutters & Doors, Inc.   www.DIYShutters.com   1-800-494-4321 / sales@diyshutters.com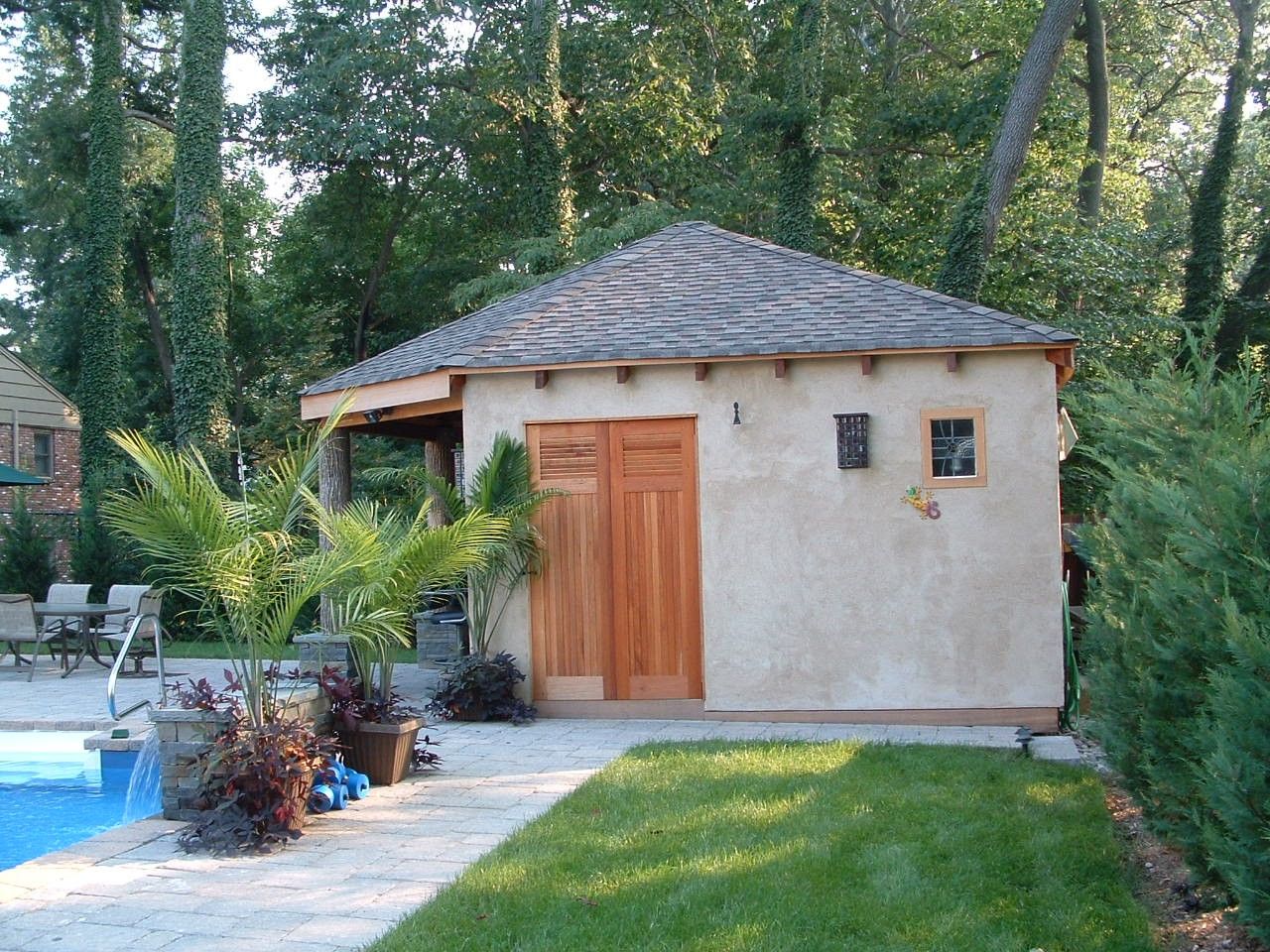 Time to make your wish list of outdoor projects happen and we can help!
Our Custom-made exterior doors and exterior shutters find a variety of uses outside such as for this terrific poolside cabana. These cabana doors are Kestrel style 6161 – Fixed Traditional Louvered over Tongue & Groove. The customer also installed our 3.1/2″ fixed California Louvered exterior shutters to close over the bar counter window when not in use.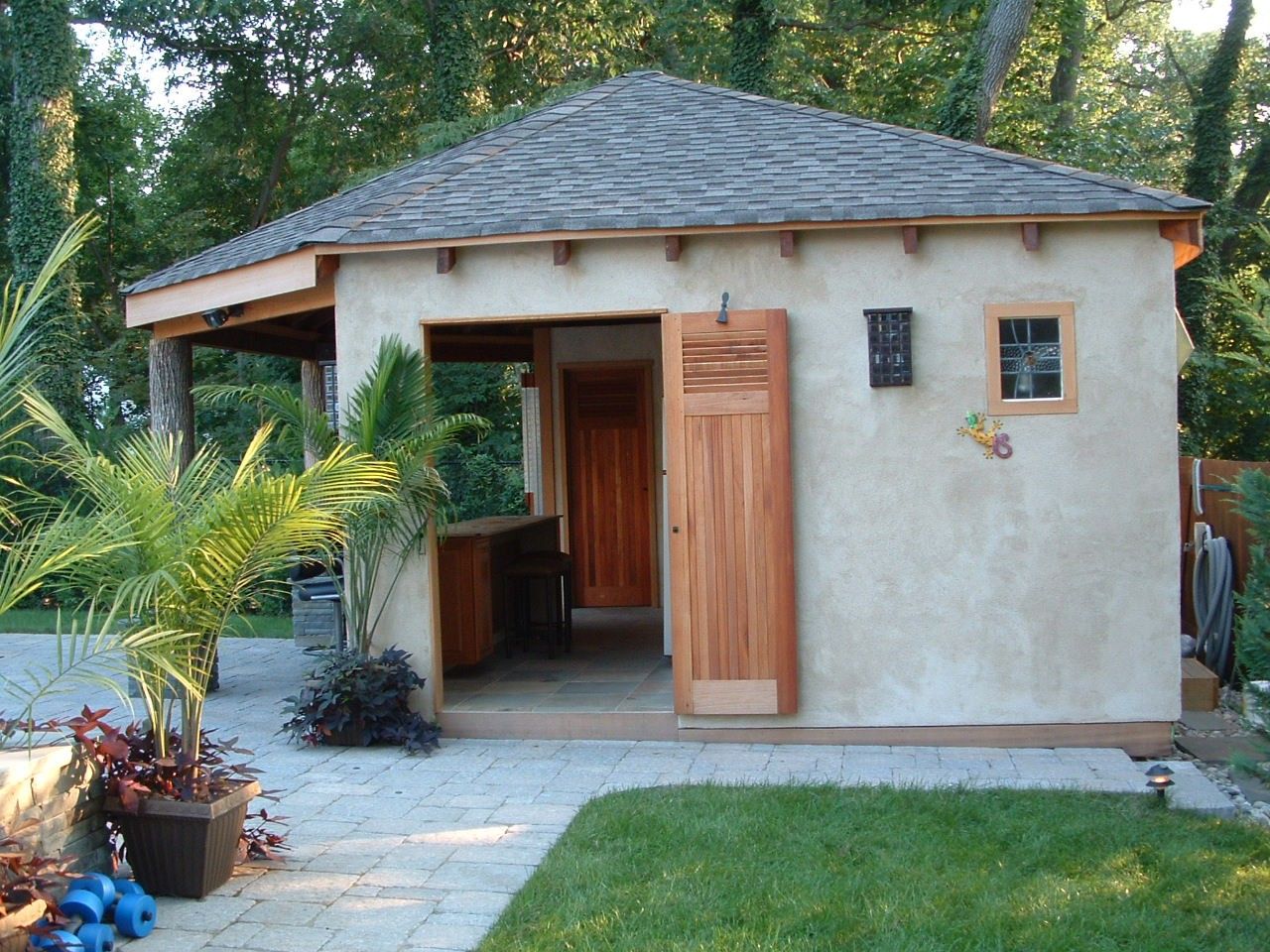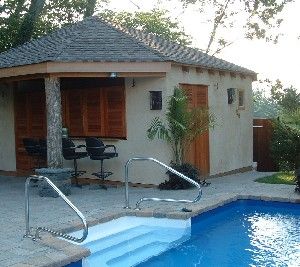 A naturally beautiful and renewable choice – Wood shutters and doors by
Kestrel Shutters & Doors, Inc. www.DIYShutters.com 1-800-494-4321 / sales@diyshutters.com

Recently many customers have asked us about the hardwood pegs found in our doors and shutters. These pegs and their mitered layout on a completed frame are a signature mark of Kestrel Shutters and Doors.
The pegged mortise and tenon joint is a time honored cabinet makers joint with a use that extends very far back in time. Just google "mortise and tenon ship building" and you'll see for yourself the amazing use of this joint. Even in today's world, the pegged mortise and tenon joint is still one of the best wood fastening methods.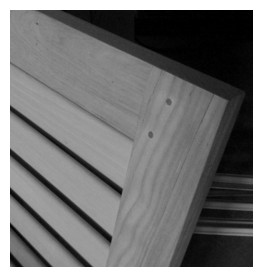 The peg, which acts as a cotter pin locks the connecting joint together. Pegs are usually pinned through the pocket joint and are revealed on both sides of the frame. However, one modern modification that we made to our mortise and tenon joints is to not have the pegs exposed on both sides. This design change allows us to provide our doors and shutters a distinct appearance to both sides. It also eliminates the slight possibility of the peg sliding out while doing it's job in holding the joint together.
Our standard practice for our custom sized, made to order, wood doors and shutters is to build the frames with the pegs clearly visible on the front face. But, time to time, some customers do not want to see these pegs and for good reason such as the traditional joinery does not match their interior design. Whatever the reason may be, it's an easy modification to have the pegs not show by inserting the pegs on the back side.
If having the pegs visible is a concern please let us know and we will accommodate your design preference.

Kestrel Shutters & Doors, Inc.
www.DIYShutters.com
sales@diyshutters.com

Now in our 20th Year
May 4, 2009

If you haven't read my posts before, I sometimes add other odds and ends to share…
I took this picture just the other day of Black Angus grazing on the lush June grass.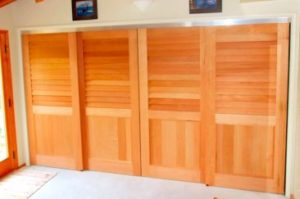 A common misconception is that closet door hardware, especially hardware for sliding closet doors, requires a bottom track.  The belief is that the bottom track helps support the weight of the doors as well as keep the doors aligned.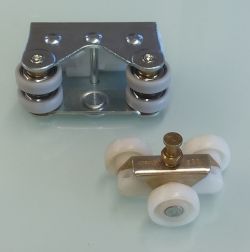 The Johnson Hardware, that we supply with our closet doors, is actually designed the other way around.  The top track rollers (shown at right) can support doors up to 200 lbs each for medium rated (3 wheels) and 400 lbs each for the heavy duty rated (4 wheels).  This means that, since the top track supports all of the weight, the optional bottom track is used only to help guide your sliding closet doors and bifold doors.
When should I use a bottom track?
You really only need to use the bottom guide when there is a concern that the doors might be bumped hard enough to swing, front to back.  Some good examples would be if the doors are being be used between rooms or if you have small children or large pets.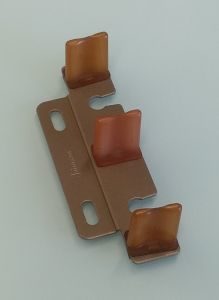 If you have only 2 rows of closet doors in the opening (1 or 2 doors in the front row and 1 or 2 doors in the back row) there is a simple floor guide (shown at left) that keeps the doors separated and from hitting each other.  If you look closely at the top picture, you will see these guides where the front row doors overlap the back row doors.  (a close-up is shown in the image to the right)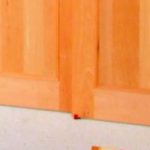 If you have doors in 3 or more rows, then bottom guide tracks are required.
Are bottom tracks only for sliding closet doors?
No.  Larger bi-fold doors are also good candidates for a bottom guide track.  Follow the same rule as with your sliding closet doors.  If you think your bi-fold doors are going to be bumped a lot then a bottom guide track might be helpful.
Do I need to cut into my floor to install the bottom track?
No.  Since the bottom guide tracks do not support any weight they can be surface mounted to your floor.  Wood strips can be placed on either side of the track to give the look of a finished threshold.  If you have not installed your floor you can also use a bottom guide track.  In this case you would simply install your flooring on either side of the bottom guide track.  The nice thing about this method is that the track is submerged below the floor level so there is no concern about tripping.
So while a bottom track is not needed to support the weight or your doors, it can help to guide your doors.
*This post was updated on December 24th, 2019

A naturally beautiful and renewable choice – Wood shutters and doors by
Kestrel Shutters & Doors, Inc. www.DIYShutters.com 1-800-494-4321 / sales@diyshutters.com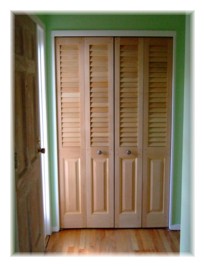 When it comes to closet doors, one of the most popular ways to mount them is as bifold doors. Basically this means that the doors are hinged together in pairs and will open and close in pairs.
While there doesn't seem like there would be much variation in the hardware for bifold doors there are a few different factors to consider.
Where will your doors fold open?
The first thing to look at is how you want to have your doors fold open. Traditional bifold doors will fold up in pairs within the closet opening. The doors can be mounted so that they all fold to one side only or split up so that pairs of doors fold to both sides. If you do NOT want the doors to fold up inside the opening then you can choose what is known as "full access" hardware.
Johnson Hardware 1601 series is a full access hardware that folds the doors 180° open and out against the face of the wall. The advantage of this is that you do not have pairs of doors blocking part of your opening. Three of the most practical applications for this are closets that hold a washer and dryer, closets that hold a home office and closets that stow away a Murphy Bed. If you do not have the wall space for your bifold doors to swing out and open then you will need to go with more traditional hardware that keeps the doors within the opening.
Can you mount your bifold doors to the floor?
Some hardware for bifold doors require that you mount a bottom pivot directly on to your floor. If you have custom flooring this may not be practical or desired. This is one of the reasons that Johnson Hardware 111FD series is so popular. This is a heavy duty track hardware that holds bifold doors up to 50 lbs each but does not require you to touch your floor. Instead the bottom pivot mounts to your jamb to support your bifold doors.
Are your closet doors oversized?
Many of the closet doors we make are oversized and need to have bifold door hardware that has heavier limits. The Johnson Hardware 100FD series will handle bifold doors up to 75 lbs each and the Johnson Hardware 200FD series will handle bifold doors up to 48″ wide each and 125 lbs each. These series of bifold track hardware will have a bottom pivot that mounts to the floor to help stabilize the oversized doors.
Closets with more than 4 doors
Sometimes it makes sense to have more than 4 doors within a closet opening. Most often it is because the closet has a very wide opening or it could even be several sets of interior doors to separate two rooms. In cases like this we offer what is referred to as multifold door hardware. The Johnson Hardware 100RD series will handle doors up to 24″ wide and 50 lbs each while the Johnson Hardware 200RD series will handle doors up to 36″ wide and 75 lbs each. Both of these can handle up to a maximum of 12 individual interior doors, 6 folding to the left and 6 folding to the right.
Bifold Door Hardware – Summary Table
| | | | | |
| --- | --- | --- | --- | --- |
| Series | max. Door Size | max. Door Weight | max. Doors Folding in One Direction | Bottom Pivot |
| 1601 | 24″ x 96″ | 30 lbs. | 2 | none |
| 111FD | 24″ x 108″ | 50 lbs. | 2 | Jamb Mount |
| 100FD | 24″ x 108″ | 75 lbs. | 2 | Floor Mount |
| 200FD | 48″ x 108″ | 125 lbs. | 2 | Floor Mount |
| 100RD | 24″ x 108″ | 50 lbs. | 6 | Floor Mount |
| 200RD | 36″ x 108″ | 75 lbs. | 6 | Floor Mount |

A naturally beautiful and renewable choice – Wood shutters and doors by
Kestrel Shutters & Doors, Inc. www.DIYShutters.com 1-800-494-4321 / sales@diyshutters.com