Archive for the 'Interior Doors' Category
Track Hardware for Sliding Closet Doors
When it comes to choosing track hardware for your sliding closet doors the main decision is really about how many individual doors do you want on each track. Your options vary somewhat depending on whether you are going with 2, 3 or 4 sliding doors to cover your closet.

Applications with 2 Sliding Closet Doors
If you have 2 doors covering your closet then you have a choice of a 2 track system or a wall mount system. With the standard 2 track system (figure 1) the doors slide back and forth within the opening so you can access half of your closet at any one time. With the wall mount (figure 2) you have full access to the closet however you need to have clear wall space for the doors to slide.
Applications with 3 Sliding Closet Doors
With 3 doors covering your closet you can choose either a 2 track or 3 track system. With the 2 track system (figure 3) you will have 1 door on 1 track and 2 doors on the other track. This means that you can only open up one third of your closet at any time. With the 3 track system (figure 4) each door has its own track so that you can slide and stack all 3 doors one behind the other. This allows you access to two thirds of the closet. Something to keep in mind is that if you go with a 3 track system you need to have enough depth in your header to hold all 3 doors. A standard wall built with 2x4s and a 4.1/2″+ jamb header is deep enough to accommodate 3 doors 1.1/4″ or 1.3/8″ thick. If you are using 1.3/4″ doors you will need a jamb header at least 5.1/2″ deep.
Applications with 4 Sliding Closet Doors
For 4 doors the most common layout that we see is a 2 track system (figure 5) with 2 doors on each track. This allows for half of the closet to be open at a time. The alternative is to have each door on its own track (figure 6). This would give you the most access to your closet however you will need to have walls built with 2×6 studs as a minimum.
Do you need a Bottom Track?
The commercial grade sliding door hardware that we offer is designed so that all of the weight is supported at the top. This means that a bottom track is used only to guide the doors and keep them from swinging front to back. On the standard 2 track system the bottom track is optional. You would really only need the bottom track if you are concerned about the doors being pushed front to back like you might have in certain commercial applications or if you had large pets. On sliding closet doors systems with 3 or more tracks a bottom guide track is already included.
Which Track Hardware is best for your Sliding Closet Doors?
What I always recommend to people when they are deciding on their track hardware is this. Stand in front of your closet and imagine how you will be using your closet. If you will only be using part of the closet at any one time then a 2 track system will probably work for you. If you prefer to have the closet open as much as possible while you look over everything and make a decision then having each door on its own track will be better for you. What it really comes down to is "which do you prefer?"
If you are still not sure which sliding closet door hardware will work for you let us help. Give us a call, send us an email or start an online chat. We are happy to help.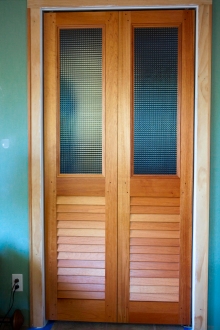 Here at Kestrel we make our custom sized interior doors and closet doors in three standard thicknesses; 1.1/4″, 1.3/8″ and 1.3/4″. Since we build all of our doors from solid wood using pegged, mortise and tenon joinery, the doors will be very sturdy regardless of the thickness. However, a thicker door will have added stability which is something to consider if you need over-sized doors. For most doors the main reason why you might choose one thickness over another is usually the hardware.
Pocket Doors
We sell different levels of track hardware with our pocket doors that can handle interior doors ranging from 3/4″ thick all the way up to 3″ thick. In most cases our standard 1.1/4″ thick doors will be what you want for your pocket doors. However, If you plan to add an optional pocket door lock you will need to go with 1.3/8″ or 1.3/4″ thick doors as the lock requires the extra thickness.
Hinged Doors
While there are hinges for any thickness of interior door most available double-sided handles and lock sets require interior doors that are 1.3/8″ or 1.3/4″ thick. It is best to choose your lock sets and handles first so that your doors can be made thicker if needed. If you plan to use a handle on one side of your doors only then 1.1/4″ will be thick enough.
Sliding Doors & Bifold Doors
The heavy duty, commercial grade track hardware we sell for bifold doors and sliding closet doors will work with individual doors ranging from 1.1/8″ up to 1.3/4″ thick. Almost all of the bifold doors and sliding doors that we make are 1.1/4″ since they rarely need a lock. If you are planning to add a lock we would recommend choosing that first in case you did need thicker doors.
Other Considerations
Beyond over-sized doors and the hardware there are a few other things to think about when it comes to the thickness of your doors. Will the doors be taking a fair amount of abuse like you might see in a public location? Do you want the look of your louvered doors to have more depth to them? Are you planning on using insulated glass in your doors? These are some of the other reasons why you may want to go with thicker doors. If you are still not sure please ask and we will work with you to find what thickness is best for your doors.
Looking for a simple way to personalize your interior doors?
Our 6500 series interior doors feature removable trim which can be used to hold glass, mirrors and most any other flat panel from dry eraser board to woven reeds. We can supply you with clear and frosted tempered glass. Pantries, bedrooms and closets alike, even exterior entrance doors, can have a glass or plastic glazing insert. Glass inserts add an interesting transition from room to room even if it is a closet.
Take a look at the way some of our customers have personalized their custom interior doors:


A naturally beautiful and renewable choice- Wood shutters and doors by
Kestrel Shutters & Doors, Inc.   www.DIYShutters.com   1-800-494-4321 / sales@diyshutters.com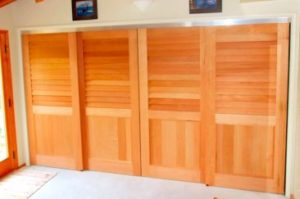 A common misconception is that closet door hardware, especially hardware for sliding closet doors, requires a bottom track.  The belief is that the bottom track helps support the weight of the doors as well as keep the doors aligned.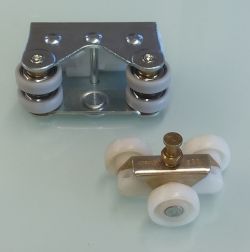 The Johnson Hardware, that we supply with our closet doors, is actually designed the other way around.  The top track rollers (shown at right) can support doors up to 200 lbs each for medium rated (3 wheels) and 400 lbs each for the heavy duty rated (4 wheels).  This means that, since the top track supports all of the weight, the optional bottom track is used only to help guide your sliding closet doors and bifold doors.
When should I use a bottom track?
You really only need to use the bottom guide when there is a concern that the doors might be bumped hard enough to swing, front to back.  Some good examples would be if the doors are being be used between rooms or if you have small children or large pets.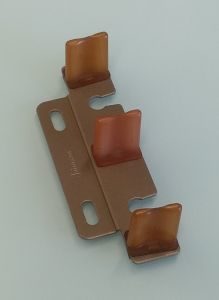 If you have only 2 rows of closet doors in the opening (1 or 2 doors in the front row and 1 or 2 doors in the back row) there is a simple floor guide (shown at left) that keeps the doors separated and from hitting each other.  If you look closely at the top picture, you will see these guides where the front row doors overlap the back row doors.  (a close-up is shown in the image to the right)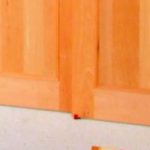 If you have doors in 3 or more rows, then bottom guide tracks are required.
Are bottom tracks only for sliding closet doors?
No.  Larger bi-fold doors are also good candidates for a bottom guide track.  Follow the same rule as with your sliding closet doors.  If you think your bi-fold doors are going to be bumped a lot then a bottom guide track might be helpful.
Do I need to cut into my floor to install the bottom track?
No.  Since the bottom guide tracks do not support any weight they can be surface mounted to your floor.  Wood strips can be placed on either side of the track to give the look of a finished threshold.  If you have not installed your floor you can also use a bottom guide track.  In this case you would simply install your flooring on either side of the bottom guide track.  The nice thing about this method is that the track is submerged below the floor level so there is no concern about tripping.
So while a bottom track is not needed to support the weight or your doors, it can help to guide your doors.
*This post was updated on December 24th, 2019

A naturally beautiful and renewable choice – Wood shutters and doors by
Kestrel Shutters & Doors, Inc. www.DIYShutters.com 1-800-494-4321 / sales@diyshutters.com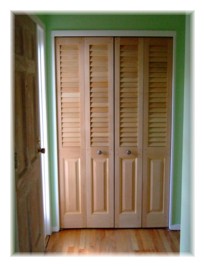 When it comes to closet doors, one of the most popular ways to mount them is as bifold doors. Basically this means that the doors are hinged together in pairs and will open and close in pairs.
While there doesn't seem like there would be much variation in the hardware for bifold doors there are a few different factors to consider.
Where will your doors fold open?
The first thing to look at is how you want to have your doors fold open. Traditional bifold doors will fold up in pairs within the closet opening. The doors can be mounted so that they all fold to one side only or split up so that pairs of doors fold to both sides. If you do NOT want the doors to fold up inside the opening then you can choose what is known as "full access" hardware.
Johnson Hardware 1601 series is a full access hardware that folds the doors 180° open and out against the face of the wall. The advantage of this is that you do not have pairs of doors blocking part of your opening. Three of the most practical applications for this are closets that hold a washer and dryer, closets that hold a home office and closets that stow away a Murphy Bed. If you do not have the wall space for your bifold doors to swing out and open then you will need to go with more traditional hardware that keeps the doors within the opening.
Can you mount your bifold doors to the floor?
Some hardware for bifold doors require that you mount a bottom pivot directly on to your floor. If you have custom flooring this may not be practical or desired. This is one of the reasons that Johnson Hardware 111FD series is so popular. This is a heavy duty track hardware that holds bifold doors up to 50 lbs each but does not require you to touch your floor. Instead the bottom pivot mounts to your jamb to support your bifold doors.
Are your closet doors oversized?
Many of the closet doors we make are oversized and need to have bifold door hardware that has heavier limits. The Johnson Hardware 100FD series will handle bifold doors up to 75 lbs each and the Johnson Hardware 200FD series will handle bifold doors up to 48″ wide each and 125 lbs each. These series of bifold track hardware will have a bottom pivot that mounts to the floor to help stabilize the oversized doors.
Closets with more than 4 doors
Sometimes it makes sense to have more than 4 doors within a closet opening. Most often it is because the closet has a very wide opening or it could even be several sets of interior doors to separate two rooms. In cases like this we offer what is referred to as multifold door hardware. The Johnson Hardware 100RD series will handle doors up to 24″ wide and 50 lbs each while the Johnson Hardware 200RD series will handle doors up to 36″ wide and 75 lbs each. Both of these can handle up to a maximum of 12 individual interior doors, 6 folding to the left and 6 folding to the right.
Bifold Door Hardware – Summary Table
| | | | | |
| --- | --- | --- | --- | --- |
| Series | max. Door Size | max. Door Weight | max. Doors Folding in One Direction | Bottom Pivot |
| 1601 | 24″ x 96″ | 30 lbs. | 2 | none |
| 111FD | 24″ x 108″ | 50 lbs. | 2 | Jamb Mount |
| 100FD | 24″ x 108″ | 75 lbs. | 2 | Floor Mount |
| 200FD | 48″ x 108″ | 125 lbs. | 2 | Floor Mount |
| 100RD | 24″ x 108″ | 50 lbs. | 6 | Floor Mount |
| 200RD | 36″ x 108″ | 75 lbs. | 6 | Floor Mount |

A naturally beautiful and renewable choice – Wood shutters and doors by
Kestrel Shutters & Doors, Inc. www.DIYShutters.com 1-800-494-4321 / sales@diyshutters.com