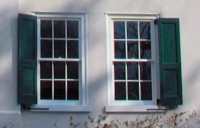 It is not uncommon to have a window somewhere on your home where there is physically not enough room for exterior shutters. It could be that 2 windows are too close like in the picture shown to the left. It could also be that the window is too close to a chimney, the corner of the house or even a porch post. Whatever the reason there are usually a few ways to work around this.
Functional Exterior Shutters or Decorative Only
The first thing you need to decide is how you will use your exterior shutters. Do you plan to install your exterior shutters on hinges, so that you can open and close them for storm protection or even for routine house maintenance? Or maybe you will bolt them to your house as decorative shutters only. If your exterior shutters will be for decoration only then not having enough room is not a major issue. With decorative shutters you can always go with narrower shutters to fit the wall space that you have.
If your exterior shutters will be functional you really will need to make sure that they can open and close without hitting anything. A good way to test this is to cut out a piece of cardboard to the size of your shutters? Next, go to any widows that you think might be tight for room and just pretend it is on hinges while you "open" and "close" the cardboard a few times to check for clearance.
Bifold Shutters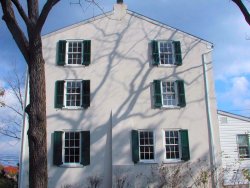 If there is not enough room for shutters on both sides of your window one way to work around this is to hinge your exterior shutters together as bifolds. So instead of having 1 shutter on either side of the window you will have 2 shutters on one side only. You can see an example of this in the picture at the top. A Bifold application is also a great way to mount exterior shutters to cover a bay window.
Leaning Shutters
Some times the exterior shutters are so close to a chimney or where a wall takes a 90° turn to lay flat. It is traditionally accepted to hinge the shutters like normal and have the shutter on one side just lean against the obstruction. If you look carefully at the picture at top you will see the base support for chimney on the left hand side. To give you a better overall view the picture to the right is of the entire side of the house.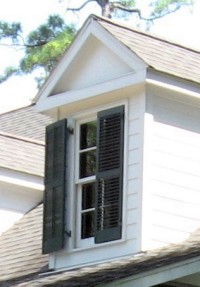 Exterior Shutters on Gable Windows
With gable windows there is often not enough wall space for the full shutter to lay flat. There are 2 straight forwards ways to handle this layout. Like the picture to the left you can hinge your shutters like normal and just accept the fact that they will hang out a little bit. The alternate way is to mount the shutters at the top with hardware designed for Bahama shutters.
If you are still unsure how best to size or mount your shutters so that they can open and close, please ask us. Give us a call, send us an email or start an online chat. We are happy to help.
Closet & Door Openings Not Square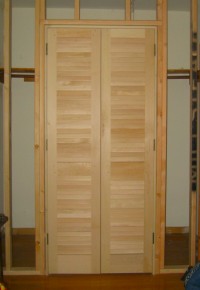 It is not uncommon to have the openings for interior doors or closet doors be out of square. The reasons could be anything from the house settling to an uneven floor to stud walls and header being twisted. The good news is that in most cases it is easy to work around these issues.
Rough Openings vs Finished Openings
If the opening for your doors is still rough (not framed out) then it really does not matter if your opening is square or not. When you frame out the opening you will have a chance to square everything up. This is also the case if you are installing pocket doors. If you are not sure if your door openings are rough or not here is an earlier post that explains the difference. Interior Doors: A Rough Opening vs. A Finished Opening
Measuring for your Doors
The first thing you will want to do is measure the framed opening where you want your doors. It is a good idea to measure the width and height in a few different places. This will help to show you where, if at all, your framed opening is out of square. Another check is to measure diagonally across the opening. If the measurement from the top left corner to the bottom right corner is the same as the measurement from the bottom left corner to the top right corner then your framed opening is square. Here is a link to our site on How to Measure for Doors which will help. If you do find that your framed opening is not square there are ways to work around this.
Uneven Header
If you the header dips to one side or another, or if it has a "bump" in the middle there are a few things you can do. You can try and correct it be removing and re-installing the header. Most likely this will be more difficult and time consuming than the alternative. If you are installing sliding closet doors or bifold doors you can simply shim out the track to make it level. Any resulting gap can be easily covered with a valence or corner moulding. If you are installing hinged doors you have a choice. If the header only dips an 1/8″ or so you may just want to leave it be. However, if the gap is more noticeable you should consider removing the door casing and straightening the door jamb.
Uneven Floor
If your floor is uneven there is not too much that you can do other than rip up and lay down a new floor. Thankfully an uneven floor will not affect the way your doors work. It will just mean that you have more of a gap at one end of the bottom than at the other.
Side Jambs not Plumb
If your house has settled you will mostly likely find that the side jambs will not be plumb. You will treat this similar to how it was explained with the uneven header above; let it be if the gap is small or remove the casing and re-plumb the jamb. If you installing sliding closet doors or bifold doors the simplest thing to do is to let the gap stay and then apply a simple quarter round or corner moulding right in front of the doors along the side jambs. This will hide the gap and not interfere with the way the doors open and close.
Hopefully this post has been helpful. If you still have questions on how to work with your non-square openings for your doors just ask. Give us a call, send us an email or start an online chat. We are happy to help.

Hurricane Shutters
When it comes to Hurricane Shutters you need to know that they will indeed stand up to, well, a hurricane. Your Hurricane Shutters will be that first line of defense that keeps your windows, and the inside of your home, intact. To make sure that Hurricane Shutters will indeed stand up to their name the State of Florida requires independent testing and review by a Florida licensed professional engineer. Once they have verified that the shutters will indeed withstand a hurricane the product is approved.
What is the HVHZ?
While hurricanes strike all over the country, those with the highest winds hit Florida in the Miami-Dade and Broward Counties. These make up the High Velocity Hurricane Zone also known as HVHZ. Some hurricane shutters are strong enough to be approved for use within the HVHZ while others are not as durable and can only be used for hurricane protection outside the HVHZ.
I know that I need Hurricane Shutters. Now what?
When you are ready to add hurricane shutters to your home or business a good first step is to check with your insurance company. They will be able to give you any requirements for you location. When you are talking with a retailer of hurricane shutters here is some information that you will want to check.
FL# – This is the application number. It will start with "FL" and then the application numbers. When there are revisions there will be an ".R" afterwards with the revision number. Revisions can be a change in the design of the hurricane shutters or even a change in the way they are installed. It is important to note the revisions as while one might have passed another might not have.
Application Status – Just because there is an application does not mean the the shutters were approved. The Application Status will let you know whether these exterior shutters have been approved or not.
Limits of Use – This is the part to which you will need to pay special attention. This section will tell you if the shutters have been approved in the HVHZ or only approved in the rest of Florida but NOT the HVHZ. It will also give you the design pressure and let you know if they are impact resistant. You can sometimes also find size restrictions here.
Description – Here you can also find size restrictions for the hurricane shutters.
Installation Instructions – On the application report there will be a link to a PDF that gives the approved installation instructions. This is a very important section to read through. Even if your exterior shutters are approved for hurricane protection they will only perform properly if you install them as shown in the instructions.
When you are looking at a retailer for hurricane shutters make sure that they can provide you with all of this information, for the safety of your home and family.
You can follow this link for more information on our HVHZ approved Hurricane Shutters.
What exactly are Bahama Shutters?
Simply put,
Bahama Shutters
, also referred to as Bermuda Shutters, are shutters that are mounted at the top and propped out like an awning over a window. While mainly an exterior style of shutter they are some times used inside to give a more tropical feel to a room. 
Bahama Shutter Hardware
consist of hinges at the top and an arm to prop the shutter open.
Hinges for Bahama Shutters
There are 2 main types of hinges for Bahama Shutters, both of which are mounted at the top. There are continuous hinges (figure 1) running the width of the shutter and single knuckle hinges (figure 2) similar to a door hinge. The continuous hinges are stronger and more often used where the shutters will be fully functioning. The extruded continuous hinges we offer are the same ones supplied with Aluminum Hurricane Shutters. The single knuckle hinges can also be used on functioning exterior Bahama Shutters but are best situated where the shutters are propped open permanently like an awning.
Arms for Bahama Shutters
There are also 2 types of arms that are used to prop Bahama Shutters open. You have adjustable arms (figure 3) and stationary arms (figure 4). The adjustable arms are telescoping so that you can adjust the angle at which you prop open your Bahama Shutters. This is very helpful in getting your exterior shutters positioned just right so that you have a view to the outside while blocking the sun and afternoon showers. The stationary arms are used usually to prop open Bahama Shutters like an awning. These come in a few different lengths and are less expensive than the adjustable arms.
Keep in mind that depending on how wide your Bahama Shutters are you may need more than 2 arms per shutter.
What do I need if I am using them on Hurricane Shutters?
If you are using your Bahama Shutters for hurricane protection then I would strongly recommend our continuous hinges. They are not only much stronger than a knuckle hinges but are fastened more securely to your home to insure the best protection. As far as the arms go, since both are removed during a hurricane there is no real benefit one way or the other.
If you are not sure which type of hardware for Bahama shutters is best for you please ask us. Give us a call, send us an email or start an online chat. We are happy to help
Click here to order your Bahama Shutters Hardware.