We often think of Plantation shutters as the most gracious of window treatments, giving interior windows a true Southern charm. Really, there are many other applications well suited for this airy wide louver style. Over the years we have had the following questions asked and the answers show the true versatility of Plantation Shutters.
Can Plantation Shutters be used as Exterior Shutters?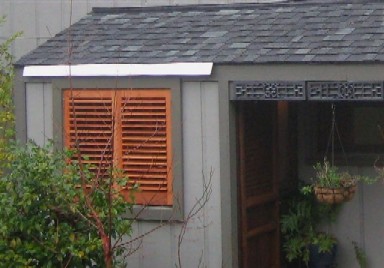 Yes! Plantation Shutters are at home as exterior shutters and even interior rooms with high huimidity. Exterior Plantation Shutters must be made with wood that can withstand harsh weather and environments. This is why we hand build our exterior Plantation Shutters out of Spanish Cedar. Spanish Cedar is a durable hardwood that is highly noted for its resistance to rot, decay and insects.
Can Plantation Shutters have fixed louver blades?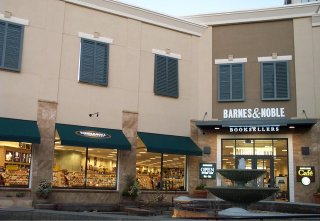 While Plantation Shutters are known for their ability to control ventilation and the sunlight coming in to your home, they can be made with non-moving louver blades. The fixed louver blades still allow indirect light to filter in as well air flow.
A good example are the awning style Bahama Shutters used on this Barnes & Noble Booksellers storefront. They wanted the look of Plantation Shutters without operable louvered blades.

Can Plantation Shutters be used in place of trellis screening?
Yes. Louvered Shutters will screen a view and also stave off a gusty breeze. The airy appearance of Plantation Shutters will provide a perfectly cozy partition extending your living spaces outdoors.

Can Plantation Shutters be used as interior doors?
Yes. This actually adds quite a bit of functionality as it allows you to control both ventilation and sound within parts of your home. Some good examples would be doors to cover utility rooms and doors that lead from living areas into screened in porches. When Plantation Shutters are used as interior doors we increase the proportions of the stiles and rails to add stability and look proportional.
Hopefully this has given you some insight in to the different ways Plantation Shutters can be used. So the next time you find yourself thinking about adding exterior shutters to your home or replacing some closet or interior doors, consider Plantation Shutters.

A naturally beautiful and renewable choice – Wood shutters and doors by
Kestrel Shutters & Doors, Inc. www.DIYShutters.com 1-800-494-4321 / sales@diyshutters.com