Posts Tagged 'interior doors'
Closet & Door Openings Not Square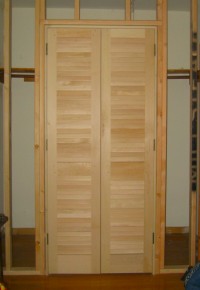 It is not uncommon to have the openings for interior doors or closet doors be out of square. The reasons could be anything from the house settling to an uneven floor to stud walls and header being twisted. The good news is that in most cases it is easy to work around these issues.
Rough Openings vs Finished Openings
If the opening for your doors is still rough (not framed out) then it really does not matter if your opening is square or not. When you frame out the opening you will have a chance to square everything up. This is also the case if you are installing pocket doors. If you are not sure if your door openings are rough or not here is an earlier post that explains the difference. Interior Doors: A Rough Opening vs. A Finished Opening
Measuring for your Doors
The first thing you will want to do is measure the framed opening where you want your doors. It is a good idea to measure the width and height in a few different places. This will help to show you where, if at all, your framed opening is out of square. Another check is to measure diagonally across the opening. If the measurement from the top left corner to the bottom right corner is the same as the measurement from the bottom left corner to the top right corner then your framed opening is square. Here is a link to our site on How to Measure for Doors which will help. If you do find that your framed opening is not square there are ways to work around this.
Uneven Header
If you the header dips to one side or another, or if it has a "bump" in the middle there are a few things you can do. You can try and correct it be removing and re-installing the header. Most likely this will be more difficult and time consuming than the alternative. If you are installing sliding closet doors or bifold doors you can simply shim out the track to make it level. Any resulting gap can be easily covered with a valence or corner moulding. If you are installing hinged doors you have a choice. If the header only dips an 1/8″ or so you may just want to leave it be. However, if the gap is more noticeable you should consider removing the door casing and straightening the door jamb.
Uneven Floor
If your floor is uneven there is not too much that you can do other than rip up and lay down a new floor. Thankfully an uneven floor will not affect the way your doors work. It will just mean that you have more of a gap at one end of the bottom than at the other.
Side Jambs not Plumb
If your house has settled you will mostly likely find that the side jambs will not be plumb. You will treat this similar to how it was explained with the uneven header above; let it be if the gap is small or remove the casing and re-plumb the jamb. If you installing sliding closet doors or bifold doors the simplest thing to do is to let the gap stay and then apply a simple quarter round or corner moulding right in front of the doors along the side jambs. This will hide the gap and not interfere with the way the doors open and close.
Hopefully this post has been helpful. If you still have questions on how to work with your non-square openings for your doors just ask. Give us a call, send us an email or start an online chat. We are happy to help.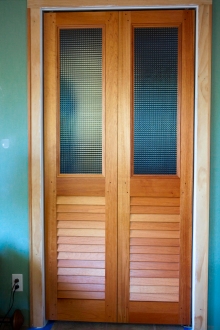 Here at Kestrel we make our custom sized interior doors and closet doors in three standard thicknesses; 1.1/4″, 1.3/8″ and 1.3/4″. Since we build all of our doors from solid wood using pegged, mortise and tenon joinery, the doors will be very sturdy regardless of the thickness. However, a thicker door will have added stability which is something to consider if you need over-sized doors. For most doors the main reason why you might choose one thickness over another is usually the hardware.
Pocket Doors
We sell different levels of track hardware with our pocket doors that can handle interior doors ranging from 3/4″ thick all the way up to 3″ thick. In most cases our standard 1.1/4″ thick doors will be what you want for your pocket doors. However, If you plan to add an optional pocket door lock you will need to go with 1.3/8″ or 1.3/4″ thick doors as the lock requires the extra thickness.
Hinged Doors
While there are hinges for any thickness of interior door most available double-sided handles and lock sets require interior doors that are 1.3/8″ or 1.3/4″ thick. It is best to choose your lock sets and handles first so that your doors can be made thicker if needed. If you plan to use a handle on one side of your doors only then 1.1/4″ will be thick enough.
Sliding Doors & Bifold Doors
The heavy duty, commercial grade track hardware we sell for bifold doors and sliding closet doors will work with individual doors ranging from 1.1/8″ up to 1.3/4″ thick. Almost all of the bifold doors and sliding doors that we make are 1.1/4″ since they rarely need a lock. If you are planning to add a lock we would recommend choosing that first in case you did need thicker doors.
Other Considerations
Beyond over-sized doors and the hardware there are a few other things to think about when it comes to the thickness of your doors. Will the doors be taking a fair amount of abuse like you might see in a public location? Do you want the look of your louvered doors to have more depth to them? Are you planning on using insulated glass in your doors? These are some of the other reasons why you may want to go with thicker doors. If you are still not sure please ask and we will work with you to find what thickness is best for your doors.
When ordering new interior doors having the correct measurements is very important.  Just as important is to also let us know the type of opening.  The type of opening can be either "Rough" or "Finished".
What is a Rough Opening?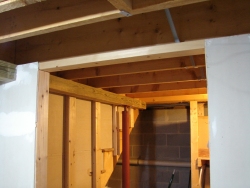 A rough opening is where the wall studs are exposed along the edge of the opening.  You will see a rough opening when you are building a new wall (like you would do when refinishing a basement) or knocking out a wall to put in a new door.  The rough opening still needs to be framed out so that the opening is square and flush with any drywall.  In the picture to the left you can see how the opening has the exposed studs along the edge.
If you plan to install bifold doors or sliding doors you can square and frame out the rough opening with drywall.  However, if you are going to be hinging the doors to the opening you will need a solid wood jamb.  The reason for this is that the screws that hold door hinges need to be sunk directly into wood.  For bifold and sliding door hardware the screws that secure the track are long enough to go through the drywall and into the studs.
What is a Finished Opening?
A finished opening is where the opening has been framed out and is ready for paint or stain.  If you were to go through your home and look at existing closets doors and doorways you will be looking at examples of a finished opening.  The opening can be finished with drywall, wood, metal or any solid, smooth surface.  The idea is that the finished opening is ready for doors.  Just be mindful that the hardware you want to use can be attached to material used to finish your opening.  If you decide that you want to hang a hinged door on an opening that is framed with drywall ( or stone as shown below ) you would first need to install a wood jamb.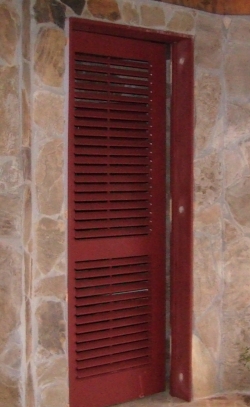 Once you have determined the type of opening that you have you can follow our online instructions on how to measure for doors.  We can then use those measurments to make sure that your doors are a perfect fit for your openings.
Looking for a simple way to personalize your interior doors?
Our 6500 series interior doors feature removable trim which can be used to hold glass, mirrors and most any other flat panel from dry eraser board to woven reeds. We can supply you with clear and frosted tempered glass. Pantries, bedrooms and closets alike, even exterior entrance doors, can have a glass or plastic glazing insert. Glass inserts add an interesting transition from room to room even if it is a closet.
Take a look at the way some of our customers have personalized their custom interior doors:


A naturally beautiful and renewable choice- Wood shutters and doors by
Kestrel Shutters & Doors, Inc.   www.DIYShutters.com   1-800-494-4321 / sales@diyshutters.com