Posts Tagged 'Exterior Shutters'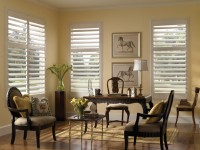 Faux Plantation Shutters?
At first it sounds like some sort of fake, decorative only shutter. While they are certainly decorative they are anything but fake. The "faux" in Faux Plantation Shutters simply means that they are not made from wood.
What are Faux Plantation Shutters made out of?
There are different materials that can be used but in our case we use an exterior grade, closed cell PVC. It will not rot, fade, chip or crack. They even come with a 25 year unconditional guarantee. An added benefit is that using this high density PVC allows for the frame and louver blades to be designed with air pockets that help insulate your home.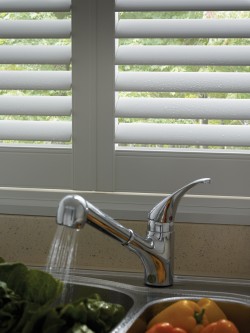 How safe are they?
Our Faux Plantation Shutters have GREENGUARD® certification for Microbial Resistance as well as Indoor Air Quality. This means they are approved for use in hospitals and schools and safe to use in your home. They also meet and exceed the NFPA 701 flammability testing for commercial and hospitality applications.
How do they compare to composite shutters?
The main difference is that composite shutters need to be painted. So even though a composite shutter may be somewhat maintenance free you will need to repaint it every few years. More if you live in a coastal region. With our Faux Plantation Shutters the color is blended right in so they never need maintenance. The 25 year unconditional guarantee even covers the color from fading or chipping.
What are good applications for Faux Plantation Shutters?
Our Faux Plantation Shutters can be used any where Wood Plantation Shutters can be used, both inside and out. The pictures below show only a few different ways. Call, email or chat with us to discuss how our Faux Plantation Shutters will work for you.
What is Overlap Rabbeting?
Overlap rabbeting on exterior shutters is a groove along the vertical edge that allows one shutter to overlap the shutter next to it.  An overlap rabbet is very much the same as what is termed as a shiplap joint or half lap joint.

Overlap rabbeting can be found on all functional exterior shutters and for a very good reason. With an overlap rabbet the shutters will close over one another eliminating any exposure in the center leaking rain, light or air . The overlap rabbet also creates a solidness to a closed pair of shutters locking them tighter together to eliminate any "shuddering" for better storm protection.
Is Overlap Rabbeting just for Exterior Shutters?

An overlap rabbet is just as important for interior shutters.  With an overlap rabbet UV rays are blocked from damaging your room furnishings as well as providing a tighter seal over the window giving better energy efficiency.  If you are using your interior shutters as blackout shutters for a bedroom or a media room overlap rabbeting is a must.
Overlap rabbeting is decorative, as well as functional, giving a neater and more finished appearance.  If you look at the picture to the right you will see the half-round bead detail.  This is shaped into the wood shutters to give a more uniform look to the face of the shutters.  This type of rabbet is referred to as a beaded overlap rabbet.
When should I use shutters with overlap rabbeting?
A good rule of thumb, for both interior and exterior shutters, is to have an overlap rabbet if your shutters are meant to be functional or at least look functional.  It is an option that adds very little to the cost but greatly increases their value.

A naturally beautiful and renewable choice – Wood shutters and doors by
Kestrel Shutters & Doors, Inc.   www.DIYShutters.com   1-800-494-4321 / sales@diyshutters.com
Summertime and a porch go hand in hand.  It's that inviting outdoor sheltered area to relax for a moment, recline and rest our feet, and maybe even watch a casual passerby.  It is also a place to read in the best lighting, gather with friends and family for refreshments such as lemonade and even just doze off in a chaise lounge.  Prior to indoor air conditioning a porch was the place where everyone including the family dog could escape stifling indoor heat.  It is easy to see the charm in a porch and why so many historic homes have at least one.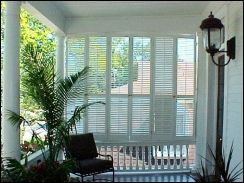 If your home has a porch but you find that it could use a tad bit more privacy to enjoy your outdoor space or maybe you could even use shade from a hot sunny afternoon here is a clever solution.  You can build a privacy screen with exterior louvered shutters between the porch posts.  With operable louvered exterior shutters you can create a visually pleasing partition.  Since the louvers are fully adjustable you won't even need to give up a summer breeze passing through.
Exterior shutters really do enhance your home by adding depth and detail to every window and door.  Here are other examples of exterior shutters on homes that have a porch: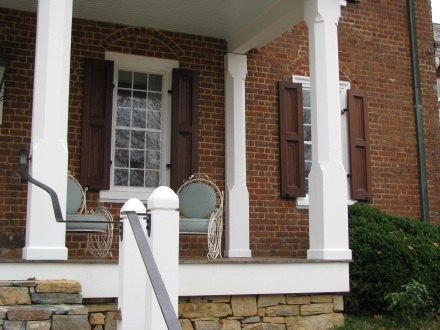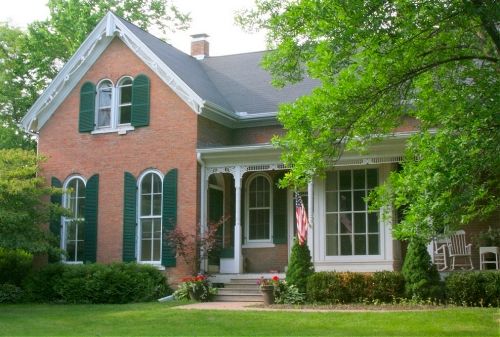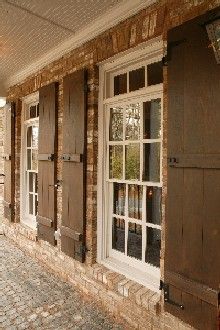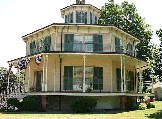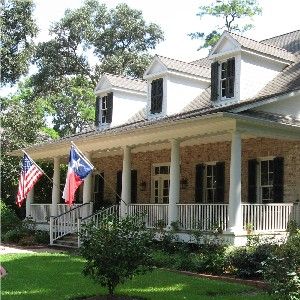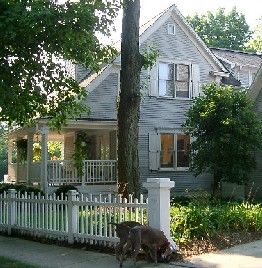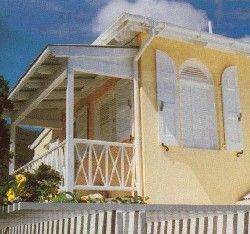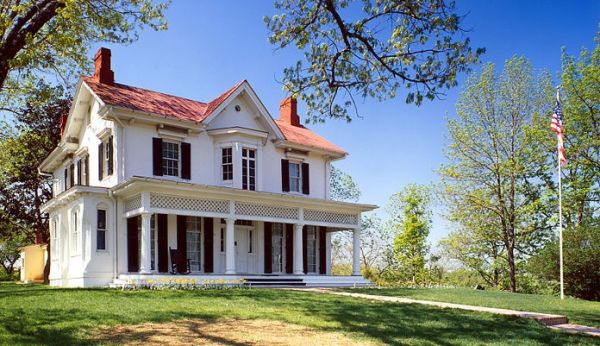 A naturally beautiful and renewable choice- Wood shutters and doors by
Kestrel Shutters & Doors, Inc.   www.DIYShutters.com   1-800-494-4321 / sales@diyshutters.com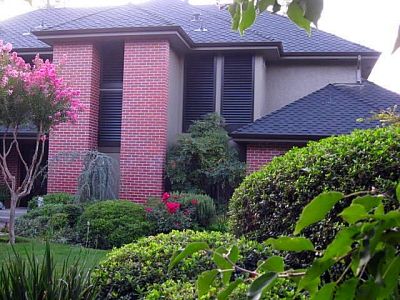 Even though our exterior shutters are made to be authentic and fully functional there are times when they are installed for decoration. Most decorative shutters are mounted to either side of a window, often using real shutter hardware give the look of truly functional exterior shutters.
But what do you do when you have no windows?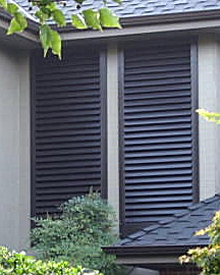 The customer above solved this by mounting fixed louvered exterior shutters directly to their home. This not only added curb appeal and interest to the front of their home, but it also gives the illusion that there really are windows behind those exterior shutters.
This trick has long been used in commercial interiors where make-believe windows are strategically place to make a more comfortable lighter airy feel to a store's layout rather then the four walls of a mall. The Hollister Store is certainly astounding with the many interior Plantation Shutters, many of which are made by us, installed throughout their stores.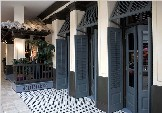 With a big focus in recent years towards basement remodeling this trick can also be used with interior shutters. Just by installing a boxed window casing fitted with interior shutters on any wall you will make windows appear before your eyes for a lighter more natural feel inside under-the-ground.

A naturally beautiful and renewable choice- Wood shutters and doors by
Kestrel Shutters & Doors, Inc.   www.DIYShutters.com   1-800-494-4321 / sales@diyshutters.com