Posts Tagged 'louvered shutters'
Summertime and a porch go hand in hand.  It's that inviting outdoor sheltered area to relax for a moment, recline and rest our feet, and maybe even watch a casual passerby.  It is also a place to read in the best lighting, gather with friends and family for refreshments such as lemonade and even just doze off in a chaise lounge.  Prior to indoor air conditioning a porch was the place where everyone including the family dog could escape stifling indoor heat.  It is easy to see the charm in a porch and why so many historic homes have at least one.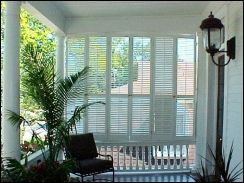 If your home has a porch but you find that it could use a tad bit more privacy to enjoy your outdoor space or maybe you could even use shade from a hot sunny afternoon here is a clever solution.  You can build a privacy screen with exterior louvered shutters between the porch posts.  With operable louvered exterior shutters you can create a visually pleasing partition.  Since the louvers are fully adjustable you won't even need to give up a summer breeze passing through.
Exterior shutters really do enhance your home by adding depth and detail to every window and door.  Here are other examples of exterior shutters on homes that have a porch: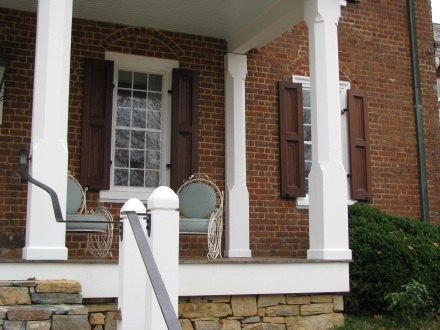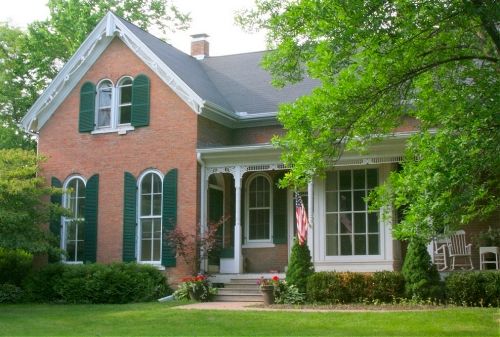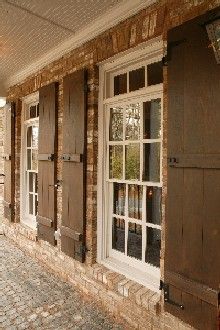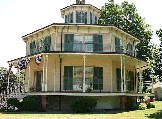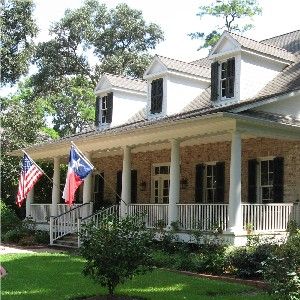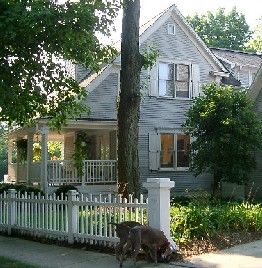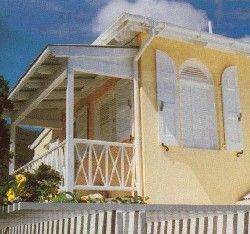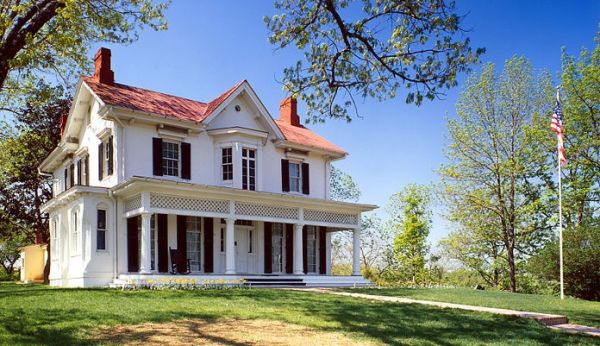 A naturally beautiful and renewable choice- Wood shutters and doors by
Kestrel Shutters & Doors, Inc.   www.DIYShutters.com   1-800-494-4321 / sales@diyshutters.com
If there is any one style of shutter that is requested more than any other it is Plantation Shutters. What is surprising is that many people come to us for Plantation Shutters without even knowing what they are. Simply put, there has been so much publicity on Plantation Shutters over the years that people recognize the style as something desirable without fully knowing the style.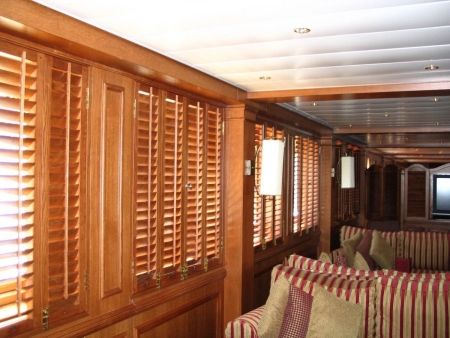 What are Plantation Shutters?
Plantation Shutters, in their basic form, are louvered shutters with approximately 2″ to 3″ wide operable louver blades. Our Plantation Shutters feature a 2.1/2″ wide operable louver blade.
Why are they called Plantation Shutters?
While some of the old plantations in the South used operable louvered shutters with wide louvers the term is much more recent. The term "Plantation Shutters" is really just a marketing idea someone came up with along the way, most likely not long after the release of "Gone with the Wind" and our introduction to Tara, Scarlett O'Hara and Rhett Butler. Let's face it, "Plantation Shutters" sounds so much nicer than "Shutters with wide, operable louvered blades".
So get a price quote on Plantation Shutters but remember they are only one of many styles of interior shutters. We'll be happy to price as many shutter styles as you would like.

A naturally beautiful and renewable choice – Wood shutters and doors by
Kestrel Shutters & Doors, Inc. www.DIYShutters.com 1-800-494-4321 / sales@diyshutters.com