Posts Tagged 'Interior Shutters'
What is Overlap Rabbeting?
Overlap rabbeting on exterior shutters is a groove along the vertical edge that allows one shutter to overlap the shutter next to it.  An overlap rabbet is very much the same as what is termed as a shiplap joint or half lap joint.

Overlap rabbeting can be found on all functional exterior shutters and for a very good reason. With an overlap rabbet the shutters will close over one another eliminating any exposure in the center leaking rain, light or air . The overlap rabbet also creates a solidness to a closed pair of shutters locking them tighter together to eliminate any "shuddering" for better storm protection.
Is Overlap Rabbeting just for Exterior Shutters?

An overlap rabbet is just as important for interior shutters.  With an overlap rabbet UV rays are blocked from damaging your room furnishings as well as providing a tighter seal over the window giving better energy efficiency.  If you are using your interior shutters as blackout shutters for a bedroom or a media room overlap rabbeting is a must.
Overlap rabbeting is decorative, as well as functional, giving a neater and more finished appearance.  If you look at the picture to the right you will see the half-round bead detail.  This is shaped into the wood shutters to give a more uniform look to the face of the shutters.  This type of rabbet is referred to as a beaded overlap rabbet.
When should I use shutters with overlap rabbeting?
A good rule of thumb, for both interior and exterior shutters, is to have an overlap rabbet if your shutters are meant to be functional or at least look functional.  It is an option that adds very little to the cost but greatly increases their value.

A naturally beautiful and renewable choice – Wood shutters and doors by
Kestrel Shutters & Doors, Inc.   www.DIYShutters.com   1-800-494-4321 / sales@diyshutters.com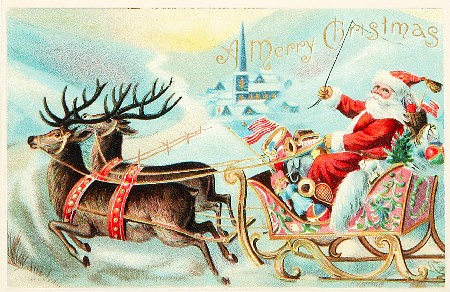 I think what I like most about this time of year isn't just one thing but a whole list including the many decorations on homes and stores, holiday meals and desserts like Gingerbread Cookies and the many fresh smells including the outdoor freshness of pine and balsam. I also enjoy the feeling of contentment that everyone including myself seem to find once Christmas Eve arrives and hearing the many songs and stories including this old classic below which was written at a time when window shutters were a common necessity to keep out the cold:
A Visit from St. Nicholas
Twas the night before Christmas, when all through the house
Not a creature was stirring, not even a mouse;
The stockings were hung by the chimney with care,
In hopes that St. Nicholas soon would be there;
The children were nestled all snug in their beds,
While visions of sugar-plums danced in their heads;
And mamma in her 'kerchief, and I in my cap,
Had just settled down for a long winter's nap-
When out on the lawn there arose such a clatter,
I sprang from the bed to see what was the matter.
Away to the window I flew like a flash,
Tore open the shutters and threw up the sash.
The moon on the breast of the new-fallen snow
Gave the lustre of mid-day to objects below,
When, what to my wondering eyes should appear,
But a miniature sleigh, and eight tiny reindeer,
With a little old driver, so lively and quick,
I knew in a moment it must be St. Nick.
More rapid than eagles his coursers they came,
And he whistled, and shouted, and called them by name;
"Now, Dasher! now, Dancer! now, Prancer and Vixen!
On, Comet! on Cupid! on, Donder and Blitzen!
To the top of the porch! to the top of the wall!
Now dash away! dash away! dash away all!"
As dry leaves that before the wild hurricane fly,
When they meet with an obstacle, mount to the sky,
So up to the house-top the coursers they flew,
With the sleigh full of toys, and St. Nicholas too.
And then, in a twinkling, I heard on the roof
The prancing and pawing of each little hoof.
As I drew in my hand, and was turning around,
Down the chimney St. Nicholas came with a bound.
He was dressed all in fur, from his head to his foot,
And his clothes were all tarnished with ashes and soot;
A bundle of toys he had flung on his back,
And he looked like a peddler just opening his pack.
His eyes — how they twinkled! his dimples how merry!
His cheeks were like roses, his nose like a cherry!
His droll little mouth was drawn up like a bow,
And the beard of his chin was as white as the snow.
The stump of a pipe he held tight in his teeth,
And the smoke it encircled his head like a wreath;
He had a broad face and a little round belly,
That shook, when he laughed like a bowlful of jelly.
He was chubby and plump, a right jolly old elf,
And I laughed when I saw him, in spite of myself;
A wink of his eye and a twist of his head,
Soon gave me to know I had nothing to dread;
He spoke not a word, but went straight to his work,
And filled all the stockings; then turned with a jerk,
And laying his finger aside of his nose,
And giving a nod, up the chimney he rose;
He sprang to his sleigh, to his team gave a whistle,
And away they all flew like the down of a thistle.
But I heard him exclaim, ere he drove out of sight,
"Happy Christmas to all, and to all a good-night."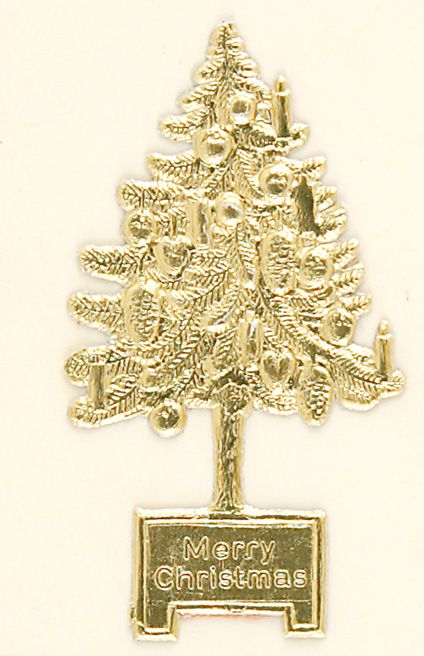 A naturally beautiful and renewable choice – Wood shutters and doors by
Kestrel Shutters & Doors, Inc. www.DIYShutters.com 1-800-494-4321 / sales@diyshutters.com
We often think of Plantation shutters as the most gracious of window treatments, giving interior windows a true Southern charm. Really, there are many other applications well suited for this airy wide louver style. Over the years we have had the following questions asked and the answers show the true versatility of Plantation Shutters.
Can Plantation Shutters be used as Exterior Shutters?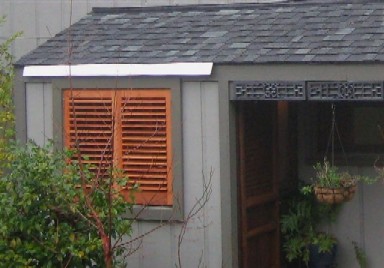 Yes! Plantation Shutters are at home as exterior shutters and even interior rooms with high huimidity. Exterior Plantation Shutters must be made with wood that can withstand harsh weather and environments. This is why we hand build our exterior Plantation Shutters out of Spanish Cedar. Spanish Cedar is a durable hardwood that is highly noted for its resistance to rot, decay and insects.
Can Plantation Shutters have fixed louver blades?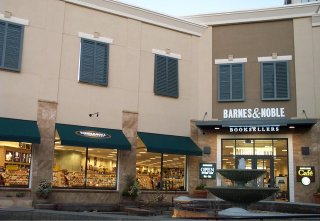 While Plantation Shutters are known for their ability to control ventilation and the sunlight coming in to your home, they can be made with non-moving louver blades. The fixed louver blades still allow indirect light to filter in as well air flow.
A good example are the awning style Bahama Shutters used on this Barnes & Noble Booksellers storefront. They wanted the look of Plantation Shutters without operable louvered blades.

Can Plantation Shutters be used in place of trellis screening?
Yes. Louvered Shutters will screen a view and also stave off a gusty breeze. The airy appearance of Plantation Shutters will provide a perfectly cozy partition extending your living spaces outdoors.

Can Plantation Shutters be used as interior doors?
Yes. This actually adds quite a bit of functionality as it allows you to control both ventilation and sound within parts of your home. Some good examples would be doors to cover utility rooms and doors that lead from living areas into screened in porches. When Plantation Shutters are used as interior doors we increase the proportions of the stiles and rails to add stability and look proportional.
Hopefully this has given you some insight in to the different ways Plantation Shutters can be used. So the next time you find yourself thinking about adding exterior shutters to your home or replacing some closet or interior doors, consider Plantation Shutters.

A naturally beautiful and renewable choice – Wood shutters and doors by
Kestrel Shutters & Doors, Inc. www.DIYShutters.com 1-800-494-4321 / sales@diyshutters.com
If there is any one style of shutter that is requested more than any other it is Plantation Shutters. What is surprising is that many people come to us for Plantation Shutters without even knowing what they are. Simply put, there has been so much publicity on Plantation Shutters over the years that people recognize the style as something desirable without fully knowing the style.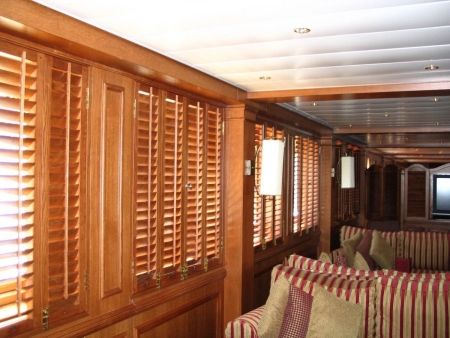 What are Plantation Shutters?
Plantation Shutters, in their basic form, are louvered shutters with approximately 2″ to 3″ wide operable louver blades. Our Plantation Shutters feature a 2.1/2″ wide operable louver blade.
Why are they called Plantation Shutters?
While some of the old plantations in the South used operable louvered shutters with wide louvers the term is much more recent. The term "Plantation Shutters" is really just a marketing idea someone came up with along the way, most likely not long after the release of "Gone with the Wind" and our introduction to Tara, Scarlett O'Hara and Rhett Butler. Let's face it, "Plantation Shutters" sounds so much nicer than "Shutters with wide, operable louvered blades".
So get a price quote on Plantation Shutters but remember they are only one of many styles of interior shutters. We'll be happy to price as many shutter styles as you would like.

A naturally beautiful and renewable choice – Wood shutters and doors by
Kestrel Shutters & Doors, Inc. www.DIYShutters.com 1-800-494-4321 / sales@diyshutters.com
Finding a wood shutter supplier with a simple Google search is easy, just be attuned to where and how the shutters are made and with what they made with before you buy. Do your homework by simply asking questions and doing some internet research on the materials and construction methods. There are many types of wood that shutters can be made with but you'll want to choose the material that is best suited for your installation whether it is inside or out.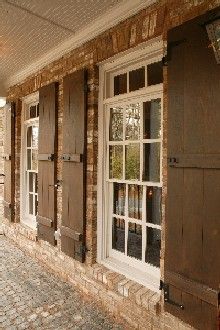 Each supplier or direct manufacture should be able to help you with selecting shutter and shutter hardware styles suited for the application and the sizes that you will need. Some companies even offer finishing services from a basic prime to a full finish ready to install. With the different types and styles of shutter hardware that are available your shutters can be fully functional as well as decorative.

Picture at right: Kestrel European Board & Batten with Breadboard top. However, there is something wrong with this install- Do you know what it is? You are welcome to post your answer in the comments section below.
Here at Kestrel Shutters & Doors we have been making both interior and exterior shutters since 1989. We are located in Southeastern Pennsylvania where so many shutters adorn the classic Chester County façade found on many historic homes and sites. The shutter designs that we have chosen as 'standards' follow the older shutter styles found not just here in Chester County but also throughout the US and abroad.

The shutters that we build are made entirely by us entirely here in house. We have a very good as well as dedicated team who produce each order. It's a several step process before each shutter is assembled by hand. The process begins with hand sorting rough lumber for each order and then milling it to size and profile. Through the use of various specialized equipment we then process the milled materials into individual component parts. Where components are joined together we use what is called a mortise and tenon joint construction.


Note: Just because it's mortise and tenon joinery does not imply that it is good unless it's milled correctly. Joints that are loose or secured with screws in the end of the tenon are not as strong and are prone to failure. The best and most historically accurate way to secure a mortise and tenon joint is with a peg that goes through the tenon locking it in place like a cotter pin.
Kestrel mortise and tenon joints fit snugly together and are secured with Honduran Mahogany pegs. The pegs are positioned on the face of each stile according to the size of the tenon.
The hardwood that we use, Basswood and Spanish Cedar, come out of forests that are managed and are harvested responsibly. American Basswood is for interior use and Spanish Cedar is for exterior and interior use. Basswood, known as Linden wood, is used by woodcarvers because of it's many good qualities. The stability, workability, and light patterned even graining is why carvers use it and that is what makes it a great choice in making interior shutters and interior doors, especially those with louvers, since the material holds straight and true. Spanish Cedar is traditionally used in lining cigar boxes and humidors. We began using Spanish Cedar over a decade ago as an alternative to Western Red Cedar because of the consistent quality of the wood that was lacking in Western Red and we found it to be more durable. While Spanish Cedar is predominately used for exterior work because it "breathes" out moisture making it rot resistant, the material also performs very well for interiors too, especially in humid areas where moisture is prevalent. It has also been used as a substitute for Honduran Mahogany since the grain pattern, color and quality are very similar.
Every shutter and door is made to order and available in unfinished wood or completely finished. By choosing full finishing in either paint or stain the shutters are ready for installation once received. However, if you are a DIY, do-it-yourself, kind of person we are the originator of a product called The Original DIY Shutter™ kit.
DIY Shutters™ are the same as our fully assembled version; we just do not assemble them. DIY Shutters™ are an easy to assemble kit to be completed start to finish on site with some general woodworking tools. We developed DIY Shutters just about the same time that the company started. The benefits in a DIY kit is about saving money and a great satisfaction in building your very own top quality shutters.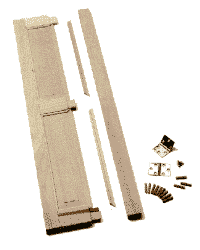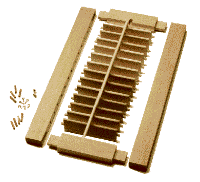 Did you know? We also offer DIY Shutter™ component parts.

A naturally beautiful and renewable choice – Wood shutters and doors by
Kestrel Shutters & Doors, Inc. www.DIYShutters.com 1-800-494-4321 / sales@diyshutters.com