Here is another terrific outdoor project. This customer made great use of Kestrel Exterior Shutters and Louvered Doors when designing their outdoor dining area and kitchen for their coastal home.
To allow for both air flow and privacy an Operable Plantation Louvered Door (style 6212) was used for the bathroom. All of the outer windows were fitted with awning style Bahama Shutters. Operable Plantation Louvered Bahama shutters (style 1010) were used where privacy was needed while the other windows had Plantation Fixed Louvered Bahama Shutters (style 2010) to provide constant air flow. The exterior shutters and door were custom sized and built from Spanish Cedar using traditional pegged, mortise and tenon joinery.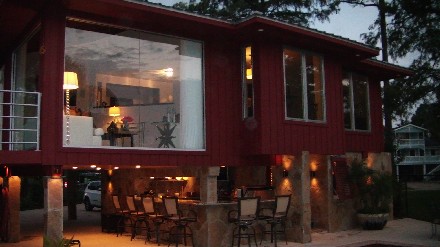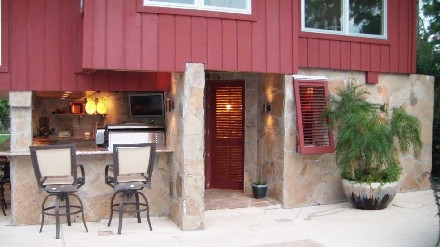 Below you can see the Operable Louvered Doors and the exterior view of the Bahama Shutters.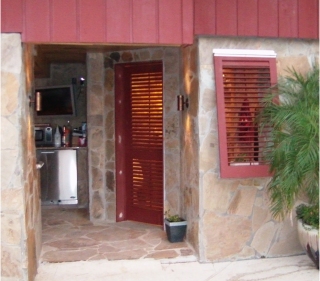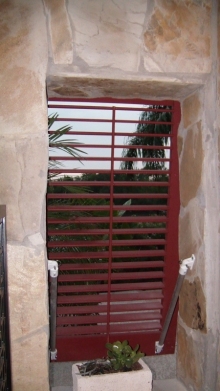 Here from the inside you can see how the Bahama Shutter Hardware is mounted to prop the shutter open creating an awning which is quite effective at screening the sun. We installed Bahama Shutters on the exterior of our Southerly facing office last year. The temperature inside was significantly reduced and the shutters also provided our Geranium packed window boxes just under each shutter a bit of sunscreen.
This project turned out great!

A naturally beautiful and renewable choice- Wood shutters and doors by
Kestrel Shutters & Doors, Inc.   www.DIYShutters.com   1-800-494-4321 / sales@diyshutters.com