Posts Tagged 'closet doors'
When ordering new interior doors having the correct measurements is very important.  Just as important is to also let us know the type of opening.  The type of opening can be either "Rough" or "Finished".
What is a Rough Opening?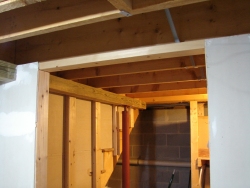 A rough opening is where the wall studs are exposed along the edge of the opening.  You will see a rough opening when you are building a new wall (like you would do when refinishing a basement) or knocking out a wall to put in a new door.  The rough opening still needs to be framed out so that the opening is square and flush with any drywall.  In the picture to the left you can see how the opening has the exposed studs along the edge.
If you plan to install bifold doors or sliding doors you can square and frame out the rough opening with drywall.  However, if you are going to be hinging the doors to the opening you will need a solid wood jamb.  The reason for this is that the screws that hold door hinges need to be sunk directly into wood.  For bifold and sliding door hardware the screws that secure the track are long enough to go through the drywall and into the studs.
What is a Finished Opening?
A finished opening is where the opening has been framed out and is ready for paint or stain.  If you were to go through your home and look at existing closets doors and doorways you will be looking at examples of a finished opening.  The opening can be finished with drywall, wood, metal or any solid, smooth surface.  The idea is that the finished opening is ready for doors.  Just be mindful that the hardware you want to use can be attached to material used to finish your opening.  If you decide that you want to hang a hinged door on an opening that is framed with drywall ( or stone as shown below ) you would first need to install a wood jamb.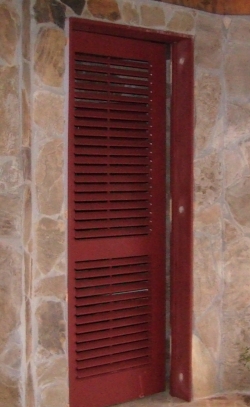 Once you have determined the type of opening that you have you can follow our online instructions on how to measure for doors.  We can then use those measurments to make sure that your doors are a perfect fit for your openings.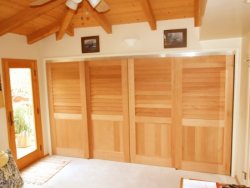 Interior doors of any style can be mounted as a sliding closet doors; all that it takes is the correct type of sliding door hardware!
However, there are a few options that you need to consider when it comes to the hardware:
How do you plan to use your Sliding Closet Doors? Before we look at any of the options you want to take a moment and really think about how you will be using your sliding doors.  Are they for a closet or utility room, a free-standing wardrobe or will the doors be separating two living spaces?  Will you be opening them every day or just once in a blue moon?  When you do open the doors will you need them to slide far enough apart to remove a heat pump or just wide enough to grab a clean pair of socks?  Will it only be you using these doors or will it be your kids or will the doors be used in a public space?  Knowing how you will use your sliding doors will help you in deciding which type of sliding door hardware will best suit your needs.
Tilt In OR Top Latch? This is referring to how the doors get installed on to the track.  Lighter weight sliding door hardware is designed so that you can just tilt the door at an angle and have the rollers catch on to the track.  Unfortunately the opposite is also true meaning that all you (or your children or large pets) have to do is knock the door up and at an angle a bit to have the door come off the track.  For this reason we do not even offer this kind of hardware.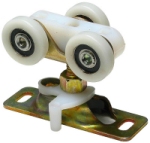 Instead we use commercial grade Johnson hardware that has a latch system (shown at left).  The wheels have a post hanging straight down that slips in to a bracket on the top edge of the door.  This bracket has a white latch that closes and secures the door to the wheels.  This not only makes for a much safer design but it also makes it easy to remove the doors if you should ever need to pull something very large out from behind the doors.
Do you want a Bottom Guide Track?
Most high end sliding track hardware is designed so that the full weight of the door is supported by the top track and hangers.  This makes it easier for the doors to slide back and forth and reduces stress on the door.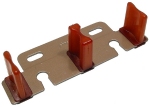 Because of this some sliding door hardware will only need the simple door guide shown to the right.  This is installed on the floor where one door overlaps the next.  This guide prevents the doors from swinging front to back.  Optionally, you can replace this guide with a full guide track.  These are little " U " channels that mount onto or into your floor.  The full guide track is helpful if you are concerned about a lot of force pushing the doors back and forth like you might have with children, large pets or commercial applications.  For sliding door hardware with more than 2 tracks and for very heavy doors the bottom guide track is a standard to remove the chance of doors swaying front to back.
Where would you like the Doors to Slide?
When it comes to sliding door hardware there are 3 places where the doors can slide.

Option 1. The doors can slide back inside the walls. These are called Pocket Doors.  Pocket doors are nice in that they can slide completely out of the way to allow full access to the closet.  They are also great where full swing doors do not have room such as in a kitchenette area.  The down side is that if you are retro-fitting an opening you will need to rip out the walls so that you can install the hidden tracks but for new construction preplanning a pocket door is easy.

Option 2. The doors can slide along the face of the wall like barn doors. These use wall mounted sliding door hardware.  Like the pocket doors these will offer you full access to your closet.  However, keep in mind that anything mounted to your walls, like shelves or light fixtures, will need to be removed so that the doors can slide.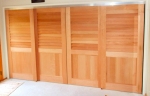 Option 3. The third way, which is the most common style of sliding door hardware, is where the doors can slide back and forth within the opening.  Since the doors stay within the opening this means you will not have full access unless you remove the doors.  This is the most popular style we see utitilized and what we quote as a standard.
If you will need full access on a daily basis then pocket doors or wall mounted sliding doors (options #1 and #2 above) will be your best options.  If you will not need full access other than a once a year spring cleaning then the standard sldiing doors (options #3 above) will work fine.
How Many Sliding Door Tracks would you like?
In many closets you will see 2,3 or 4 sliding doors.  Often the doors are mounted on 2 tracks, one in front of the other.  When there are 2 doors in the opening this means that 1 of the doors can slide behind the other to give you access to either the left or right half of the closet. (see Figure A below)  With 4 doors on tracks (as shown in option #3 above), you also have the option of sliding the doors to the edges so that you have access to the center of the closet. (see Figure B below)  With 3 doors on 2 tracks there is the problem that access is only to a third of the closet at any one time.  (see Figure C below)   One way around this is to have each door be on its own track.  This allows the doors to slide anywhere within the opening and be stacked together, one behind the others. (see Figure D below) For 3 or more tracks you will need enough depth on the header to allow you to mount the multiple tracks. If your opening does not have enough depth you can always mount a wide, solid piece of wood as a new header.



Regardless of how you will be using or installing your sliding closet doors there are things to consider when it comes to the type of sliding door hardware.  If it does get a bit confusing please do not hesitate to contact us be it email, phone call or live chat.

A naturally beautiful and renewable choice – Wood shutters and doors by
Kestrel Shutters & Doors, Inc.   www.DIYShutters.com   1-800-494-4321 / sales@diyshutters.com
Looking for a simple way to personalize your interior doors?
Our 6500 series interior doors feature removable trim which can be used to hold glass, mirrors and most any other flat panel from dry eraser board to woven reeds. We can supply you with clear and frosted tempered glass. Pantries, bedrooms and closets alike, even exterior entrance doors, can have a glass or plastic glazing insert. Glass inserts add an interesting transition from room to room even if it is a closet.
Take a look at the way some of our customers have personalized their custom interior doors:


A naturally beautiful and renewable choice- Wood shutters and doors by
Kestrel Shutters & Doors, Inc.   www.DIYShutters.com   1-800-494-4321 / sales@diyshutters.com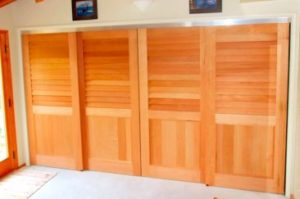 A common misconception is that closet door hardware, especially hardware for sliding closet doors, requires a bottom track.  The belief is that the bottom track helps support the weight of the doors as well as keep the doors aligned.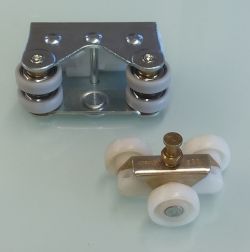 The Johnson Hardware, that we supply with our closet doors, is actually designed the other way around.  The top track rollers (shown at right) can support doors up to 200 lbs each for medium rated (3 wheels) and 400 lbs each for the heavy duty rated (4 wheels).  This means that, since the top track supports all of the weight, the optional bottom track is used only to help guide your sliding closet doors and bifold doors.
When should I use a bottom track?
You really only need to use the bottom guide when there is a concern that the doors might be bumped hard enough to swing, front to back.  Some good examples would be if the doors are being be used between rooms or if you have small children or large pets.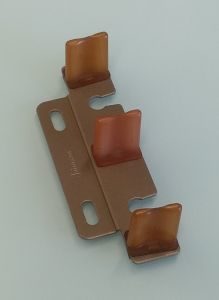 If you have only 2 rows of closet doors in the opening (1 or 2 doors in the front row and 1 or 2 doors in the back row) there is a simple floor guide (shown at left) that keeps the doors separated and from hitting each other.  If you look closely at the top picture, you will see these guides where the front row doors overlap the back row doors.  (a close-up is shown in the image to the right)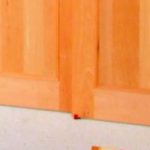 If you have doors in 3 or more rows, then bottom guide tracks are required.
Are bottom tracks only for sliding closet doors?
No.  Larger bi-fold doors are also good candidates for a bottom guide track.  Follow the same rule as with your sliding closet doors.  If you think your bi-fold doors are going to be bumped a lot then a bottom guide track might be helpful.
Do I need to cut into my floor to install the bottom track?
No.  Since the bottom guide tracks do not support any weight they can be surface mounted to your floor.  Wood strips can be placed on either side of the track to give the look of a finished threshold.  If you have not installed your floor you can also use a bottom guide track.  In this case you would simply install your flooring on either side of the bottom guide track.  The nice thing about this method is that the track is submerged below the floor level so there is no concern about tripping.
So while a bottom track is not needed to support the weight or your doors, it can help to guide your doors.
*This post was updated on December 24th, 2019

A naturally beautiful and renewable choice – Wood shutters and doors by
Kestrel Shutters & Doors, Inc. www.DIYShutters.com 1-800-494-4321 / sales@diyshutters.com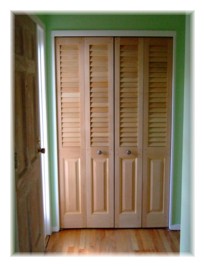 When it comes to closet doors, one of the most popular ways to mount them is as bifold doors. Basically this means that the doors are hinged together in pairs and will open and close in pairs.
While there doesn't seem like there would be much variation in the hardware for bifold doors there are a few different factors to consider.
Where will your doors fold open?
The first thing to look at is how you want to have your doors fold open. Traditional bifold doors will fold up in pairs within the closet opening. The doors can be mounted so that they all fold to one side only or split up so that pairs of doors fold to both sides. If you do NOT want the doors to fold up inside the opening then you can choose what is known as "full access" hardware.
Johnson Hardware 1601 series is a full access hardware that folds the doors 180° open and out against the face of the wall. The advantage of this is that you do not have pairs of doors blocking part of your opening. Three of the most practical applications for this are closets that hold a washer and dryer, closets that hold a home office and closets that stow away a Murphy Bed. If you do not have the wall space for your bifold doors to swing out and open then you will need to go with more traditional hardware that keeps the doors within the opening.
Can you mount your bifold doors to the floor?
Some hardware for bifold doors require that you mount a bottom pivot directly on to your floor. If you have custom flooring this may not be practical or desired. This is one of the reasons that Johnson Hardware 111FD series is so popular. This is a heavy duty track hardware that holds bifold doors up to 50 lbs each but does not require you to touch your floor. Instead the bottom pivot mounts to your jamb to support your bifold doors.
Are your closet doors oversized?
Many of the closet doors we make are oversized and need to have bifold door hardware that has heavier limits. The Johnson Hardware 100FD series will handle bifold doors up to 75 lbs each and the Johnson Hardware 200FD series will handle bifold doors up to 48″ wide each and 125 lbs each. These series of bifold track hardware will have a bottom pivot that mounts to the floor to help stabilize the oversized doors.
Closets with more than 4 doors
Sometimes it makes sense to have more than 4 doors within a closet opening. Most often it is because the closet has a very wide opening or it could even be several sets of interior doors to separate two rooms. In cases like this we offer what is referred to as multifold door hardware. The Johnson Hardware 100RD series will handle doors up to 24″ wide and 50 lbs each while the Johnson Hardware 200RD series will handle doors up to 36″ wide and 75 lbs each. Both of these can handle up to a maximum of 12 individual interior doors, 6 folding to the left and 6 folding to the right.
Bifold Door Hardware – Summary Table
| | | | | |
| --- | --- | --- | --- | --- |
| Series | max. Door Size | max. Door Weight | max. Doors Folding in One Direction | Bottom Pivot |
| 1601 | 24″ x 96″ | 30 lbs. | 2 | none |
| 111FD | 24″ x 108″ | 50 lbs. | 2 | Jamb Mount |
| 100FD | 24″ x 108″ | 75 lbs. | 2 | Floor Mount |
| 200FD | 48″ x 108″ | 125 lbs. | 2 | Floor Mount |
| 100RD | 24″ x 108″ | 50 lbs. | 6 | Floor Mount |
| 200RD | 36″ x 108″ | 75 lbs. | 6 | Floor Mount |

A naturally beautiful and renewable choice – Wood shutters and doors by
Kestrel Shutters & Doors, Inc. www.DIYShutters.com 1-800-494-4321 / sales@diyshutters.com