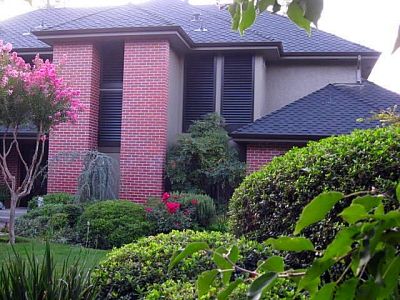 Even though our exterior shutters are made to be authentic and fully functional there are times when they are installed for decoration. Most decorative shutters are mounted to either side of a window, often using real shutter hardware give the look of truly functional exterior shutters.
But what do you do when you have no windows?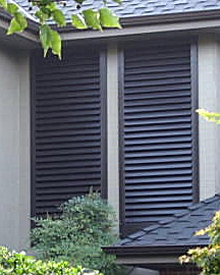 The customer above solved this by mounting fixed louvered exterior shutters directly to their home. This not only added curb appeal and interest to the front of their home, but it also gives the illusion that there really are windows behind those exterior shutters.
This trick has long been used in commercial interiors where make-believe windows are strategically place to make a more comfortable lighter airy feel to a store's layout rather then the four walls of a mall. The Hollister Store is certainly astounding with the many interior Plantation Shutters, many of which are made by us, installed throughout their stores.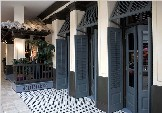 With a big focus in recent years towards basement remodeling this trick can also be used with interior shutters. Just by installing a boxed window casing fitted with interior shutters on any wall you will make windows appear before your eyes for a lighter more natural feel inside under-the-ground.

A naturally beautiful and renewable choice- Wood shutters and doors by
Kestrel Shutters & Doors, Inc.   www.DIYShutters.com   1-800-494-4321 / sales@diyshutters.com