Archive for the 'Closet Doors' Category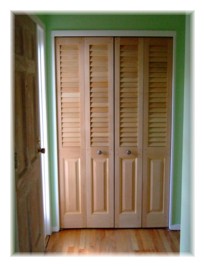 When it comes to closet doors, one of the most popular ways to mount them is as bifold doors. Basically this means that the doors are hinged together in pairs and will open and close in pairs.
While there doesn't seem like there would be much variation in the hardware for bifold doors there are a few different factors to consider.
Where will your doors fold open?
The first thing to look at is how you want to have your doors fold open. Traditional bifold doors will fold up in pairs within the closet opening. The doors can be mounted so that they all fold to one side only or split up so that pairs of doors fold to both sides. If you do NOT want the doors to fold up inside the opening then you can choose what is known as "full access" hardware.
Johnson Hardware 1601 series is a full access hardware that folds the doors 180° open and out against the face of the wall. The advantage of this is that you do not have pairs of doors blocking part of your opening. Three of the most practical applications for this are closets that hold a washer and dryer, closets that hold a home office and closets that stow away a Murphy Bed. If you do not have the wall space for your bifold doors to swing out and open then you will need to go with more traditional hardware that keeps the doors within the opening.
Can you mount your bifold doors to the floor?
Some hardware for bifold doors require that you mount a bottom pivot directly on to your floor. If you have custom flooring this may not be practical or desired. This is one of the reasons that Johnson Hardware 111FD series is so popular. This is a heavy duty track hardware that holds bifold doors up to 50 lbs each but does not require you to touch your floor. Instead the bottom pivot mounts to your jamb to support your bifold doors.
Are your closet doors oversized?
Many of the closet doors we make are oversized and need to have bifold door hardware that has heavier limits. The Johnson Hardware 100FD series will handle bifold doors up to 75 lbs each and the Johnson Hardware 200FD series will handle bifold doors up to 48″ wide each and 125 lbs each. These series of bifold track hardware will have a bottom pivot that mounts to the floor to help stabilize the oversized doors.
Closets with more than 4 doors
Sometimes it makes sense to have more than 4 doors within a closet opening. Most often it is because the closet has a very wide opening or it could even be several sets of interior doors to separate two rooms. In cases like this we offer what is referred to as multifold door hardware. The Johnson Hardware 100RD series will handle doors up to 24″ wide and 50 lbs each while the Johnson Hardware 200RD series will handle doors up to 36″ wide and 75 lbs each. Both of these can handle up to a maximum of 12 individual interior doors, 6 folding to the left and 6 folding to the right.
Bifold Door Hardware – Summary Table
| | | | | |
| --- | --- | --- | --- | --- |
| Series | max. Door Size | max. Door Weight | max. Doors Folding in One Direction | Bottom Pivot |
| 1601 | 24″ x 96″ | 30 lbs. | 2 | none |
| 111FD | 24″ x 108″ | 50 lbs. | 2 | Jamb Mount |
| 100FD | 24″ x 108″ | 75 lbs. | 2 | Floor Mount |
| 200FD | 48″ x 108″ | 125 lbs. | 2 | Floor Mount |
| 100RD | 24″ x 108″ | 50 lbs. | 6 | Floor Mount |
| 200RD | 36″ x 108″ | 75 lbs. | 6 | Floor Mount |

A naturally beautiful and renewable choice – Wood shutters and doors by
Kestrel Shutters & Doors, Inc. www.DIYShutters.com 1-800-494-4321 / sales@diyshutters.com

Fabric prints and solids for both window shutters and interior doors are a really neat idea because it becomes so easy to change a room's appearance with beautiful patterns and textures-
Change the fabric panels throughout the seasons or by whim to update home decor without changing much of anything else.
On display in our office we now feature this snowman print fitted on our 6070 series closet door.  The wood frame and authentic beadboard is finished in brilliant white- A perfect winter wonderland for a little one's room.
We can tailor your supplied fabrics for shutter frames, folding screens, and the Kestrel series of closet doors specifically made for fabrics.  We also are offering Richloom fabrics which are found at many fine fabric stores.  You might even consider crafting your own panels as a sewn or even as a no sew project.
For more information about adding fabrics to Kestrel Shutters and Doors call or write today.  1/800-494-4321  sales@diyshutters.com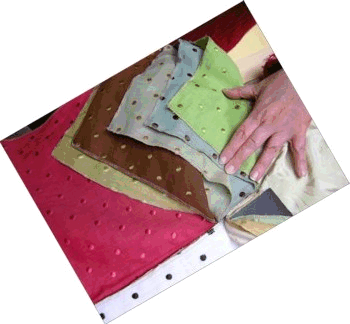 Richloom Platinum fabrics shown.
Pattern: Bingo
Colors available from right to left:  Spring, Lagoon, Surf, Earth, Citrine, Berry, Alabaster.  Also available are Coral, Cameo, Natural, Butter and Mist.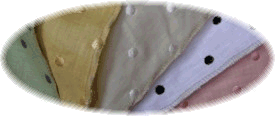 A naturally beautiful and renewable choice – Wood shutters and doors by
Kestrel Shutters & Doors, Inc. www.DIYShutters.com 1-800-494-4321 / sales@diyshutters.com
The choice between installing bifold doors and sliding closet doors depends on a few different factors. The use of the closet, the space around the closet, and, of course, your personal preference, are all considerations.
What is the difference between bifold doors and sliding closet doors? The first thing to do is to look at how these two types of doors function. Bifold doors, just as the name implies, are a pair doors that are hinged together and fold up together. This means that you can take all of the doors and fold them up to the sides so that they are out of the way and you have almost full access to your closet. With sliding closet doors the doors slide back and forth on multiple tracks and can be stacked up, one in front of the others. Since the doors never fold out of the way, fully exposing the entire area, there will always be some part of the closet blocked.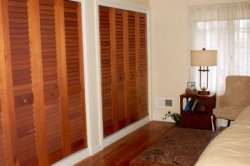 What is in your closet? Will the closet be for clothes, storage of seasonal items, or used as a pantry? If you will only need to get to one part of the closet at any time then a sliding or a bifold will work well for you. If you need full access to the closet, or you just want to be able to open the doors and see everything at once, then bifold doors are your best choice. Keep in mind that sliding doors can be removed if you should need full access once in a while.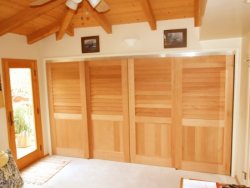 What is around your closet? Is there limited space around your closet? Is there the concern that if you open up the doors they might hit furniture or artwork on your walls? Do you want a streamline fit, rather then doors folding out into the room? If this is the case then sliding closet doors are probably your best option.
Which do you prefer? Another point, just as important as those mentioned above is, simply put, which do you prefer? Even if one of the door installation types is not completely ideal for you, it may still be worth it if you really like the look enough. Regardless of which track hardware you choose, you can still pick whichever style of door you like the most. Every style of door that we offer can be mounted with hardware for either bifold doors or sliding doors .

A naturally beautiful and renewable choice – Wood shutters and doors by
Kestrel Shutters & Doors, Inc. www.DIYShutters.com 1-800-494-4321 / sales@diyshutters.com
We've all seen them. The closets that we use to hide things. It's your washer and dryer surrounded by a growing mound of clothes. Your childrens toys that have multiplied and your hoping will be contained in the closet. Or perhaps it's that slightly embarrassing collection of black velvet Elvis paintings you've collected over the years.
Maybe you actually use your closet to hold clothes. Did you recently go to great lengths and expense to organize your closet with an array of shelves, slots and drawers so that each and every shoe has it's own little home?
Regardless of what your closet holds, the doors all seem look the same. Flimsy, hollow white things, mass produced in metal, finger jointed wood or some unknown plastic. They never seem to close properly either. "But hey! That's all that they had at the building supply center"
That may be so, but that is no longer a reason to settle. Here at Kestrel we offer you something else: Real Doors, made from Real Wood, by Real People.
We hand build our pegged, mortise and tenon closet doors in a number of different designs that will compliment your unique style.
Is your room too dark? Choose a closet door style that allows for glass or mirrors. This will help reflect what light is in the room and brighten it up. Our designs feature louvers, panels and bead board in the lower portion of the door to help keep everything grounded.
Plantation Louvered doors are a great way to add charm. An added benefit is that they allow airflow between rooms. This can be very important if you have a heater or other appliances that require a specific amount of air flow to avoid burning out.
Go with an even larger louver blade and suddenly you have transformed your bedroom in to a tropical hideaway.
Looking for something more formal? Colonial raised panel doors might be more appropriate. Switching to a flat or recessed panel will give a simple, but still traditional look.
Bead board doors remind us of a beach house or a stately Victorian. Louvers over Tongue & Groove doors for that European flair. Or maybe you have your own special design in mind. Send us your PDFs or a scan of the cocktail napkin you used to scribble on that image that has been floating around in your head. Your home deserves your doors with your style, not someone elses.

A naturally beautiful and renewable choice – Wood shutters and doors by
Kestrel Shutters & Doors, Inc. www.DIYShutters.com 1-800-494-4321 / sales@diyshutters.com