A ho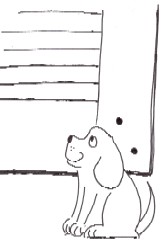 use with functional wood shutters but lacking shutter dogs is like a kite without a string. Without this type of exterior hardware a louvered or panelled shutter will swing freely banging against the outside wall and window.  There is also the possibility of the shutter taking flight with a sudden gust of wind!  To avoid all of this from happening a home needs a good dog, that is, a shutter dog.
"Dog" is an Old English word that means "a simple mechanical fastener", a "Shutter-Dog" is a simple mechanism to tieback a shutter.
On many old farm houses and even on newer homes you just might find exterior shutter dogs positioned differently then the original intended design.  Just by looking at the shutter dogs pivot point it is easy to see that one side is larger or longer then the other.  The heavier end is designed to hang downward. *The Federal Shell Long-Arm style shutter dog in the picture below is up-side-down.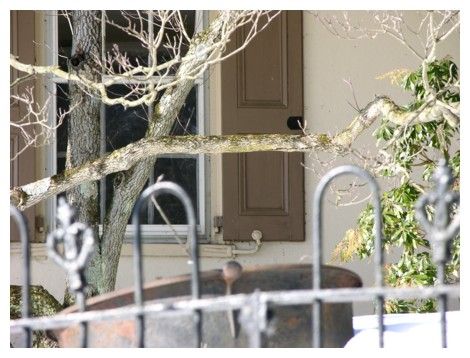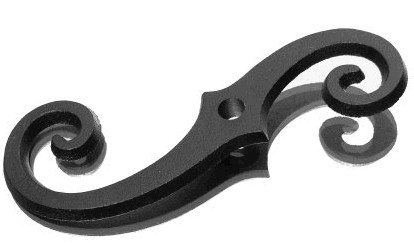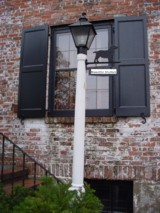 We often will see S-Curve shutter dogs intalled upside down.  One curve is definitely longer then the other which will naturally want to "fall" to the bottom because it is heavier. *The S-curve shutter dogs in this picture to the right are installed correctly.
How do most bottom mount shutter dogs work? The top end of the shutter dog comes in contact with the bottom of the shutter panel as a stop keeping the panel leaf held against the wall.  By manually rotating the shutter dog up to 90 degrees the stop tips over and out of the way allowing the shutter to pass by in order to open or close.  Once the dog is released it is designed to swing back into its balanced position on its own or with a nudge.  It's a neat and simple design that extends to being a very decorative element found in a variety of cast and wrought iron patterns.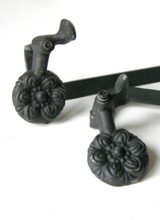 Installed upside-down, right-side up, and even sideways a Shutter Dog will still satisfy its purpose just as well by making an exterior shutter sit and stay.  Good Dog.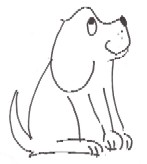 A naturally beautiful and renewable choice – Wood shutters and doors by
Kestrel Shutters & Doors, Inc. www.DIYShutters.com 1-800-494-4321 / sales@diyshutters.com