We recently posted a before-and-after remodel featuring our custom wood exterior shutters.  While interior and exterior shutters and doors are a mainstay for us we also make other millwork items upon request.  The pictures below on the left show how the original wainscot stairwell at this train station was very dated.  This customer updated the look with a simple but elegant panel wainscot we fabricated according to his sketch.  The pictures on the right show the dramatic transformation that the new wainscoting has made.  Do you see anything else missing?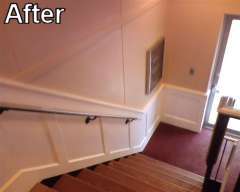 What a nice change!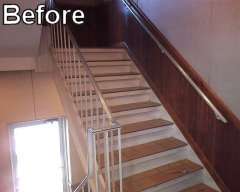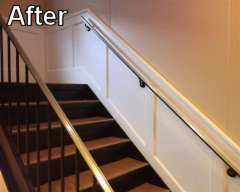 For more information about fitting your windows
We have several styles to choose from all made to your measurement.
sales @ diyshutters.com  –  610.326.6679 / 1.800.494.4321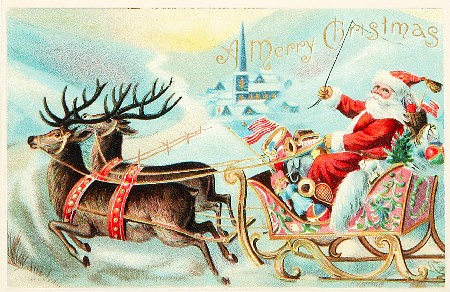 I think what I like most about this time of year isn't just one thing but a whole list including the many decorations on homes and stores, holiday meals and desserts like Gingerbread Cookies and the many fresh smells including the outdoor freshness of pine and balsam. I also enjoy the feeling of contentment that everyone including myself seem to find once Christmas Eve arrives and hearing the many songs and stories including this old classic below which was written at a time when window shutters were a common necessity to keep out the cold:
A Visit from St. Nicholas
Twas the night before Christmas, when all through the house
Not a creature was stirring, not even a mouse;
The stockings were hung by the chimney with care,
In hopes that St. Nicholas soon would be there;
The children were nestled all snug in their beds,
While visions of sugar-plums danced in their heads;
And mamma in her 'kerchief, and I in my cap,
Had just settled down for a long winter's nap-
When out on the lawn there arose such a clatter,
I sprang from the bed to see what was the matter.
Away to the window I flew like a flash,
Tore open the shutters and threw up the sash.
The moon on the breast of the new-fallen snow
Gave the lustre of mid-day to objects below,
When, what to my wondering eyes should appear,
But a miniature sleigh, and eight tiny reindeer,
With a little old driver, so lively and quick,
I knew in a moment it must be St. Nick.
More rapid than eagles his coursers they came,
And he whistled, and shouted, and called them by name;
"Now, Dasher! now, Dancer! now, Prancer and Vixen!
On, Comet! on Cupid! on, Donder and Blitzen!
To the top of the porch! to the top of the wall!
Now dash away! dash away! dash away all!"
As dry leaves that before the wild hurricane fly,
When they meet with an obstacle, mount to the sky,
So up to the house-top the coursers they flew,
With the sleigh full of toys, and St. Nicholas too.
And then, in a twinkling, I heard on the roof
The prancing and pawing of each little hoof.
As I drew in my hand, and was turning around,
Down the chimney St. Nicholas came with a bound.
He was dressed all in fur, from his head to his foot,
And his clothes were all tarnished with ashes and soot;
A bundle of toys he had flung on his back,
And he looked like a peddler just opening his pack.
His eyes — how they twinkled! his dimples how merry!
His cheeks were like roses, his nose like a cherry!
His droll little mouth was drawn up like a bow,
And the beard of his chin was as white as the snow.
The stump of a pipe he held tight in his teeth,
And the smoke it encircled his head like a wreath;
He had a broad face and a little round belly,
That shook, when he laughed like a bowlful of jelly.
He was chubby and plump, a right jolly old elf,
And I laughed when I saw him, in spite of myself;
A wink of his eye and a twist of his head,
Soon gave me to know I had nothing to dread;
He spoke not a word, but went straight to his work,
And filled all the stockings; then turned with a jerk,
And laying his finger aside of his nose,
And giving a nod, up the chimney he rose;
He sprang to his sleigh, to his team gave a whistle,
And away they all flew like the down of a thistle.
But I heard him exclaim, ere he drove out of sight,
"Happy Christmas to all, and to all a good-night."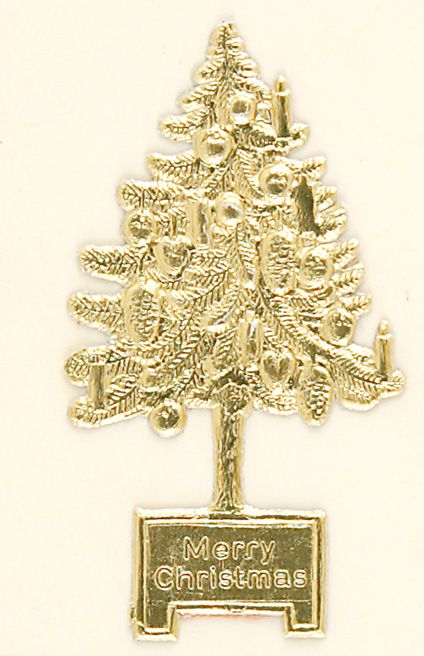 A naturally beautiful and renewable choice – Wood shutters and doors by
Kestrel Shutters & Doors, Inc. www.DIYShutters.com 1-800-494-4321 / sales@diyshutters.com
Once the shutters, doors, and other various millwork we make are shipped  to a customer we often wonder what the job will look like once completed.  That's why the pictures sent in from customers are really nice to see.
Before and after remodeling pictures are especially fun!
In this before picture shown below the exterior window shutters seem to be just barely hanging on!  The homeowner came to us to recreate these old arched shutters.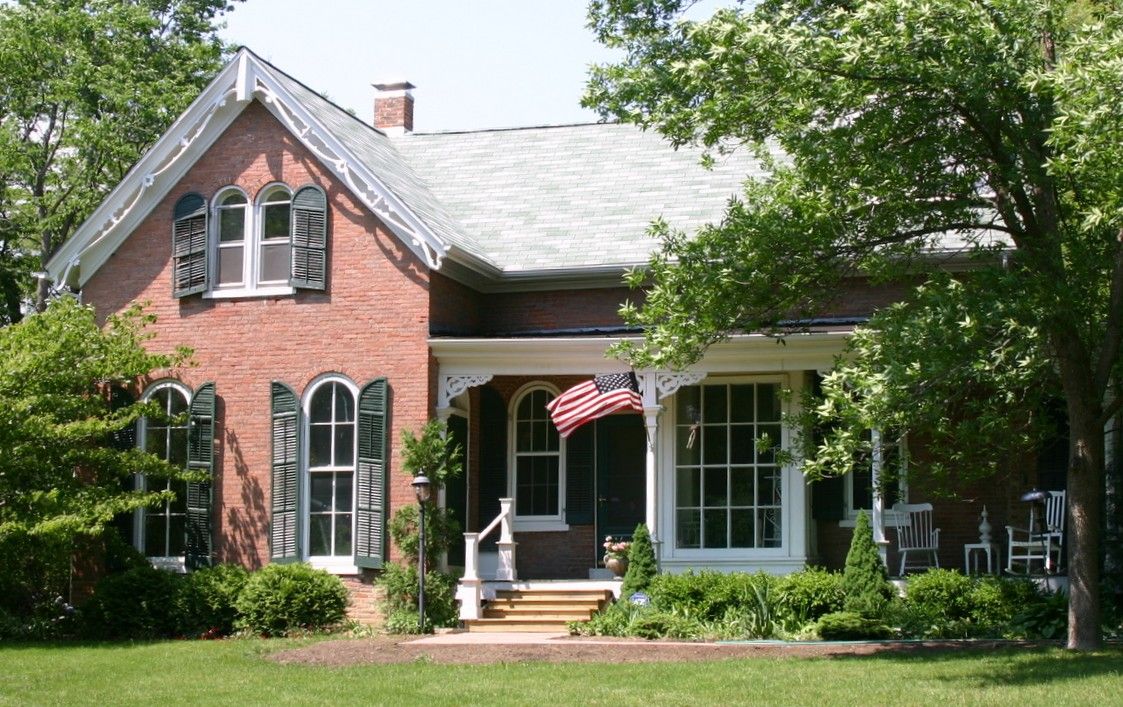 What a difference good posture with new exterior shutters makes!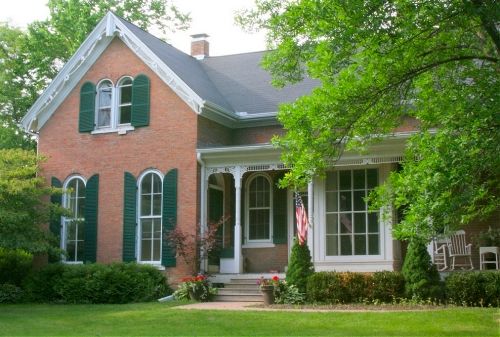 Here is a close up of the half-round arched shutters on the gable.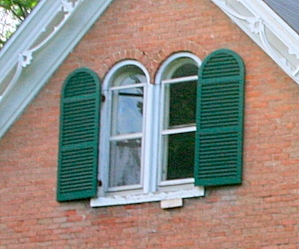 The main floor has the narrow yet very tall windows you see in many Victorian homes.  These exterior shutters have a quarter-round arched top.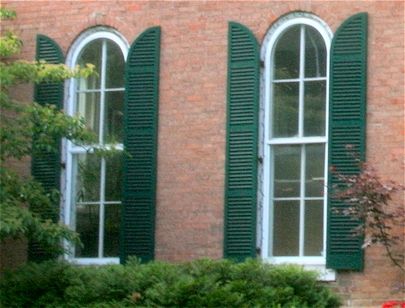 If you would like to see some other pictures of past projects take a look at our photo gallery!

From a simple sketch on a piece of scrap paper to completion, our office remodeling project has been a long job.  Both inside and out we have remodeled to turn this old police station built around 1940 – 1950 into a working office and showroom.
Just this past week our awning style Bahama shutters and window boxes were installed and today the window box planters were filled with beautiful ivy geraniums from a nursery close to us called Miller's Greenhouses.  Millers has a wonderful selection.  Still family owned, they have been in business since 1835!  The geraniums for our flower boxes will be wintered over inside the office windows for us to enjoy.  Come next Spring all we will need to do is pop them back in the planters.
The Bahama Awnings were a smart solution in helping to keep our office a bit cooler to save energy during the hot summer months since the Southern full sun exposure bakes the building and the pavement that surrounds-  And with flowers at the windows and shrubbery by the entrance we have heat absorbing benefits but best of all they are simply beautiful.
We still have a bit more to go but the neighbors are already giving us a thumbs up!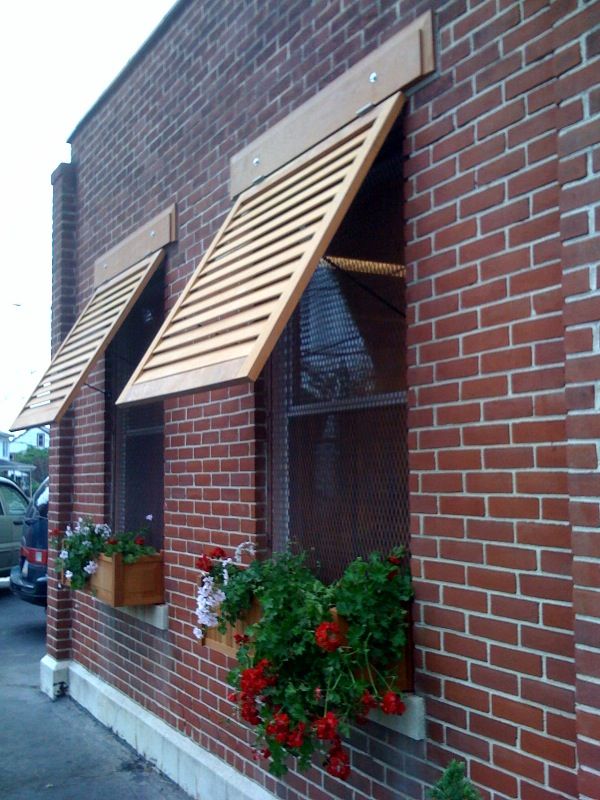 Kestrel's Bahama Awning style shutters provide our office shade keeping it cooler inside.  The view of the window flower boxes is enjoyed from both inside and out- for more information please contact us.


Many neat things happen in July…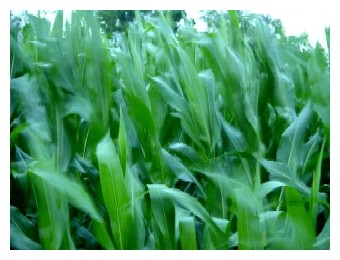 With just the right amount of sun and rainfall, corn stalks are knee high by the fourth of July…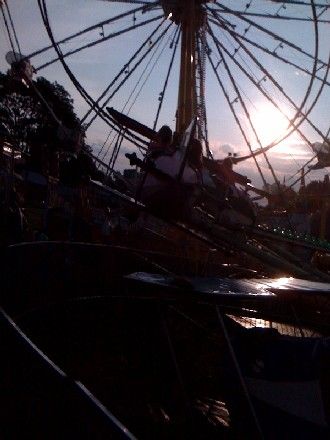 County Fair evenings end the day…
And of course, Red White and Blue flags & fireworks for July 4th picnic celebrations for Independence Day are fun for all…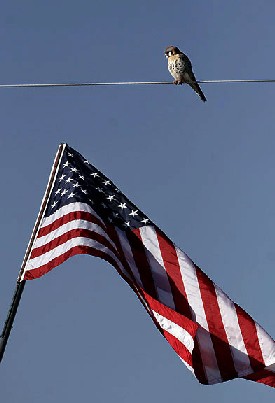 Have a great and safe celebration.
-JAF
Happy Birthday America!
Kestrel Shutters & Doors, Inc.
www.DIYShutters.com
sales@diyshutters.com

Now in our 20th Year
May 4, 1989

Recently many customers have asked us about the hardwood pegs found in our doors and shutters. These pegs and their mitered layout on a completed frame are a signature mark of Kestrel Shutters and Doors.
The pegged mortise and tenon joint is a time honored cabinet makers joint with a use that extends very far back in time. Just google "mortise and tenon ship building" and you'll see for yourself the amazing use of this joint. Even in today's world, the pegged mortise and tenon joint is still one of the best wood fastening methods.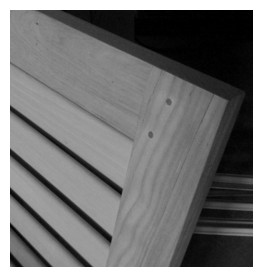 The peg, which acts as a cotter pin locks the connecting joint together. Pegs are usually pinned through the pocket joint and are revealed on both sides of the frame. However, one modern modification that we made to our mortise and tenon joints is to not have the pegs exposed on both sides. This design change allows us to provide our doors and shutters a distinct appearance to both sides. It also eliminates the slight possibility of the peg sliding out while doing it's job in holding the joint together.
Our standard practice for our custom sized, made to order, wood doors and shutters is to build the frames with the pegs clearly visible on the front face. But, time to time, some customers do not want to see these pegs and for good reason such as the traditional joinery does not match their interior design. Whatever the reason may be, it's an easy modification to have the pegs not show by inserting the pegs on the back side.
If having the pegs visible is a concern please let us know and we will accommodate your design preference.

Kestrel Shutters & Doors, Inc.
www.DIYShutters.com
sales@diyshutters.com

Now in our 20th Year
May 4, 2009

If you haven't read my posts before, I sometimes add other odds and ends to share…
I took this picture just the other day of Black Angus grazing on the lush June grass.