What is Overlap Rabbeting?
Overlap rabbeting on exterior shutters is a groove along the vertical edge that allows one shutter to overlap the shutter next to it.  An overlap rabbet is very much the same as what is termed as a shiplap joint or half lap joint.

Overlap rabbeting can be found on all functional exterior shutters and for a very good reason. With an overlap rabbet the shutters will close over one another eliminating any exposure in the center leaking rain, light or air . The overlap rabbet also creates a solidness to a closed pair of shutters locking them tighter together to eliminate any "shuddering" for better storm protection.
Is Overlap Rabbeting just for Exterior Shutters?

An overlap rabbet is just as important for interior shutters.  With an overlap rabbet UV rays are blocked from damaging your room furnishings as well as providing a tighter seal over the window giving better energy efficiency.  If you are using your interior shutters as blackout shutters for a bedroom or a media room overlap rabbeting is a must.
Overlap rabbeting is decorative, as well as functional, giving a neater and more finished appearance.  If you look at the picture to the right you will see the half-round bead detail.  This is shaped into the wood shutters to give a more uniform look to the face of the shutters.  This type of rabbet is referred to as a beaded overlap rabbet.
When should I use shutters with overlap rabbeting?
A good rule of thumb, for both interior and exterior shutters, is to have an overlap rabbet if your shutters are meant to be functional or at least look functional.  It is an option that adds very little to the cost but greatly increases their value.

A naturally beautiful and renewable choice – Wood shutters and doors by
Kestrel Shutters & Doors, Inc.   www.DIYShutters.com   1-800-494-4321 / sales@diyshutters.com
Summertime and a porch go hand in hand.  It's that inviting outdoor sheltered area to relax for a moment, recline and rest our feet, and maybe even watch a casual passerby.  It is also a place to read in the best lighting, gather with friends and family for refreshments such as lemonade and even just doze off in a chaise lounge.  Prior to indoor air conditioning a porch was the place where everyone including the family dog could escape stifling indoor heat.  It is easy to see the charm in a porch and why so many historic homes have at least one.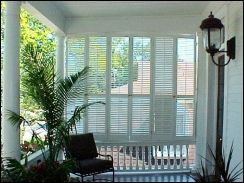 If your home has a porch but you find that it could use a tad bit more privacy to enjoy your outdoor space or maybe you could even use shade from a hot sunny afternoon here is a clever solution.  You can build a privacy screen with exterior louvered shutters between the porch posts.  With operable louvered exterior shutters you can create a visually pleasing partition.  Since the louvers are fully adjustable you won't even need to give up a summer breeze passing through.
Exterior shutters really do enhance your home by adding depth and detail to every window and door.  Here are other examples of exterior shutters on homes that have a porch: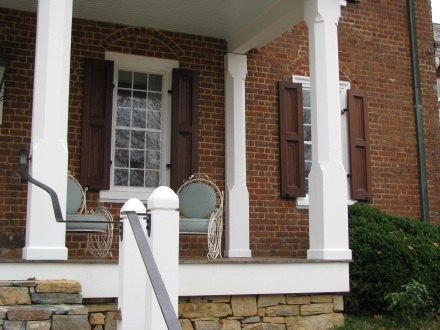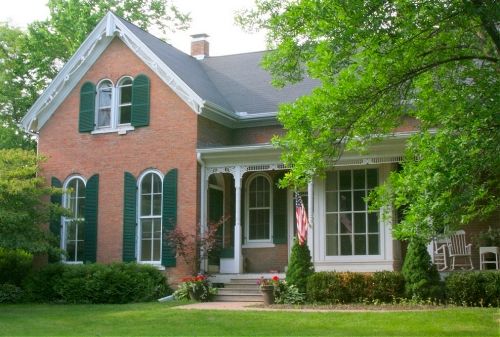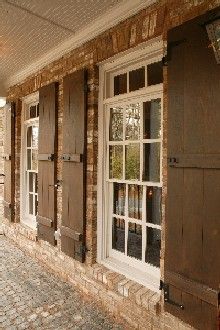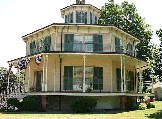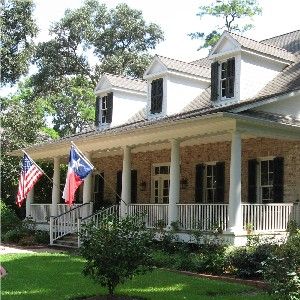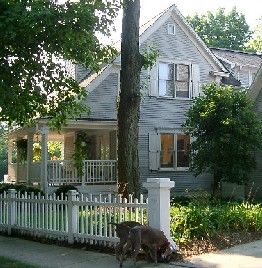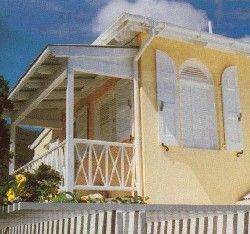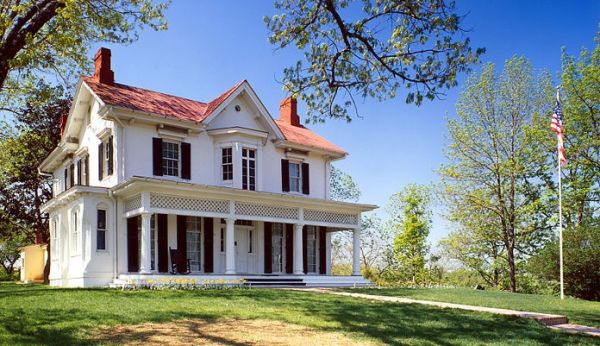 A naturally beautiful and renewable choice- Wood shutters and doors by
Kestrel Shutters & Doors, Inc.   www.DIYShutters.com   1-800-494-4321 / sales@diyshutters.com
The most common shutter dog used on exterior shutters is the "S" scroll.
The scroll shape, a volute, has been used in architecture for thousands of years. Found on the capitals of Ionic and Corinthian columns, scrolls are a comforting contour that nature creates all by herself in fiddlehead ferns, snails, seashells, and in flowers as the petals unfurl into bloom. Maybe it's this natural subtle sliding (twisting) form that prompted someone long ago to carve them into architectural features including stair rails and in string instruments such as the top of a violin and cello.
Scroll, or "S" curve, shutter dogs have been made for over two hundred years. Hot Iron shaped in two spirals, one reversed mirroring another forming the common "S" design, was an easy to make item for a blacksmith. However, I do understand that it used to be The Blacksmiths Test of readiness since it was only easy for a good blacksmith to make the repetitive "S" shapes that would match.
Eventually casting and stamping steel replaced the Old World Blacksmith's hand forged "S" curve leading to the number of variations available today.
We sell a half a dozen "off the shelf" cast, stamped steel and cut steel type. While these shutter dogs all share the common "S" shape, the differences in each are in appearance and material :

Below are close-up pictures of each ot the shutter dogs shown above, listed from left to right. All of the shutter dogs below except the first one ( HE7-201 ) are fully functional. The plastic shutter dog is the only design that is for decorative uses only.
If an S-design is not for your home's style or even your personal preference we offer many other shutter dog designs to choose from – Thirty-seven shutter dogs in all !


A naturally beautiful and renewable choice- Wood shutters and doors by
Kestrel Shutters & Doors, Inc.   www.DIYShutters.com   1-800-494-4321 / sales@diyshutters.com
Custom Shutters customized by customer? Try saying this fast a few times!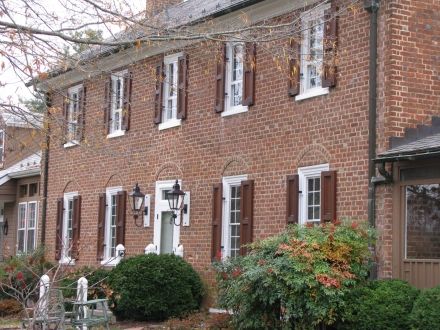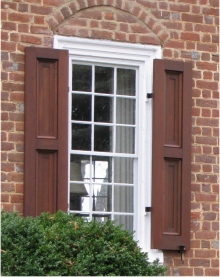 Not too long ago we manufactured these custom exterior wood shutters in a DIY Shutter kit for this beautiful brick home. The customer wanted to create the look of a deeper relief to the inner wood panel. This was achieved by supplying an additional 3/4 inch thick wood stock made to the same widths as the stiles and rails. The additional materials provided were laminated to the shutter frames by the customer and the extra thickness added gave the deeper recessed appearance that they wanted.
It's very rewarding to receive these pictures along with this very nice note from our customer:
"Good afternoon,

"I have attached a couple of pictures in regards to the latest project we did using your shutters. We were very pleased with the quality and workmanship of the shutters. Assembly of the shutters went very smoothly and the extra pieces that we applied gave the shutters a nice depth for the application. It was a pleasure doing business with you, and your company was very accommodating with the specialty items that we requested.


We look forward to working with you in the future.

Thank you"

A naturally beautiful and renewable choice- Wood shutters and doors by
Kestrel Shutters & Doors, Inc. www.DIYShutters.com 1-800-494-4321 / sales@diyshutters.com
A ho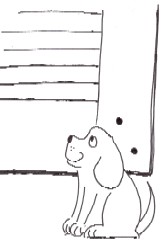 use with functional wood shutters but lacking shutter dogs is like a kite without a string. Without this type of exterior hardware a louvered or panelled shutter will swing freely banging against the outside wall and window.  There is also the possibility of the shutter taking flight with a sudden gust of wind!  To avoid all of this from happening a home needs a good dog, that is, a shutter dog.
"Dog" is an Old English word that means "a simple mechanical fastener", a "Shutter-Dog" is a simple mechanism to tieback a shutter.
On many old farm houses and even on newer homes you just might find exterior shutter dogs positioned differently then the original intended design.  Just by looking at the shutter dogs pivot point it is easy to see that one side is larger or longer then the other.  The heavier end is designed to hang downward. *The Federal Shell Long-Arm style shutter dog in the picture below is up-side-down.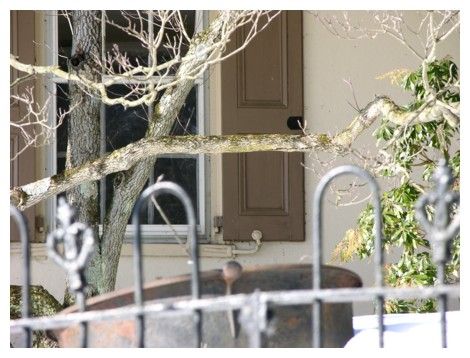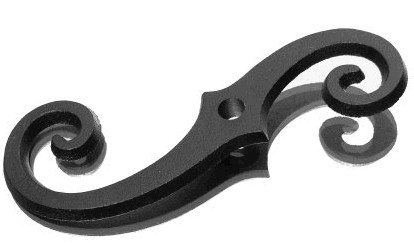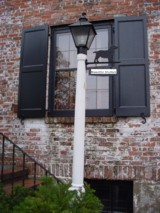 We often will see S-Curve shutter dogs intalled upside down.  One curve is definitely longer then the other which will naturally want to "fall" to the bottom because it is heavier. *The S-curve shutter dogs in this picture to the right are installed correctly.
How do most bottom mount shutter dogs work? The top end of the shutter dog comes in contact with the bottom of the shutter panel as a stop keeping the panel leaf held against the wall.  By manually rotating the shutter dog up to 90 degrees the stop tips over and out of the way allowing the shutter to pass by in order to open or close.  Once the dog is released it is designed to swing back into its balanced position on its own or with a nudge.  It's a neat and simple design that extends to being a very decorative element found in a variety of cast and wrought iron patterns.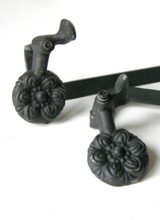 Installed upside-down, right-side up, and even sideways a Shutter Dog will still satisfy its purpose just as well by making an exterior shutter sit and stay.  Good Dog.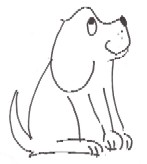 A naturally beautiful and renewable choice – Wood shutters and doors by
Kestrel Shutters & Doors, Inc. www.DIYShutters.com 1-800-494-4321 / sales@diyshutters.com