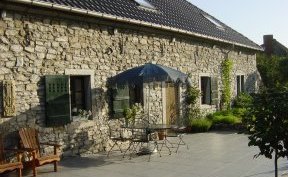 The story behind the exterior shutters on this stone home in Belgium for Memorial Day.
Often when we think of exterior shutters we think about how they add curb appeal. Improving the exterior of our home. Sometimes, though, they can be part of a much greater transformation.
The building shown above, located in Chièvres, Belgium, started out as a stable. During WWII it had the unfortunate location of being right next door to the local Nazi headquarters. Local legend has it that these stables ended up being used to hold and interrogate prisoners. After it was delivered from such a use by the Allied forces in the Fall of 1944 it eventually fell in to disrepair.
Finally it was purchased in the early 1990's. We were told how
" This old place was not so comfy 15 years ago, it was a deserted stable and chickens were roosting in the hay loft. It was so run down there were gaping holes in the roof and you could look up and see the sky from the inside. "
Over the course of those 15 years the new owner took this shell, turned it in to a house and finally, with lots of hard work, made it in to a home.
" The shutters are the last project and it will be restored to its original condition, thanks to you folks. You don't know how many people in town ask about your shutters, and even more astonished that they were made in the good old USA. "
It is an honor to have our shutters and doors chosen by a customer. In this case we are stirred with remembrance knowing that our exterior shutters helped transform this building with a dark past into a comforting home. It is a Memorial set in stone.
The style of exterior shutters used this home is our 7145 Board & Batten Shutters with Breadboard Top and Diamond Cutouts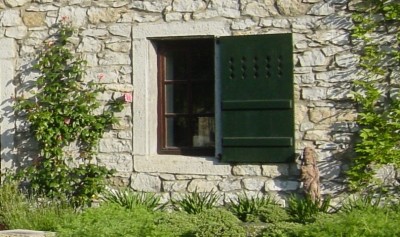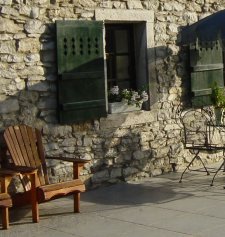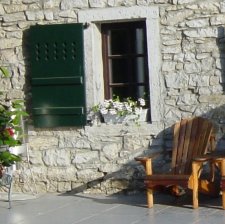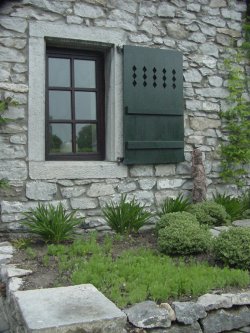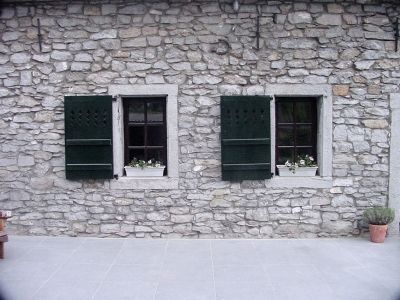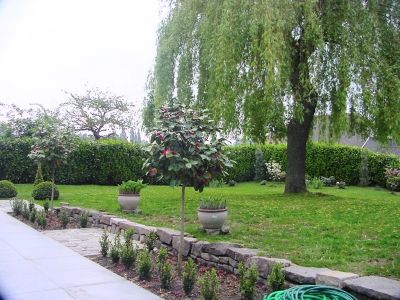 A naturally beautiful and renewable choice – Wood shutters and doors by
Kestrel Shutters & Doors, Inc.   www.DIYShutters.com   1-800-494-4321 / sales@diyshutters.com
3 Responses to "Exterior Shutters Help Soften The Dark Past of This Stable Used During WW II"