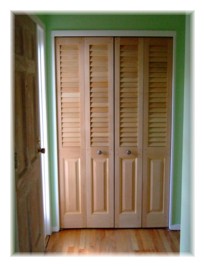 When it comes to closet doors, one of the most popular ways to mount them is as bifold doors. Basically this means that the doors are hinged together in pairs and will open and close in pairs.
While there doesn't seem like there would be much variation in the hardware for bifold doors there are a few different factors to consider.
Where will your doors fold open?
The first thing to look at is how you want to have your doors fold open. Traditional bifold doors will fold up in pairs within the closet opening. The doors can be mounted so that they all fold to one side only or split up so that pairs of doors fold to both sides. If you do NOT want the doors to fold up inside the opening then you can choose what is known as "full access" hardware.
Johnson Hardware 1601 series is a full access hardware that folds the doors 180° open and out against the face of the wall. The advantage of this is that you do not have pairs of doors blocking part of your opening. Three of the most practical applications for this are closets that hold a washer and dryer, closets that hold a home office and closets that stow away a Murphy Bed. If you do not have the wall space for your bifold doors to swing out and open then you will need to go with more traditional hardware that keeps the doors within the opening.
Can you mount your bifold doors to the floor?
Some hardware for bifold doors require that you mount a bottom pivot directly on to your floor. If you have custom flooring this may not be practical or desired. This is one of the reasons that Johnson Hardware 111FD series is so popular. This is a heavy duty track hardware that holds bifold doors up to 50 lbs each but does not require you to touch your floor. Instead the bottom pivot mounts to your jamb to support your bifold doors.
Are your closet doors oversized?
Many of the closet doors we make are oversized and need to have bifold door hardware that has heavier limits. The Johnson Hardware 100FD series will handle bifold doors up to 75 lbs each and the Johnson Hardware 200FD series will handle bifold doors up to 48″ wide each and 125 lbs each. These series of bifold track hardware will have a bottom pivot that mounts to the floor to help stabilize the oversized doors.
Closets with more than 4 doors
Sometimes it makes sense to have more than 4 doors within a closet opening. Most often it is because the closet has a very wide opening or it could even be several sets of interior doors to separate two rooms. In cases like this we offer what is referred to as multifold door hardware. The Johnson Hardware 100RD series will handle doors up to 24″ wide and 50 lbs each while the Johnson Hardware 200RD series will handle doors up to 36″ wide and 75 lbs each. Both of these can handle up to a maximum of 12 individual interior doors, 6 folding to the left and 6 folding to the right.
Bifold Door Hardware – Summary Table
| | | | | |
| --- | --- | --- | --- | --- |
| Series | max. Door Size | max. Door Weight | max. Doors Folding in One Direction | Bottom Pivot |
| 1601 | 24″ x 96″ | 30 lbs. | 2 | none |
| 111FD | 24″ x 108″ | 50 lbs. | 2 | Jamb Mount |
| 100FD | 24″ x 108″ | 75 lbs. | 2 | Floor Mount |
| 200FD | 48″ x 108″ | 125 lbs. | 2 | Floor Mount |
| 100RD | 24″ x 108″ | 50 lbs. | 6 | Floor Mount |
| 200RD | 36″ x 108″ | 75 lbs. | 6 | Floor Mount |

A naturally beautiful and renewable choice – Wood shutters and doors by
Kestrel Shutters & Doors, Inc. www.DIYShutters.com 1-800-494-4321 / sales@diyshutters.com
5 Responses to "Hardware for Bifold Doors"